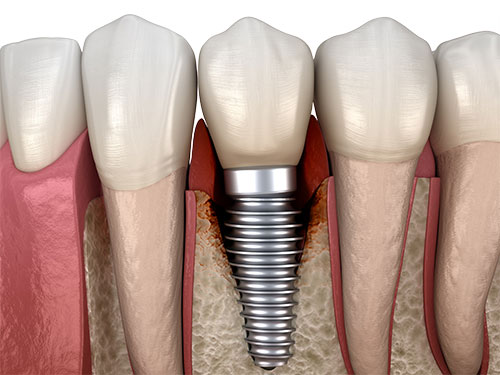 For half a century, titanium dental implants were considered the gold standard when it came to restoring tooth gaps or replacing unsalvageable teeth. However, the initial euphoria surrounding metal dental implants quickly began to fade in the face of mounting cases of long-term complications and calls for more biological, sustainable, and healthier implant materials, such as zirconia. Peri-implantitis, an inflammatory disease affecting the soft and hard tissues around dental implants, has been on the rise for several years, posing major challenges to dental professionals worldwide. 
Peri-implantitis: Primarily associated with titanium implants
According to its 2017 clinical guidelines, DG Paro defines peri-implantitis as follows: " Peri-implantitis is a plaque-associated pathological condition that occurs in tissues around dental implants. It is characterized by inflammation in the peri-implant mucosa and loss of supporting bone.
Peri-implantitis sites exhibit clinical signs of inflammation including bleeding on probing and/or suppuration, increased probing depths and/or recession of the mucosal margin, and radiographic bone loss compared to previous examinations
[...]" (DG Paro, "EFP New Classification of Periodontal and Periimplant Diseases").
According to recent studies, up to 40% of dental implants are at risk of developing peri-implantitis after five years of wear.
[1] Today, titanium implants are primarily associated with an increased risk of peri-implantitis.[2-4] The risk of peri-implantitis also increases with implant systems that do not achieve sufficient soft-tissue adaptation. Pathogenic bacteria can bypass the epithelial barrier around these implants, attach to their surfaces in the form of bacterial biofilm and cause inflammatory reactions. Furthermore, many implant manufacturers rely on screw-retained internal connections that incorporate micro-gaps at their implant-abutment interfaces. Pathogenic bacteria can invade this sensitive area, and cause inflammatory reactions of the surrounding tissues, eventually leading to peri-implantitis.
Studies also indicate that the development of peri-implantitis can be promoted not only by pathogenic bacteria but also by titanium particles.
Depending on their roughness, titanium particles can be released from the surfaces of titanium implants under functional load and deposited in the peri-implant tissue.[5] Such titanium particles are then phagocytized by macrophages in the surrounding tissue, which then react – genetically determined – with a release of cytokines, initiating a local inflammatory reaction, which can eventually trigger peri-implantitis. If this serious inflammatory condition remains untreated, the affected dental implant can become unstable owing to the accompanying progressive bone resorption, ultimately leading to implant loss.
In addition, oral inflammatory diseases such as peri-implantitis can lead to major general health impairments and the development of chronic diseases.
Today, for instance, cardiovascular diseases or even diabetes are often linked to inflammatory diseases in the oral cavity.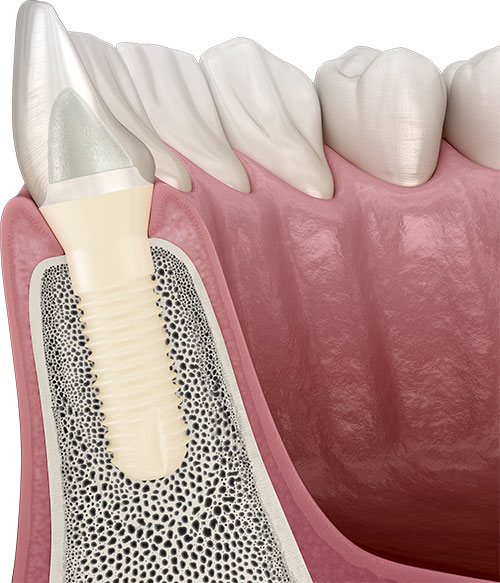 Sustainably healthy with Patent™ Ceramic Implants
The Patent™ Dental Implant System from the Zurich-based manufacturer Zircon Medical Management effectively prevents peri-implantitis in the long term – this has been proven by unique prospective and retrospective long-term studies.
A research team at Heinrich-Heine-University Dusseldorf under the scientific leadership of Prof. Jürgen Becker found
no signs of peri-implantitis, stable marginal bone levels and healthy soft-tissue conditions in inserted two-piece Patent™ Implants after over 9 year of wear.
[6]
The Patent™ Dental Implant System incorporates a number of unique design features that minimize the risk of peri-implantitis, compared to conventional implant systems.
First of all, the Patent™ Implant design is biomimetic, which means it is modeled after a natural tooth. Thanks to this special implant design and the tissue-friendly ceramic material zirconia,
the Patent™ Dental Implant System permits a particularly high degree of soft-tissue adaptation.
The resulting tight Soft Tissue Seal
prevents pathogenic bacteria from infiltrating the peri-implant tissue beneath, significantly reducing the risk of peri-implantitis
, especially compared to modern titanium implants.
In addition, the Patent™ Dental Implant System does not feature a screwed internal connection with a bacteria-prone micro-gap at the implant-abutment-interface.
The Patent™ Dental Implant System is a one hundred percent gap-free system, thanks to its revolutionary prosthetic concept.
The prosthetic connection of the Patent™ Dental Implant System is realized via an innovative glass fiber post, which is cemented in a gap-free manner at equigingival level, and then restored like a natural tooth.
Moreover, the Patent™ Dental Implant System is made of yttrium-stabilized zirconia, a ceramic and non-corrosive material that is electrochemically inert by nature and inhibits the colonization of bacterial biofilm that could promote the development of peri-implantitis.
If you wish to avoid peri-implantitis in the long term and provide your edentulous patients with sustainably healthier implant restorations, the Patent™ Dental Implant System made of zirconia (ceramic implants) is the ultimate choice. To learn more about the proven long-term success of the Patent™ Dental Implant System,
download
our brochure on Bio-Integration or ask to be
contacted
by our sales team.
1. Lindhe J, Meyle J; Group D of European Workshop on Periodontology. Peri-implant diseases: Consensus Report of the Sixth European Workshop on Periodontology. J Clin Periodontol. 2008;35(suppl 8):282-285.
2. Daubert DM, Weinstein BF, Bordin S, Leroux BG, Flemming TF. Prevalence and
predictive factors for peri-implant disease and implant failure: a cross-sectional
analysis. J Periodontol. 2015 Mar;86(3):337-4
3. Martin IS, Sanchez IS, Carillor de Albormoz A, Figuero E, Sanz M.: Effects of modified abutment characteristics on peri-implant soft tissue heatlh: a systematic review and meta analysis. Clin Oral. Impl Res, 2018, 29: 118-129.
4. Iglhaut, G., Schwarz, F., Winter, R. R., Mihatovic, I., Stimmelmayr, M., & Schliephake, H. (2014). Epithelial attachment and downgrowth on dental implant abutments–a comprehensive review. Journal of Esthetic and Restorative Dentistry, 26, 324–331.
5. Eger, M. et al. Scaling of titanium implants entrains inflammation-induced osteolysis. Sci. Rep. 7, 39612; doi: 10.1038/srep39612 (2017).
6. Rauch N, et al. 2022. Two-piece zirconia implants in posterior regions: a prospective cohort study with a follow-up period of 9 years.