Retrospective Study

121 ZV3 (Patent™) Implants in 74 consecutively treated patients over 3 years

In partially edentulous patients endosseous zirconia implants offer 3-year survival rates similar to that of titanium implants, with healthy and stable soft and hard tissues.
Key Take Aways:
96,5% survival rate over 3 years
Implants placed immediately or delayed
PPDs of 1.8 ± 0.4 mm and mean
BOP scores (4.1% ± 4.2%)
Significantly lower PPD and BOP around
implants than around teeth
Stable marginal bone levels (mean bone
loss of 0.1 ± 0.6 mm after 3 years)
Results in Detail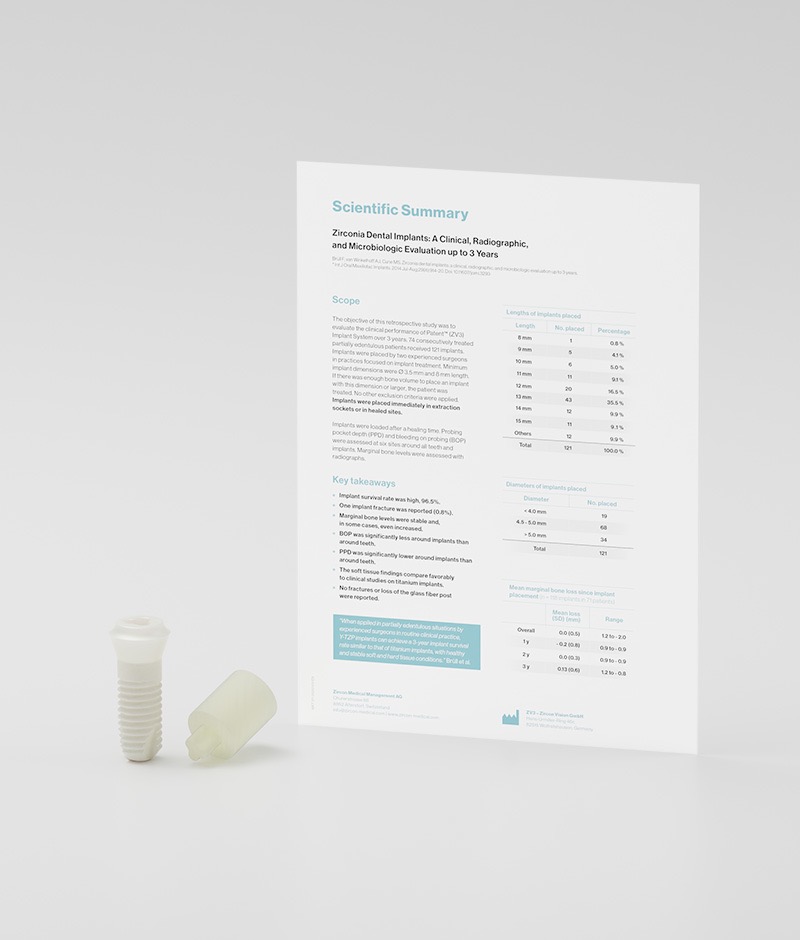 Retrospective Study

91 Patent™ Implants in 39 patients over
5 - 12 years of function

Endosseous zirconia implants can be used in compromised patients with little biological complications over the long term.
Key Take Aways:
Compromised patients
(systemic disease, heavy smokers,
periodontitis, medication)
Implants placed immediately or delayed
(with immediate or delayed loading).
Bone grafting was performed when needed
No peri-implantitis according to current
definitions (Berglund et al.)
No progressive bone loss
8 implants showed bone loss of 3 mm
(correlated with too deep implant placement)
3 implants showed periimplant mucositis,
no pockets around the other implants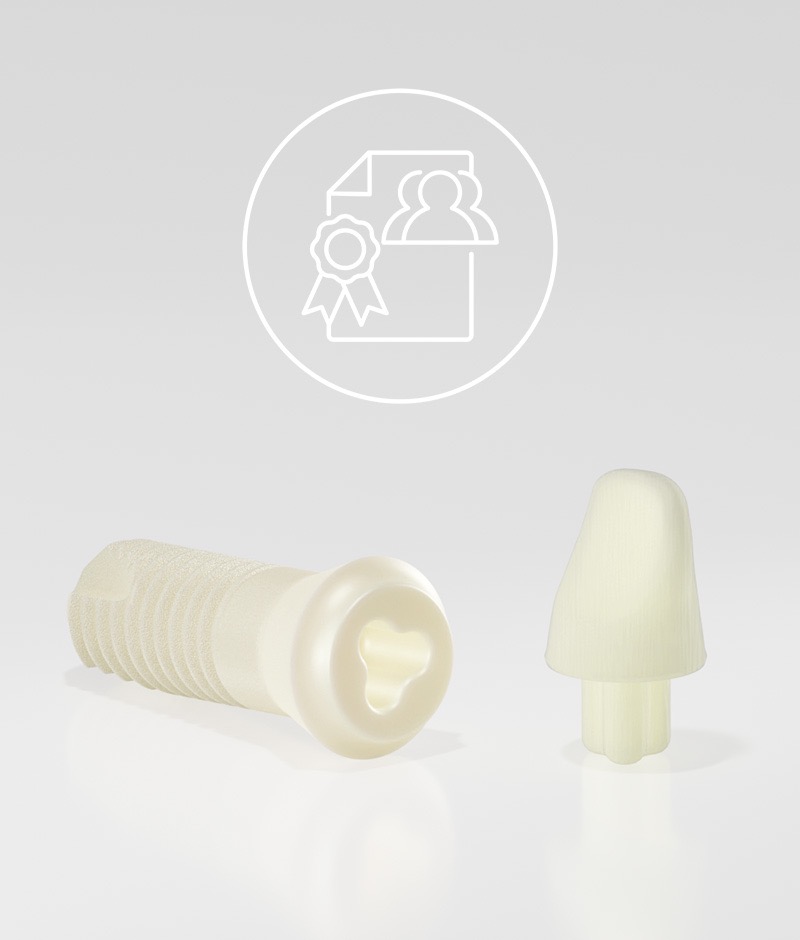 Prospective Study

52 ZV3 (Patent™) two-piece Implants for single tooth replacements over 2 years

Within the limitations of a prospective cohort study, it was concluded that this two-piece zirconia implant with its glass fiber abutment can be successfully used in the clinical indication investigated.
Key Take Aways:
95,8% survival rate

Internal sinus lifts and simultaneous
grafting of buccal dehiscences,
when necessary

Implant failure significantly correlated
to oral surgeon
No implant fractures
All implant sites showed an increase
of the vestibular mucosal level and a
gain of keratinized tissue at 24 months

Results in Detail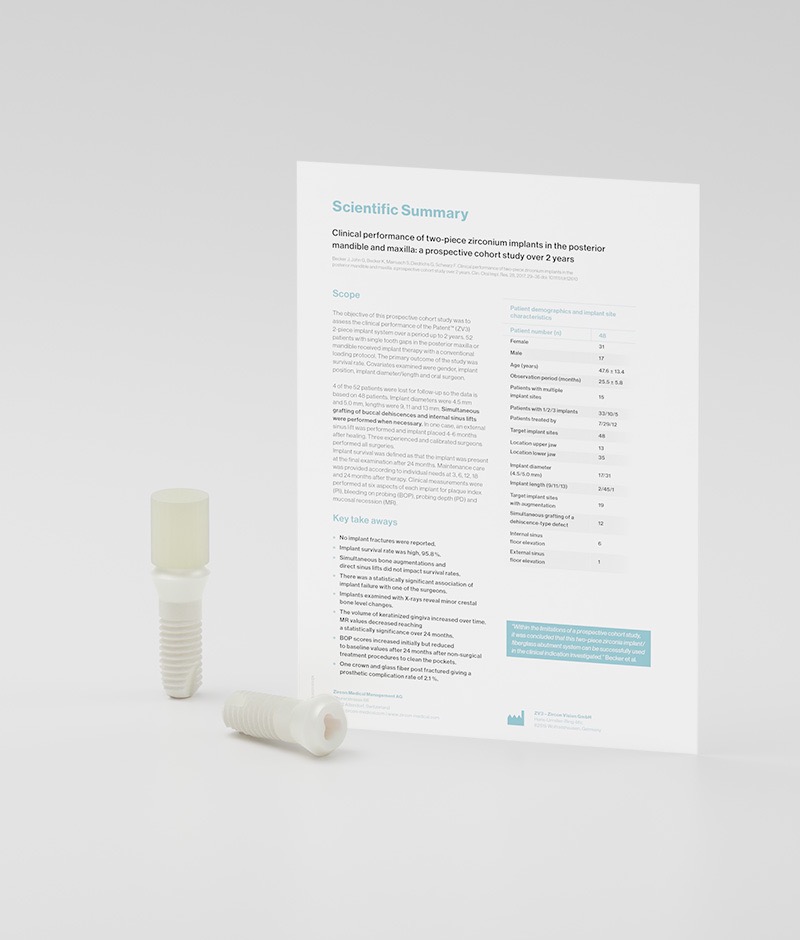 Prospective Study

52 ZV3 (Patent™) two-piece Implants for single-tooth replacements over 9 years

In the 9-year follow-up study it was concluded that with the two-piece zirconia implant system investigated, long-term successful, reliable and esthetic restorations can be achieved.

Key Take Aways:
94,1% survival rate

1 implant lost after 110 months
No implant fractures
PI, BoP and PD unchanged between
2- and 9-year follow-up
13% BoP
55% of patients showed no BoP
Only two patients showed 50% BoP

PPD of 3 mm
Stable tissue levels after 9 years
(MR <1mm for all implants)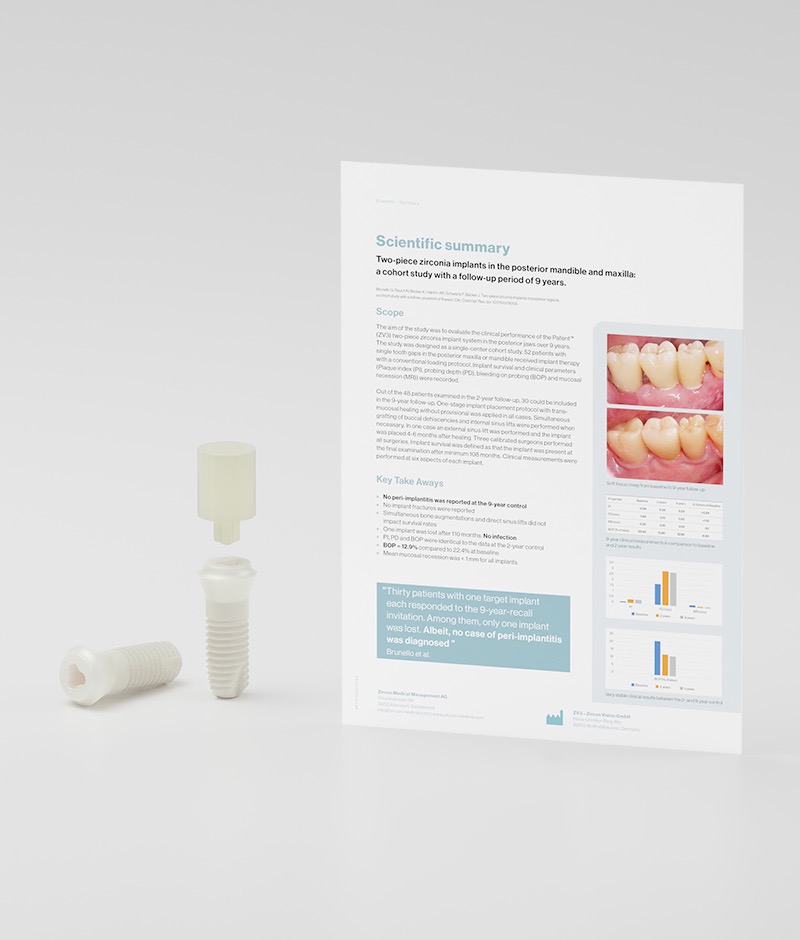 Preclinical Study

in the Miniature Pig Mandible

Patent™ Implants offer superior osseointegration speed and success, and a favorable soft-tissue response similar to natural teeth.
Key Take Aways:
Bone-Implant Contact (BIC) of over 70
after 4 weeks of healing (over 80%
after 8 weeks of healing)
Highly rough implant surface contributes
to rapid bone formation and osseointegration
Despite non-existent oral hygiene, only one
Implant showed slight signs of inflammation
Beneficial and firm soft-tissue adaptation
was observed around the Patent™ Implants
Soft Tissue Seal remained consistently
above soft-tissue level after 4 weeks of
healing
Results in Detail