The New Standard in
Dental Implantology
Natural. Easy to apply. Long-term success.

Download our Introductory Patent™ Dental Implant Guide.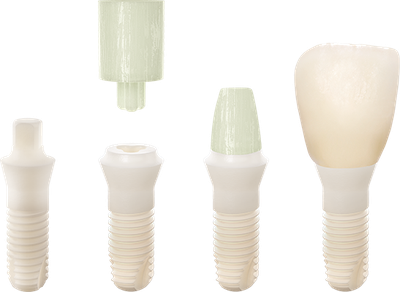 The Patent™ Dental Implant System
Zirconia is the material of choice in high-end dentistry. The global demand for sustainable health has paved the way for biocompatible ceramic implants that look, feel, and function like natural teeth. The esthetic and functional nature of ceramic implants makes them highly desirable among patients.

The soft tissue level implant only consists of two components - a tooth-colored Y-TZP zirconia implant and a high-tec glass fiber post.

The Patent™ Dental Implant System marks a new era of safe and esthetic implant treatments proven by science.
Patent™ Live
Never miss an event with Patent™ Live. Access all our exclusive
events at your convenience and receive constant updates.
Zircon Medical - The Zirconia Implant Manufacturer
Zircon Medical applies a patented production process that results in a unique, hydrophilic, and osteoconductive implant surface without process-induced micro-cracks.
The surface has proven to be hydrophilic and osteoconductive creating an implant that promotes complete biointegration. As reported in clinical studies, the implant survival rates are on par with titanium implants (Becker & Brüll), and the soft-tissue response is superior to titanium implants (Brüll..). These favorable characteristics in combination with a unique prosthetic solution complete an implant system that is very efficient to work with.
Clinical Studies
Clinical studies have shown that Patent™ Implants have a nearly perfect cumulative success rate.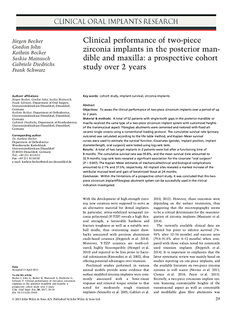 A Prospective Study

A prospective study with a two-year follow-up of 52 patients revealed a 95.8% cumulative implant survival rate. After 24 months, all implant sites displayed a creeping soft-tissue attachment with a gain on keratinized tissues.

A Retrospective Study

A retrospective study with a three-year follow-up of 74 patients revealed a 96.5% cumulative implant survival rate. The study produced two key findings. First, the marginal bone levels were stable. Second, healthy mucosal conditions were observed with probing pocket depth (PPD) and bleeding on probing (BOP) significantly lower around the implants than around the teeth.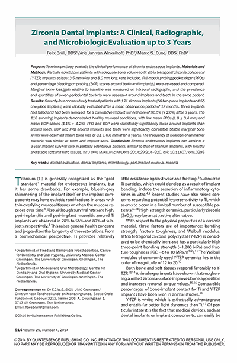 To install this Web App in your iPhone/iPad press
and then Add to Home Screen.