Bio-Integration
Prophylaxis for Periimplantitis
Download our Patent™ Bio-Integration Brochure.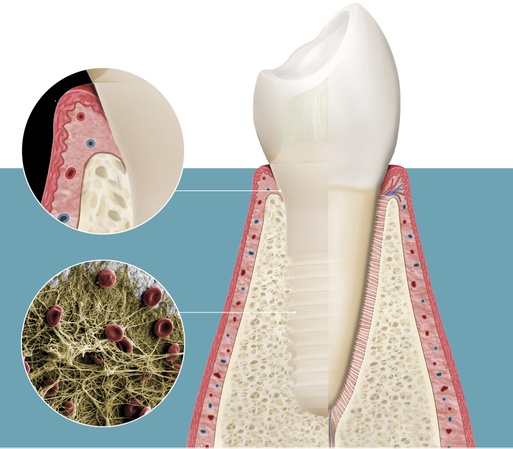 Bio-Integration
Biointegration is essential to the success and longevity of the implant. The optimum healing between the soft tissue, the hard tissue, and the Patent™ Implant eliminates infections and reduces complications like periimplantitis and perimucositis. The implant is placed equigingival and has no micro-gap in the soft tissue .



Osseointegration is not enough
According to Prof. Brånemark, Osseointegration is the "direct connection between living bone and a load-carrying endosseous implant at the light microscopic level." Further studies have supported this definition, and today the mechanism of healing around titanium implants is well documented.

In the early days of implantology, there was a strong focus on osseointegration to make sure that the implants stayed in the bone for a long time. In more recent years the focus has shifted to soft tissue integration and different prosthetic components to realize long-term esthetic results with healthy gingiva and stable tissue levels.

However, the increased complexity of the solutions and the phenomenon of peri-implantitis have created a lot of challenges with the current systems, jeopardizing long-term success. So, today osseointegration is not enough for a successful treatment outcome.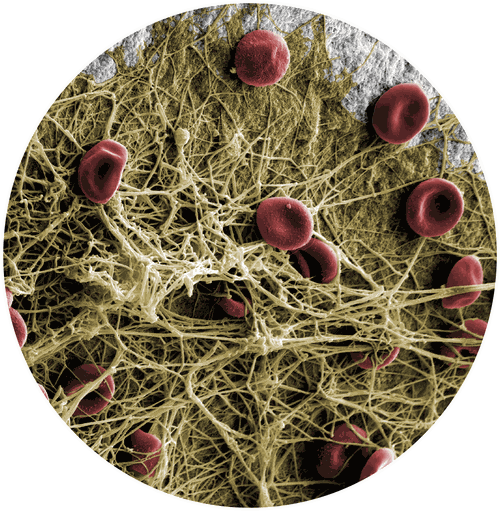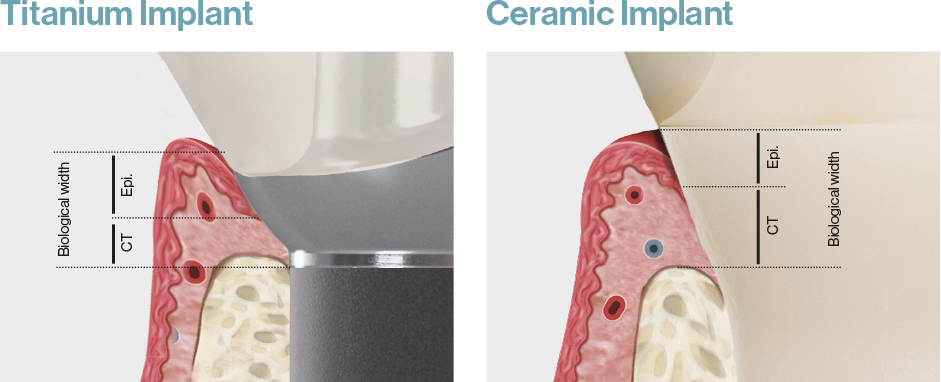 Stable Tissue Levels
For successful long-term results, stable soft and hard tissue levels are critical. The composition of the biological width, BW, in terms of connective tissue and epithelium will have an impact on this.

Lee et al.(3) report that the proportion of connective tissue of the total BW is similar for natural teeth (65,8%) and zirconia (65,4%) while titanium shows a significantly lower proportion of connective tissue (38,1%).

It is obvious that a higher proportion of connective tissue will give better protection to the bone-implant interface. These observations are supported by numerous reports on soft tissue response to zirconia (1,2).

In the studies from Brüll et al and Becker et al (1,2), they describe that there is an increase of keratinized gingiva around the Patent™ implants over time. They also report that there is significantly less PPD and BOP around the Patent™ Implants than around the natural teeth in the same patients.


Tissue Level = no micro-movements
Another factor that has an impact on soft tissue integration is the implant design. Bone-level systems with micro gaps and joints deep into the mucosa will potentially have an adverse effect. This has not only been reported for titanium systems but also for bone-level zirconia system (6).

Combinations of materials with very different Young's modulus will add more risks for adverse tissue reactions. In the installation stages, components need to be removed and replaced several times and in the final construction, there will inevitably be some micro-movements.

With a tissue level design, any junctions are moved to an equigingival position. With zirconia this will create less of an esthetical challenge compared to titanium due to the color and the soft tissue adaptation.
The good integration of the soft tissues protects against colonization by bacteria that trigger inflammatory processes. In addition, the plaque affinity of zirconia is very low (7,8).
With the high surface roughness on the endosseous part, the machined surface on the transmucosal part, and the tissue level design, the Patent™ Implant System offers excellent properties for bio-integration.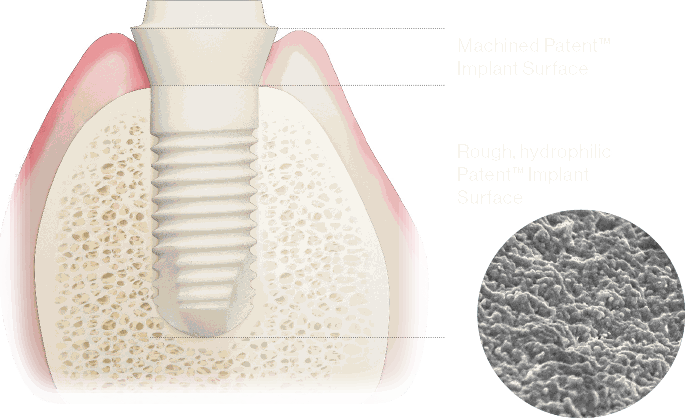 Patented Production Process

In contrast to most manufacturing processes of zirconia implants where the surface roughness is produced in the sintered stage, the surface of the Patent implants is created in the pre-sintered stage. This has a huge advantage since any micro-cracks induced in the process will be closed in the following sintering process where the object shrinks approximately 20%.

It has been reported that zirconia requires a very high roughness for predictable osseointegration (9).
If you would try to achieve a very rough surface in the sintered stage you would compromise the strength of the material since a lot of micro-cracks would be induced in the process.
The surface of the Patent™ implant is very rough. That gives a hydrophilic and osteoconductive surface. This means that in the healing phase, the bone starts to form on the surface of the implant. This is the same behavior as the moderately rough surfaces of modern titanium implants.


Voices of other Dental Professionals

"Based on the experience of more than 10 different zirconia implant systems, I can say that the Patent™ Implant System offers unparalleled bio-integration" Prof. Dr. Marcel Wainwright


""There is a zirconia implant with fantastic long-term results" Prof. Dr. Joachim Hermann


"The Patent™ Implant System demonstrates minimal probing pocket depths." Dr. Gernot Obermair

Download our Patent™ Bio-Integration Brochure

Is periimplantitis a growing concern for you among your long-term implant patients?
Peri-implant inflammation around the implant is the most common cause of late complications, which can lead to the loss of an implant in the worst case.
To avoid this, our Patent™ Dental Implant System supports full Bio-integration.


Download our Patent™ Bio-Integration Brochure now.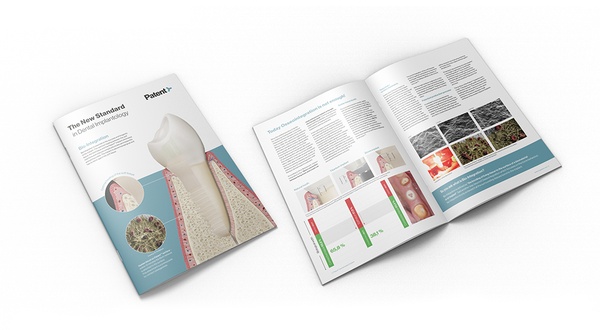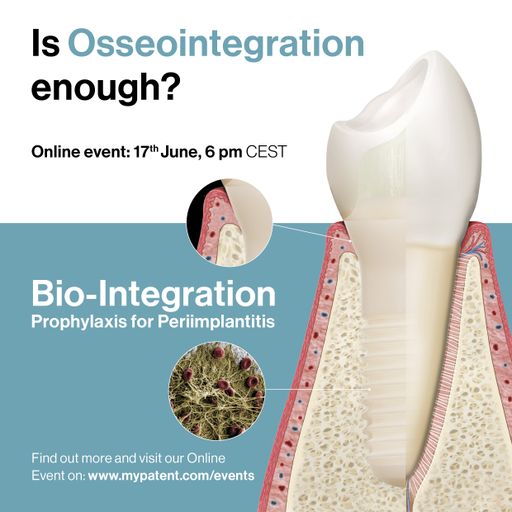 Bio-Integration -
Prophylaxis for Periimplantitis
We invite you to join our renowned panel of speakers to learn how they have maximized Bio-Integration in order to eliminate the specter of long-term peri implant complications. During our 2 hour program you will learn:
• Is the same mechanism of healing around traditional titanium implant technology the cause of long-term complications?
• How material and design technology has evolved in order to support the concept of "long-lasting" worry-free tooth replacement with implants
• How to maximize long term soft and hard tissue health in order to over- come the hostile environment of the oral cavity around dental implants
• The Patent™ Dental Implant System – a new paradigm in tooth replacement/ 15 years of proven success.

Case Report - Posterior thee unit bridge
Dr. med. dent. Gernot Obermair is a certified expert in implantology DGOI with implantological experience since 1994. He studied dentistry at the University of Ulm and founded the practice in Bozen, Germany, in 1996.

In his professional career, he has been able to deepen his knowledge in various topics of advanced implantology. He has been practicing 3D-planned, guided, and dynamically navigated implantology since 2002. In addition, Dr. Obermair is engaged in minimally invasive and gentle microsurgical techniques.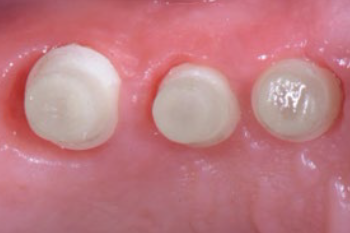 Talk to one of our client managers
You've got questions. Let's talk.


To install this Web App in your iPhone/iPad press
and then Add to Home Screen.