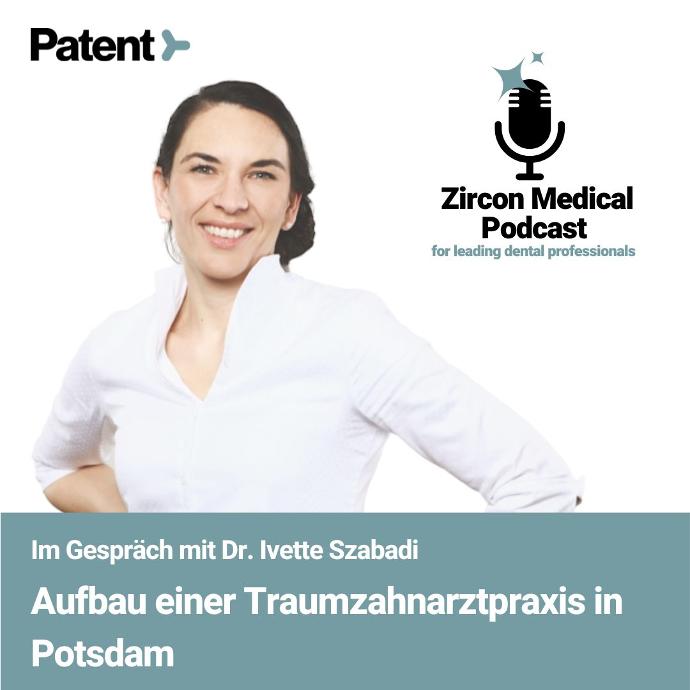 The search for the perfect location


The argument for a start-up vs. a takeover


Creating a team-oriented atmosphere


Passion for sports dentistry


       Balancing practice and family life
       Proud accomplishments and     managing priorities
       Managing the stress of running a practice
       Strategies for managing a growing dental practice
       The importance of authenticity in dentistry
       Advice for aspiring dentists
Dr. Ivette Szabadi
Owner of Dental Practice in Potsdam
Owns and runs her dental practice in Potsdam, Germany


Manages 10 employees in a rapidly growing practice


Specializes in tooth preservation, CEREC, and sports dentistry

       Happily married with two wonderful children and a supportive husband

       Website: https://dr-ivette-szabadi.de
      Instagram: https://www.instagram.com/drszabadi/
Gutenbergstraße 60, 14467 Potsdam, Germany
In Conversation with Dr. Ivette Szabadi 

Dr. Ivette Szabadi has been running her own dental practice in Potsdam since January 2021, focusing on tooth preservation, CEREC, and sports dentistry. The practice has a strong team spirit and a feel-good atmosphere for patients and staff. Our team at Zircon Medical recently hosted Dr. Szabadi, the owner of dental practice in Potsdam, to discuss her journey to building her dream practice, the challenges she faced, and her passion for sports dentistry.
The search for the perfect location
After a 3-year search, Dr. Szabadi found a suitable practice in downtown Potsdam to take over. She emphasized the importance of finding a location that was easily accessible for her patients and had the right atmosphere for her team. She said, "Designing a practice is a great challenge that I enjoy incredibly. I want to create a place where everyone feels comfortable — patients and staff alike."
Dr. Szabadi initially believed the search would be easier and quicker but soon realized that finding a suitable practice in their region was a challenge. Many of the older practices were no longer up to date, with only one or two treatment rooms, and it was difficult to reconcile their schedules with those of the employer. The process was long and tough, with several deals falling through for unknown reasons. The speaker even considered starting their own company but eventually found a suitable practice to take over.
The argument for a start-up vs. a takeover
From Dr. Szabadi's perspective, she was always looking for a takeover because she believed it would provide a foundation to build on. She believed that a takeover would provide patients, infrastructure, and staff, but after seeing a few everyday practices, she started to have her doubts. She realized that she would have to make many compromises and eventually decided that starting a new business would be a better option. The advantage of starting a new business is that everything is in her hands, and she can design it how she wants.
Creating a team-oriented atmosphere
Dr. Szabadi now has 10 employees, and the practice is growing dynamically. Team spirit is very important to her, as she believes that a positive work environment leads to better patient care. She said, "Personal touch, modern, digital equipment, dentistry at the highest level, and a feel-good atmosphere for patients and staff are important to me."
Dr. Szabadi believes that the issue of shortage of skilled workers and the appreciation and development of dental talent is very important. That's why her practice was part of the KZV campaign "Founding Reasons" in Brandenburg.

When asked about the demands of her staff, Dr. Szabadi notes that they want to be perceived as valuable team members. They want to be treated with respect and have open lines of communication with their colleagues. They also appreciate small gestures such as asking about their weekend or giving them a choice in the materials they use for their work. By actively listening to and implementing these requests, Dr. Szabadi has created a positive working environment that is well-received by her staff.
Passion for sports dentistry
Dr. Szabadi's passion for sports dentistry is rooted in the fact that it combines all her treatment focal points into an ideal treatment concept for top and amateur athletes. She said, "The subject of sports dentistry has also become a passion of mine, although it has been with me for a very long time — all my treatment focal points come together in an ideal treatment concept for top and amateur athletes. Working with athletes is very fulfilling!"
The practice previously did not have any experience in sports dentistry, but Dr. Szabadi has had a passion for it for many years. She expanded and built up the topic of sports dentistry in her new practice, and it is now Potsdam's first center of excellence for sports dentistry. She also works with the German Society for Sports Dentistry to provide excellent care for athletes.
Potsdam is a sports city with many Bundesliga clubs in various sports, such as water polo, women's football, women's volleyball, judo, canoeing, and an Olympic base for athletics and bobsledding. There is also a sports school where the next generation is trained. Dr. Szabadi's practice also supports many of the athletes in the city, and she organizes special check-ups for whole clubs. Logistically, it is a different challenge when a whole club comes in for a check-up, but it is fun for the practice and everyone involved.
In Dr. Szabadi's practice, 95% of patients are classic patients of all ages, and a smaller proportion is competitive athletes or ambitious recreational athletes. Athletes are a special clientele who need different treatments, and the practice organizes special check-ups for whole clubs. The proportion of athletes may be small, but they provide a unique and fun challenge for the practice.
Balancing practice and family life
Dr. Szabadi is happily married with two children and a supportive husband. She acknowledges that balancing practice and family life can be challenging, especially for working mothers. However, she believes that good prioritization and intensive exchange with her staff and partners can help to make it manageable. She said, "Nothing in practice is so bad or unsolvable that it should give you sleepless nights. It gets exciting when you approach challenges too emotionally."
Dr. Szabadi notes that the time and energy needed for the practice can vary depending on the age and needs of her children. However, she can reconcile her responsibilities by approaching them as a team with her husband and children. Together, they can organize and manage everything effectively.
She recognizes the importance of accepting that there will always be something that needs to be improved or fine-tuned in practice. She believes it's important not to wear oneself out trying to constantly achieve perfection but to work in a structured way and to accept that things will always be things that can be done better.
Proud accomplishments and managing priorities
When asked about her proudest accomplishments, Dr. Szabadi acknowledged her pride in her two children and the practice she has built. She described the practice as "as time-consuming as a real child" and acknowledged the hard work and dedication required to establish and maintain a successful practice. When asked about which child (the practice or the children) required more time and attention, she acknowledged that it was age-dependent and that, at the moment, the practice required more time and attention.
One of the biggest challenges that Dr. Szabadi faces is managing the constant influx of patients and tasks that come with running a practice. She acknowledges that there are always situations where things do not go as smoothly as she would like and that there are always areas that could be improved. However, she can maintain a positive attitude by recognizing that this is an ongoing process and accepting that there will always be something that can be done better.
To stay organized and manage her time effectively, she works in a structured way and is diligent in her approach. She also recognizes that it is important to care for herself and not wear herself out by constantly striving for perfection.
Managing the stress of running a practice
One of the main challenges that Dr. Szabadi faces as a professional in the dental field is managing the stress that comes with running a practice. She acknowledges that when she comes home, she is often stressed and tired from the day's events. However, she can manage this stress by relying on her husband for support and recognizing that her family is a team working together to manage their responsibilities.
In terms of specific issues that Dr. Szabadi is currently facing, she mentions that there are often challenges related to the organization. She mentions that things that worked well in the past may not work now because the players have changed. She also recognizes that new things are always coming up and that it is important to recognize and accept that things will never be perfect.
Managing the stress of running a practice is an ongoing challenge for Dr. Szabadi, but she can maintain a positive attitude by relying on the support of her family and husband, focusing on the areas that can be improved, and working together as a team.
Strategies for managing a growing dental practice
As a dental practice continues to grow and evolve, it can be challenging to keep everyone on the same page and ensure that all tasks are completed efficiently and effectively. One key area that often needs to be fine-tuned is communication within the practice and between patients and staff. Another strategy that can be helpful is the use of checklists, both to help prevent mistakes and to ensure that all steps in a process are being completed correctly.
One of the key issues that dental practice owner Dr. Szabadi mentions is ensuring that everyone in practice is aware of what is happening and what needs to be done. This can be especially challenging when dealing with equipment or other shared resources between staff members. For example, if a treatment unit is defective and the technician needs to be informed, it can easily get lost in the shuffle.
To address this issue, Dr. Szabadi and her team have been working on establishing a system to ensure that information is accessible to everyone. One solution they have been experimenting with is checklists, which can help ensure everyone knows what tasks need to be completed and who is responsible for them.
Dr. Szabadi also emphasizes the importance of having checklists for treatment procedures. These checklists ensure that every procedure step is carried out correctly and that no mistakes are made. As Ivette mentions, these checklists are often learned during dental studies, and practitioners need to internalize them before starting their own practice.
In addition to treatment checklists, Dr. Szabadi and her team have also developed checklists for organizational tasks. One example is the electronic application for healing cost plans, also known as EPZs, which have recently been introduced in Germany. To keep track of all the steps involved in this process, Ivette and her team have created a new checklist to ensure that everyone knows who is responsible for what and that all necessary information is being shared.


The importance of authenticity in dentistry
In the interview with Dr. Szabadi, it becomes clear that the key to a successful and fulfilling career in dentistry is to be authentic to oneself. Dr. Szabadi stresses the importance of finding one's own path in the profession rather than trying to fit into a mold or take on a role that does not align with one's strengths and interests.
Dr. Szabadi emphasizes that not everyone has to be a practice owner, a working mother, or an aesthetic dentist. It is important to find what suits an individual, what they enjoy, and where they are authentic. She believes that by doing so, success and the ability to go one's own way will eventually come.
Dr. Szabadi also reveals that she has no regrets in her career, as she has always had a credo that "the path emerges as you walk." She believes in taking things step by step and allowing opportunities to present themselves naturally rather than trying to force a specific outcome. Additionally, she advises not to overload oneself with too many challenges and to-do lists, as life is a marathon and not a sprint.
Advice for aspiring dentists
When asked about her advice for aspiring dentists, Dr. Szabadi emphasized the importance of enjoying one's work and being authentic. She said, "I think — no matter what you do — you should enjoy it and want it yourself. Being authentic is very important from my point of view. And you have to be realistic. You always have to do something for the things you strive for — nothing is given to you! That's how you can be successful and satisfied."
Dr. Szabadi's practice is located in Potsdam near Berlin, and she can often be found there. She also regularly participates in further training regionally and throughout Germany and enjoys combining it with city trips to meet and exchange ideas with colleagues. Dr. Szabadi and her practice can also be found online on Instagram and their website, where they share updates and can be contacted. You can also listen to her on the latest episode of the Zircon Medical Podcast.