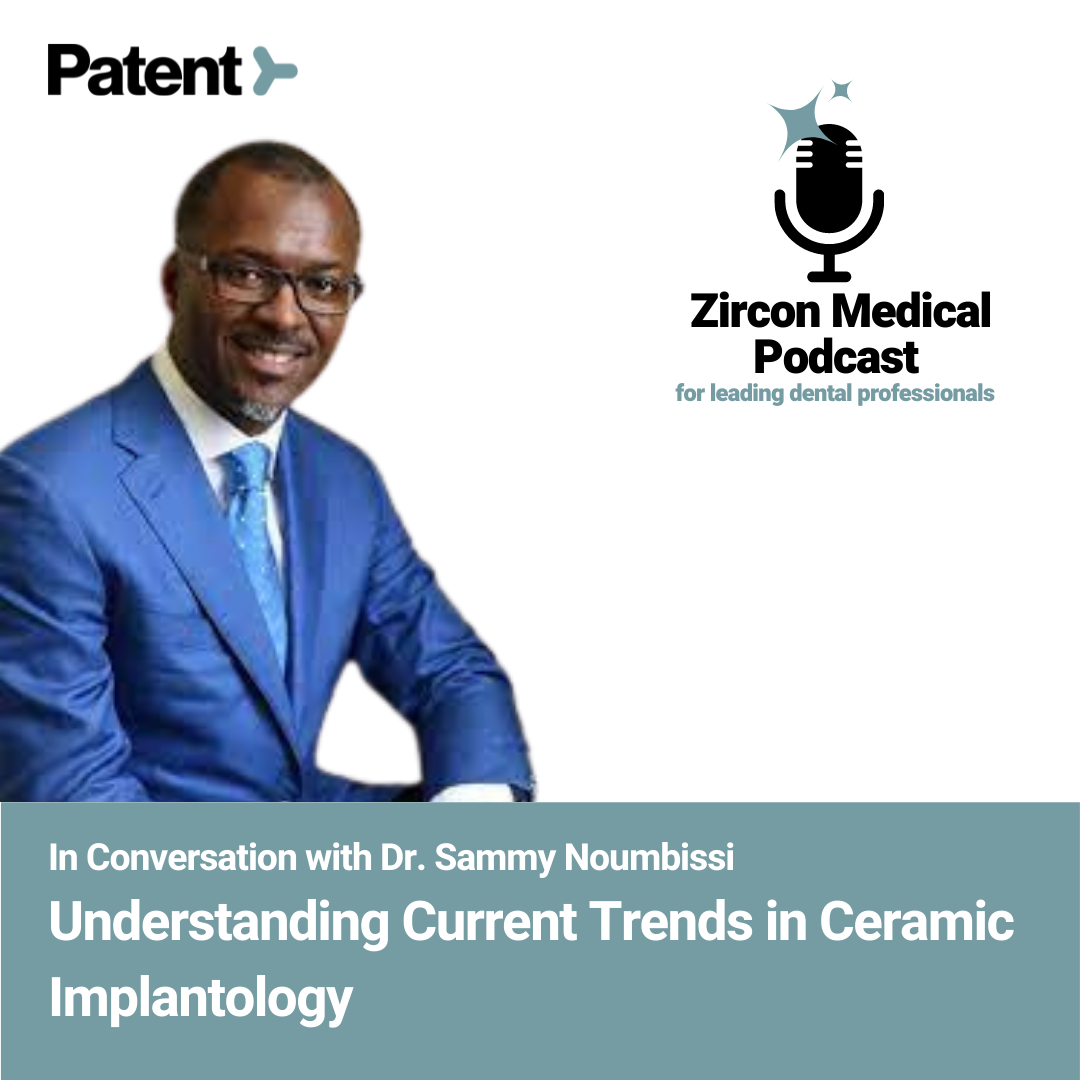 Patients are currently the drivers in the mainstream adoption of ceramic implants


The common reasons patients request ceramic implants


The future of ceramic implants — will they go mainstream in 5 years?


A growing concern as we move towards mainstream ceramic implant adoption

Scientific and technological factors that might further improve ceramic implant capabilities


The head-in-the-sand mentality of metal screws within "metal-free" implants



Dr. Noumbissi's honest take on the Patent™ Dental Implant System

Dr. Sammy Noumbissi
President and Founder of the International Academy of Ceramic Implantology
Doctor of Dental Surgery from Howard University, Washington DC


Graduate Program in Implant Dentistry from Loma Linda University in California


Published numerous research papers on ceramic implantology

Website: www.iaoci.com


Phone: 813-444-1011


IAOCI Instagram: @iaoci_ceramicimplants


Personal Instagram: @sammynoumbissi

801 Wayne Ave, Suite G200 Silver Spring MD, USA 20910
A Conversation with Dr. Sammy Noumbissi
Ceramic dental implants have come a long way in the last decade in terms of technological innovation, clinical research, patient awareness, and mainstream adoption. But will they go mainstream in the next 5 years? Are there any scientific or technological factors that might further improve ceramic implant capability and adoption? What are the types of abutment used in ceramic implants, and how do they compare against each other?
Our team at Zircon Medical had the immense privilege of hosting Dr. Sammy Noumbissi, the president and founder of the International Academy of Ceramic Implantology, on our podcast series to discuss and understand current global trends in ceramic implantology.
Introducing Dr. Sammy Noumbissi, the president and founder of the International Academy of Ceramic Implantology (IAOCI)
Dr. Sammy Noumbissi is the president and founder of the International Academy of Ceramic Implantology (IAOCI), the world's first professional organization dedicated to ensuring ceramic dental implants become the standard of care for teeth replacement. Dr. Noumbissi completed his Doctor of Dental Surgery from Howard University, Washington DC, followed by a graduate program in Implant Dentistry from Loma Linda University in California. He has also published numerous research papers on ceramic implantology.
Dr. Noumbissi founded IAOCI in 2010 in order to create an environment where doctors interested in ceramic implants could come together and freely exchange information. According to him, traditional implant organizations made it incredibly difficult to present ceramic implants at their events. "I submitted multiple abstracts to organizations about ceramic implants, but I would either not receive a response or be dismissed. So IAOCI was created slightly out of frustration, but also the motivation to facilitate the free exchange of information."
Their original goal was exchange and education for dentists and the public — they wanted to place an upstream pressure on dentists to drive demand for ceramic implants. And that strategy clearly worked, as we'll explore more in the following sections of this article. The IAOCI still embodies its original mission, but they've also taken things to the next level. "We now have a live patient course," Dr. Noumbissi says, "where licensed dentists can place one or two implants on live patients during our events."
Patients are currently the drivers in the mainstream adoption of ceramic implants
Dr. Noumbissi says he has actively been advocating for ceramic implants since 2010. In what would eventually become emblematic of global trends, Dr. Noumbissi says he first learned about ceramic implants not from universities or other established medical institutions but from a patient. About 15 or 16 years ago, when he was freshly out of residency, a patient of his asked for metal-free dental implants. He had just had numerous metal crowns removed from his mouth, and he was adamant against inserting another metallic object.
At that point in 2009, Dr. Noumbissi frankly admits that he didn't even know of ceramic implants as a feasible alternative to metal-alloy implants. He told his patient that titanium was widely considered the best metal, and it was really the only option available. The patient informed him about metal-free implants and later printed an article about ceramic implants for him. The patient made it clear that he would only accept ceramic implants, and that set Dr. Noumbissi on a path to learning more about ceramic implants.
Dr. Noumbissi highlights this incident to emphasize that the recent shift towards the mainstream adoption of ceramic implants is being propelled by the "secondary consumers," i.e., the patients. He says he was humble enough to listen to his patient, and that was a smart move. Perhaps the most interesting and telling aspect of this story is that the patient actually waited for four years, and he only received an implant when Dr. Noumbissi was sufficiently prepared to provide one.
"In the ceramic implants industry, you have primary and secondary consumers," Dr. Noumbissi says. "Your primary consumer is me, the dentist, and the secondary consumers are my patients. With ceramic implants, the patients are going to their doctors, asking for ceramic and metal-free implants." Dr. Noumbissi compares this phenomenon to how LASIK eye surgeries were propelled into the mainstream a few years ago by concerned patients rather than medical institutions.
Dr. Noumbissi also cites access to information as one of the primary reasons for this phenomenon. Patients can now access information from the internet and social media platforms, so they don't have to blindly accept their neighborhood dentist's word. Patients can be partially educated and, in some cases, very well educated on certain techniques and technologies. And armed with that information, they feel comfortable challenging their dentists to expand the scope of their practice.

The common reasons patients request ceramic implants
Dr. Noumbissi says most patients cite concerns about metals in the body when asking for ceramic implants. Most patients are concerned that having metal implants in the body could lead to potential problems in the future. And a few of his patients are also self-educated enough to ask, "don't titanium implants corrode over time?" And, of course, the answer is a resounding yes — titanium implants do corrode over time within the human body.
Dr. Noumbissi attributes these growing concerns to the global shift towards organic living. When you look at your surroundings, you can find all kinds of organic stores, most of which are far more expensive than the traditional alternatives. "I remember being in an airport in London," Dr. Noumbissi says, "and people were buying cups of bio-orange juice for 6 euros! And so did I! The public has become more in-tune with what they'll accept in terms of therapies, nutrition, and products."
Dr. Noumbissi also cites a survey that was performed by a ceramic implant company a few years ago. They showed pictures of titanium and ceramic implants to patients without context, and 83% chose ceramic implants. That just goes to show that regardless of a patient's level of awareness or education, they're drawn to ceramic implants on a very instinctive level.

The future of ceramic implants — will they go mainstream in 5 years?
Dr. Noumbissi says the future definitely looks bright and leans towards ceramic implants. He believes a 5-year timeline might be a little optimistic, but ceramic implants are likely to go mainstream in the next 10 years. He says the growth of ceramic implants was fairly slow in the first half of the 2010s for three reasons:
The lack of education about ceramic implants, which is still insufficient and poor


The lack of public awareness about ceramic implants


The limited options with ceramic implants
Expanding upon the last of the three reasons, Dr. Noumbissi says ceramic implants were initially only available as one-piece implants. That scared most dentists away because one-piece implants have never been fully successful, except in the cases of mini-implants, where they're designed to fall out after a few years. However, the last five years have seen a massive growth spurt in ceramic implant technologies — two-piece implants, implants with ceramic screws, implants without screws, angled abutments, cemented abutments, fiberpost, and much more.
In the next 5 years, Dr. Noumbissi says ceramic implants will grow at a rapid pace because of increasing patient awareness (and demand), and more manufacturers are coming up to provide ceramic implants. The cost of ceramic implant production has also dropped because of newer techniques, which has reduced the cost of entry and adoption. As such, more dental implant manufacturers will produce ceramic implants, which will make them more affordable for dentists, and patients will be willing to pay 20-30% more for safer alternatives.

As the domino effect sets off, most dentists will be incentivized to offer ceramic implants instead of titanium implants.
A growing concern as we move towards mainstream ceramic implant adoption
While Dr. Noumbissi is thrilled about the rapid pace at which ceramic implants are growing, he does have one major concern. In the past couple of years, numerous major implant manufacturers have started producing ceramic implants, which is mostly a good thing, but there's a caveat. Out of the 25 to 30 ceramic implant systems on the market, many of them are doing a "copy-paste" job, i.e., they're making ceramic versions of the same designs used for titanium implants.
A design that's good for titanium might not be good for ceramic because the two materials behave differently. Ceramic implants respond differently to mechanical stress compared to titanium implants, so a copy-paste-sell strategy is a recipe for disaster. If these implants enter the market, Dr. Noumbissi is concerned that they may lead to widespread fractures and failures, which would create a stigma against ceramic implants, setting the industry back by decades.
"It's nice to see larger companies adopting these technologies," Dr. Noumbissi says, "but it should be done correctly."

Scientific and technological factors that might further improve ceramic implant capabilities 
Implant Surface

On the technological and scientific aspects, Dr. Noumbissi says the implant surface is of the utmost importance. A lot of progress has been made on this front to ensure the ceramic implant surface is tissue-friendly enough to facilitate optimal osseointegration. However, despite the already impressive capabilities, Dr. Noumbissi says surfaces can continue improving to facilitate even faster, better, and more comprehensive osseointegration.
Dr. Noumbissi cites the Patent™ Dental Implant System as an example of a ceramic implant that goes beyond osseointegration. The Patent™ surface facilitates soft tissue integration, i.e., mucal integration, which is revolutionary. "Now, we're evolving towards what we see with teeth," he continues, "where there's also soft tissue integration to protect the bone below from bacterial infiltration."
Additional Components
Dr. Noumbissi says upcoming ceramic implants should ideally have components that allow the implant to be used in environments with deficient bone or angulation issues. He says some ethnic groups and demographics have faces at an angle, making implant placement difficult without angled abutments. According to him, more technical innovation is necessary to produce components that will improve ceramic implants' universality.
Ongoing Education
Dr. Noumbissi emphasizes the need for ongoing education, even if the dentist is already an expert in implants. Using himself as an example, Dr. Noumbissi states that he had already completed a residency in implantology when he started working with ceramic implants, but he had to humble himself. Ceramic implants may look like all other implants, but they behave and interact with the human body in a completely different manner once they're placed.
As such, the dental industry and academic institutions need to come together to promote better education with ceramic implants. Unlike titanium implants, ceramic implants don't have coatings that turn difficult situations into easy ones. As such, ceramic implants are less forgiving than titanium implants, and their placement should be preceded by extensive patient preparation. That's why there's a real need for industry-academia partnerships to secure the future of ceramic implants.
The head-in-the-sand mentality of metal screws within "metal-free" implants
Existing ceramic dental implant systems can be placed in three categories:
Ceramic implants with metal screws


Ceramic implants with non-metal screws


Ceramic implants with a post (no screws), like the Patent™ Dental Implant System
Dr. Noumbissi firmly stated his dissatisfaction with ceramic dental implants with metal screws because that defeats the whole purpose of placing ceramic or metal-free implants. According to him, when you speak of metal-free implants, you must commit to it completely. "In my practice, when you tell patients that a ceramic implant has a metal screw, their heads go down immediately because you've diluted the message, and it's no longer metal-free."
Dr. Noumbissi has a similarly strong take on ceramic implants with non-metal screws, especially ceramic screws. Some dental implant companies place ceramic abutments within ceramic implants, which leads to a lot of fractures. That's because a small piece goes into a bigger piece of the same material, which increases the risk of fractures. Furthermore, if a ceramic abutment is fractured, the entire implant is damaged and must be replaced.
According to Dr. Noumbissi, ceramic implants should be accompanied by fiberpost. He says the fiberpost in the Patent™ Dental Implant System is a brilliant technical innovation. "The fiberpost is easily replaced if it breaks or isn't to your taste. It also has enough flexibility to ensure the transfer of forces doesn't affect the implant — that's why you have never (or hardly ever) recorded implant fractures or abutment fractures."
Dr. Noumbissi's honest take on the Patent™ Dental Implant System
"I see this as a game-changer," Dr. Noumbissi said simply when asked to comment on the Patent™ Dental Implant System. He backed that statement by expanding upon two key points — decades of clinical research and the innovative fiberpost.
The first ceramic implant backed by over a decade of research
"Patent™ is the first ceramic implant system I've seen that comes with over a decade of research. Your system has been around for a while, and I remember it as being the ZV3 implant back in 2006. Your product has been used, tested, and evaluated for over a decade. I've never seen a ceramic dental implant come out so thoroughly researched before the commercialization is taken to this level."
The fiberpost is biomechanics driven concept/ biomechanically sound concept
"I am very intrigued by the fiberpost; I think it's an engineering marvel. The fiberpost material can take mechanical stress for a very long time without stressing the implant, giving it a prosthetic-stable design. My colleagues have used Patent™ extensively in Europe, and the soon-to-be-published results are amazing. I see this as a game-changer."

"We now have a situation without screws, leading to easily changeable and customizable abutments. That's what doctors must understand — these implants can be customized for the patient, and we're in an age of customization. These implants can be customized to the anatomy of the patient, and that's revolutionary — no one else is doing that in the market right now."
While discussing his goals for the future, Dr. Noumbissi said he wants to continue advocating for ceramic implants. He believes a material that corrodes but isn't rejected (titanium) should be called a "bio-tolerated material," whereas a material that triggers less response (ceramic) should now be called a "biocompatible material." He aims to ensure that message remains honest and true.
Register for our free newsletter.
Never miss one of our weekly episodes with leading dental professionals.