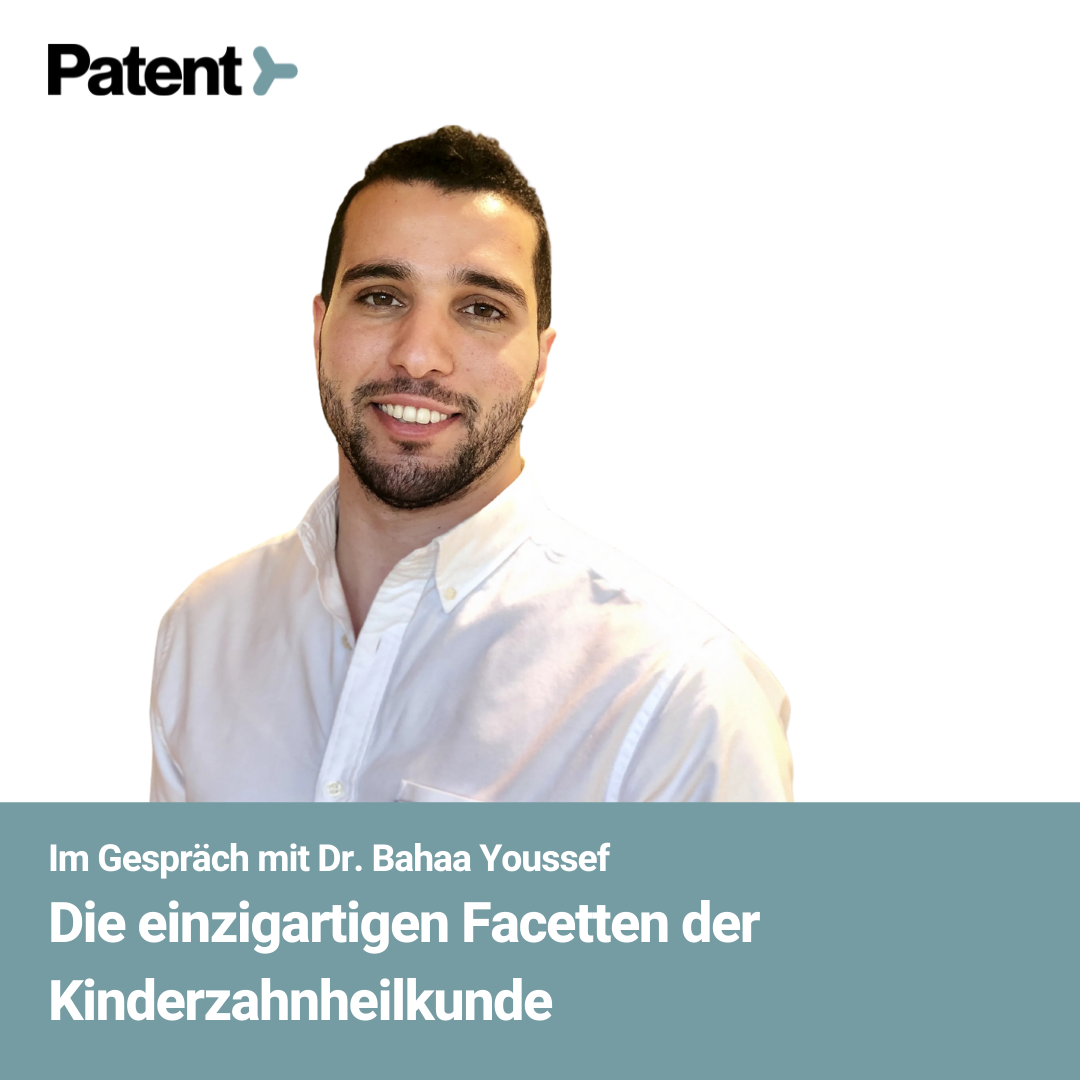 Understanding children is essential for pediatric dentistry


The difference between pediatric dentists and general dentists who treat children


The differences in treatment plans for children and adults


Distracting children with magic therapy, hypnosis, and conversations

Communicating with the children's parents 

Dr. Bahaa Youssef
Pediatric Dentist at KU64
Graduated in dentistry from Future University in Egypt, 2014


Master's in Pediatric Dentistry from the Medical Faculty of the University of Greifswald


Pediatric dentist at KU64 in Berlin-Charlottenburg


Website: https://ku64.de/


Instagram: @kinderzahnarzt.youssef

KU64 - Berlin Zahnarzt Kurfürstendamm 64 Charlottenburg-Wilmersdorf, 10707 Berlin
In Conversation with Dr. Bahaa Youssef
While all dentists can treat children, pediatric dentistry involves a specialized understanding of child psychology. Pediatric dentists aren't just focused on teeth but also on the child's psychological needs, emotions, and entertainment, and they must also manage the parents' expectations and concerns. While treating children, some pediatric dentists have also taken on the de facto roles of entertainers and magicians.

Our team at Zircon Medical recently hosted Dr. Bahaa Youssef, the pediatric dentist at KU64 dental clinic, on our podcast series to discuss the unique facets of pediatric dentistry.
Introducing Dr. Bahaa Youssef, the pediatric dentist at KU64
Dr. Bahaa Youssef is currently the pediatric dentist at KU64, a large dental clinic in Berlin-Charlottenburg. He acquired his dental degree from the Future University in Egypt in 2014, following which he moved to Germany to pursue advanced education. He completed his Academic Master of Science (M.Sc) in Pediatric Dentistry from the Medical Faculty of the University of Greifswald, following which he joined the KU64 team as a pediatric dentist in 2020.
Dr. Youssef says his father is an anesthetist who studied medicine, which got him interested in healthcare. However, he eventually settled on dentistry because his brother also studied dentistry, which seemed like a cool alternative to being a doctor. He believes doctors "are a bit serious," whereas dentists have more opportunities to communicate directly with patients, making the field more interesting. He was also drawn to dentistry because dentists, according to him, seemed more relaxed and stress-free.
After pursuing dentistry, Dr. Youssef decided to specialize in pediatric dentistry after an internship wherein he worked with children for a month. He says working with children was extremely fun, especially since they're really honest. "When I treat the child, and he says oh that hurts," he says, "then I really know it hurts. I like this honesty, and I find that the children are more honest, direct, and fun to work with."
Understanding children is essential for pediatric dentistry
Dr. Bahaa Youssef says treating children differs from treating adults mostly in terms of communication and temperament. In some cases, his patients come for their dental appointments after school and are extremely tired — they don't feel like being treated. They're often incapable of opening their mouths because they're tired. In these situations, Dr. Youssef schedules a new appointment rather than forcing the child to proceed with the treatment.
"You have to be really careful with children," Dr. Youssef says. "What is the child's mood today?" According to him, kids are always different and change their minds suddenly. Adults can be treated regardless of how they're feeling, whether they're tired or not. But children don't understand the need for regular dental treatments, especially if they're not in any immediate pain or discomfort.
Dr. Youssef says children can't comprehend why they must go through dental treatment if they feel fine. That's why Dr. Youssef has to explain the need for the treatment. He must also gain the child's trust to determine if the child is cooperative for future treatments.
The difference between pediatric dentists and general dentists who treat children
Pediatric dentists can also treat adults, and general dentists can also treat children. Furthermore, general dentists and pediatric dentists have the same body of knowledge and share the same conceptual framework. Based on that, people often assume how pediatric dentistry differs from general dentistry, especially in terms of technical training.
Dr. Youssef says the primary distinction between pediatric dentistry and general dentistry is the understanding of child psychology. A general dentist may be really skilled at drilling and filling. But without the right attitude, he might not be able to perform his tasks. When he asks the child to open their mouth, the child may simply say "no," and the dentist won't know how to respond. Pediatric dentists understand how to win the child's trust and cooperation.
"You have to talk to the child and ask how they're doing," Dr. Youssef says. "Because that makes a big difference." During his pediatric dentistry specialization at the University of Greifswald, Dr. Youssef says he gained a deeper understanding of child therapy. As a result, he now knows how to deal with children better.
The differences in treatment plans for children and adults
When asked about the differences in treatment plans between children and adults, Dr. Youssef cited a few examples. When children have small cavities, they can be treated with fillings. If caries go deeper into the nerves, they must remove a part of the nerve, provide medication, and attach a dental crown. Meanwhile, if adults have deep caries, their only option is to undergo a complete root canal to remove all the nerves.
Dr. Youssef also highlights differences in crown preparation. For adults, the dentist grinds the original tooth, takes impressions, and sends them to the laboratory for crown preparation. However, with children, he has to perform the entire procedure in the chair. Since there are only 3 to 4 sizes of steel crown, the pediatric dentist must grind the tooth down to the right size and attach the crown. That's the primary difference in crown preparation for adults and children.
Dr. Youssef says children also respond better to laughing gas sedation than adults. In most cases, if the child is cooperative, you can treat them completely with nitrous oxide sedation, but in some cases necessitate using local anesthesia.
Distracting children with magic therapy, hypnosis, and conversations
Dr. Youssef completed his master's degree in pediatric dentistry from the University of Greifswald. However, he says he has also undergone training for non-technical subjects, such as children's hypnosis and magic therapy. He says magic tricks work really well with children, both in terms of gaining their trust and distracting them during treatments. He says doing a few magic tricks for nervous children is a great ice-breaker.
Dr. Youssef says child hypnosis and magic tricks can serve the same function as laughing gas. They're all forms of hypnosis that distract children from their worries. They still understand what the dentist is saying, but they're no longer scared or nervous, making them more compliant during the treatment. It allows the child to focus on the magic tricks and not on the drill.
Dr. Youssef says hypnosis is a broad term that also encapsulates casual conversation. For example, when you talk to children about their toys or clothes and comment on their age or teeth, that's also a form of hypnosis — you're engaging the child to distract them from their fears and concerns. Child hypnosis does the same thing at another level.
Another great way to engage the child is to have lively conversations in their presence. Dr. Youssef says he often talks to his assistants about his general day, the last holiday, and the flavor of the ice cream he had earlier in the day. In fact, Dr. Youssef says he also watches kids' programs just to talk to children about their interests. This captures the child's attention, making them more focused on the conversation rather than on the dental tools and equipment.
Communicating with the children's parents 
Dr. Youssef says another facet of being a pediatric dentist is communicating with the patients' parents. He says he's always friendly and relaxed with the parents, regardless of the treatment their child is undergoing. He says all parents don't have a complete understanding of dental health needs, so he has to be patient and educate the parents as well.
When asked about his goals for the future, Dr. Youssef said he'd like to become self-employed in the distant future. However, at the time, he says he's currently happy in his practice because he learns a lot from his colleagues. He also wants to continue growing his skills with hypnosis, magic therapy, or other possibilities that come along.
You can find Dr. Youssef at the KU64 dental clinic in Berlin-Charlottenburg or on Instagram. You can also listen to him in our Zircon Medical podcast or continue reading for a detailed article on reducing dental anxiety in pediatric patients with hypnotherapy.
Communicating with the children's parents 
Register for our free newsletter.
Never miss one of our weekly episodes with leading dental professionals.
Reducing Dental Anxiety in Pediatric Patients with Hypnotherapy
An independent article by the Zircon Medical Team

Dental fear, anxiety, and phobia are common in the general population, but they're especially pronounced in children. Furthermore, most people develop their potentially lifelong anxieties and fears because of their childhood experiences with dentistry. Dental fear or, in its advanced stage, dental phobia, can also prevent patients from seeking regular dental care, affecting their overall oral health.
Dental anxieties and fears prevent patients from seeking timely dental care, and it affects the pediatric dentist's ability to treat the patient properly. Dental anxieties can also become chronic, worsening with time as each bad experience piles upon the previous one. As such, pediatric patients with dental anxieties are less likely to seek dental treatments in adulthood.
Hypnotherapy is the use of hypnosis for therapeutic purposes. In recent years, hypnotherapy has become an effective means of behavior control and anxiety relief in pediatric patients with significant dental anxieties and fears. It's an addition to other forms of sedation, such as nitrous oxide, with the primary goal of relaxing the patient to make them more open to suggestions.
A clinical study on pain management, published in 2017, concluded that "hypnosis combined with conventional behavior management techniques decreases heart rate during anesthetic infiltration, showing that there may be an improvement in anxiety/pain control."
Hypnosis is a super-focused state of mind, often described as an ultra-focused alert state wherein the cognitive mind is relaxed. Once the analytical, logical, cognitive mind is relaxed, the pediatric patient becomes open to suggestions. As such, the child is more likely to listen to the dentist's suggestions and feel comfortable. As such, hypnotherapy can improve the child's overall experience, alleviate anxiety, and make things easier for the dentist.
Formal hypnotherapy requires advanced specialization and training, but most dentists and dental hygienists can undergo courses on guided relaxation and imagery. As such, even without complete specialization in hypnotherapy, most dentists and hygienists can induce similar results by choosing the correct words and using language to curate a positive experience.