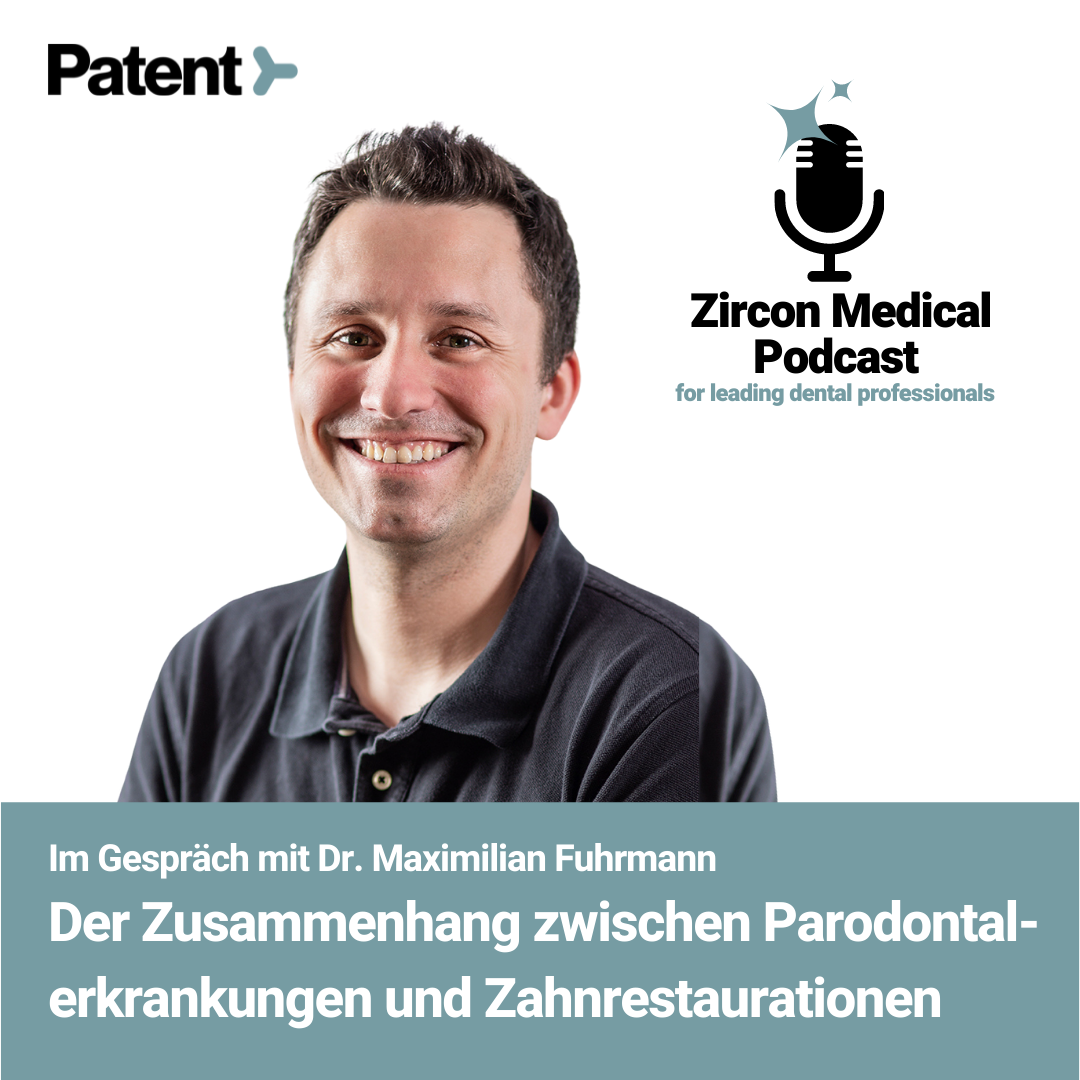 Periodontology is also concerned with general medicine and the immune system


The Periodontal Screening Index is a good tool for diagnosing gingivitis at an early stage


The relationship between periodontitis and general well-being


The relationship between periodontitis and implantology

How patients can ensure a stable periodontal level

Dr. Maximilian Fuhrmann

Owner of a dental practice in Achern
Completion of studies in dentistry at the University of Freiburg


Owner of a private dental practice since 2016


Specialized in prosthodontics, periodontics and implantology


Location: Hauptstraße 6, 77855 Achern, Germany


Phone: +49 214 503929


LinkedIn: https://www.linkedin.com/in/docfuhrmann/


Twitter: @DocFuhrmann


Instagram: @docfuhrmann

Hauptstraße 6, 77855 Achern, Deutschland
In conversation with Dr. Maximilian Fuhrmann
Patients with a history of periodontal disease and untreated periodontal disease have a higher risk of dental implant failure and dental restoration problems. Therefore, it makes sense to combine the specialties of periodontics and implantology when treating patients who need dental implants. Dr. Maximilian Fuhrmann is an expert in the field of periodontology and implantology and always performs thorough periodontal tests when examining patients who require implants.
Our team at Zircon Medical recently had Dr. Fuhrmann as a guest on our podcast series to discuss why periodontally stable conditions improve the long-term outcomes of dental restorations.
Dr. Maximilian Fuhrmann, owner of a dental practice in Achern, Germany, introduces himself
Dr. Maximilian Fuhrmann is a dentist specializing in periodontology and dental implant restorations. He graduated in dentistry from the University of Freiburg in 2011 and opened his own dental practice in Achern, Germany, in 2016. Dr. Fuhrmann's dental clinic also has an online presence on YouTube, Twitter and Instagram - the last of these platforms has over 10,000 followers.
Dr. Fuhrmann says dentistry has always run in his family. His grandfather and father were both dentists, as were two of his aunts. With characteristic humor, he says their family gatherings must have been terribly boring for outsiders because they were always talking about teeth and dentistry. In his teens, he really wanted to do something with computers or web design, but his family's call to dentistry eventually won him over. "And I don't regret it for a day," he concludes.
Periodontology also dealswith general medicine and the immune system
Dr. Fuhrmann says he is fascinated by periodontology because this subdiscipline of dentistry also deals with general dentistry and the entire immune system. "In periodontics, you don't just look at the tooth," he says, "but you look at the tooth in the overall context of the immune system, the statics and how the masticatory forces are initiated." Also, dentists have to pay special attention to periodontal disease because it affects a lot of young people, but most don't notice it because it doesn't hurt at first.
The Periodontal Screening Index is a good test for gingivitis
Dr. Fuhrmann says diseases that compromise the immune system, such as diabetes and rheumatic diseases, cause micro-inflammation that increases the risk of periodontitis. He says the Periodontal Screening Index, which is often paid for by health insurance, helps dentists monitor a patient's level of gum inflammation. The Periodontal Screening Index is graded on a scale of 0 to 4 - patients with a PSI of 3 or 4 need to be informed of their options and the consequences of untreated inflammation.
Dr. Fuhrmann says that 0 is the optimal value for PSI tests - it indicates that there is no bleeding and the gums are pink and firm. However, such perfect conditions are usually only theoretical and rarely found in reality. Most patients are inflamed to some degree, so it is necessary to examine patients individually. What is considered inflamed in one patient may be considered tolerable in another. Therefore, after studying the PSI, the dentist should make an individual assessment of the patient.
Dr. Fuhrmann says his dental clinic routinely performs the PSI test on all new patients and periodically on existing patients. However, if the dentist does not offer a PSI test voluntarily, the patient can request it. If action is required, the patient must be informed of the reason for the action, i.e., why certain treatments and recommendations are necessary.
The relationship between periodontitis and general well-being
In periodontology, Dr. Fuhrmann said, numerous studies have shown the link between overall health and bacterial infections. In some cases, bacterial germs increase the risk of heart problems and premature birth. That doesn't mean all people with severe periodontitis will have a preterm birth or suffer a heart attack, but it's a risk factor that can't be ignored. And the bacterial infections from the mouth can spread through the bloodstream to the rest of the body, so periodontal disease can really manifest itself in numerous general health problems outside the mouth.
The relationship between periodontitis and implantology
According to Dr. Fuhrmann, it makes sense for periodontology and implantology to work together. Because you have to create a good foundation for the implant. Even if the patient has no teeth and there is no risk of dental inflammation, the dentist must ensure the stability of the keratinized gums. This is because stable gums in an edentulous jaw have a positive effect on the long-term survival rates of implants. Therefore, dentists should also consider periodontology when providing implants to ensure the long-term success of the implant.
How patients can ensure a stable periodontal level
Dr. Fuhrmann provides patients with the following tips to ensure a stable periodontal level:
See your dentist for dental cleanings as often as needed, depending on your dental health.


Brush regularly, preferably with an electric toothbrush.

Floss regularly, preferably with perfectly fitting interdental brushes.


Apply Chlorhexamed gel between the teeth.

Use mouthwash sparingly - excessive use can alter the bacterial flora in the mouth and even kill beneficial bacteria.

Advice for dentists who want to get involved in periodontology
Enquire about continuing education courses offered by suitable organizations, such as the German Society for Periodontology


Learn from dentists who are leaders in periodontology via books, Zoom Calls, and videos

Learn from dentists outside your country - international dentistry allows you to learn about other perspectives that are not common in your specialty or training.


Exploration of in-service training
Dr. Fuhrmann says all dentists should continue their education throughout their lives. "The more you learn, the more you realize you don't know that much," he says. His long-term goal is to stay current in all areas of dentistry, including technology and basic science. He concludes, "If you stay curious and enjoy your work, there are no limits. 
You can find Dr. Fuhrmann offline in his dental practice at Hauptstraße 6 in Achern, Germany, and online via LinkedIn, Twitter, Instagram or YouTube. You can also listen to him on our Zircon Medical podcast.
Register for our free newsletter.
Never miss one of our weekly episodes with leading dental professionals.