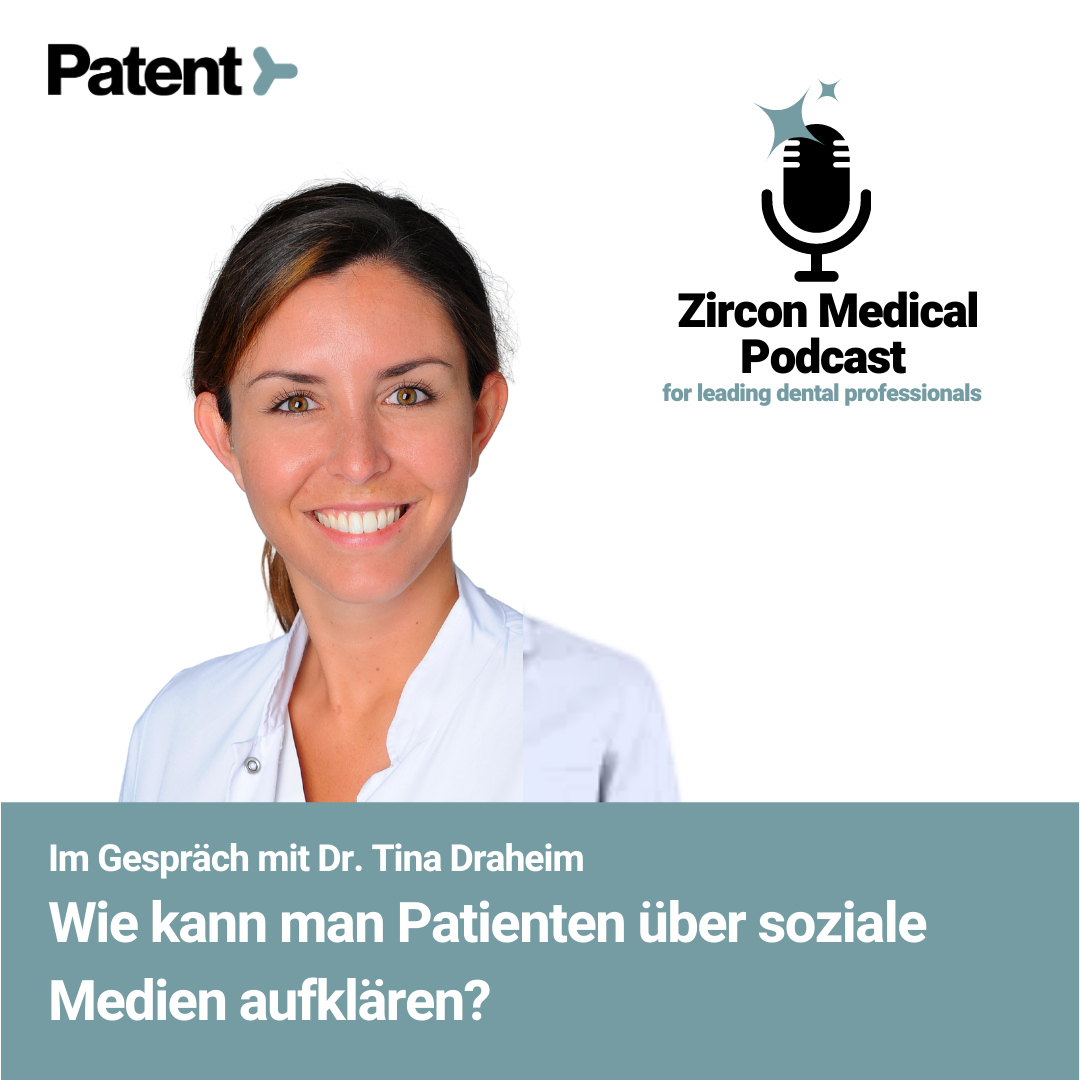 The need to promote patient education via social media platforms.


Planning the social media content.


Choosing the ideal social media platforms.


Changing patient communications in the age of social media.

The limits of social media interactions and medical advice.


Tips for dentists who want to start their social media platforms.

Dr. Tina Draheim

Senior Oral Surgeon at the University Hospital of Cologne

Completed her state examination at RWTH Aachen University in 2015.


Completed her specialist training in oral surgery between 2016 and June 2019.


Senior physician at the University Hospital of Cologne since December 2019.


Email: tina@dr-dentina.de

Instagram: @dr.dentin.a


TikTok: @dr.dentin.a

Uniklinik Köln Mund-Kiefer-Gesichtschirurgie Kerpener Str. 62 50937 Köln

In Conversation with Dr. Tina Draheim

Oral hygiene is the first frontier to ensuring perfect oral health for a lifetime. Most people understand that basic principle, and that's why we brush our teeth everyday. But optimal oral hygiene goes far beyond regular brushing. Patients that don't observe proper oral hygiene or seek timely treatments often suffer the consequences. Most patients don't have a sophisticated understanding of dentistry and oral health, but social media is an excellent tool to educate patients beyond the dental clinic.

Dr. Tina Draheim is a specialist in oral surgery with an internal drive to reshape patient education via social media. When she's not serving as the resident oral surgeon at the University Hospital of Cologne, she's found on TikTok, Instagram, and other social media platforms educating patients about oral hygiene. Our team at Zircon Medical recently hosted Dr. Draheim on our podcast series to discuss how to educate patients via social media.
Introducing Dr. Tina Draheim, the senior oral surgeon at the University Hospital of Cologne

Dr. Tina Draheim has been the senior oral and maxillofacial surgeon at the University Hospital of Cologne since December 2019. She completed her state examinations at RWTH Aachen University in 2015, following which she specialized in oral surgery between 2016 and June 2019. Besides serving as the oral and maxillofacial surgeon at the university clinic, she's committed to patient education via her personal blog and social media platforms, including Instagram and TikTok. 

Dr. Draheim always knew she wanted to engage with natural sciences, with a special interest in medicine, but she didn't know her interests would lead her to dentistry. She wanted to pursue a field that involved considerable manual work and surgeries. When her dentist mentioned that dentistry carried a significant scope for surgeries, she decided to pursue a nursing internship in a hospital and an internship with an oral surgeon, which eventually culminated in her becoming an oral surgery specialist.  

At the University Hospital of Cologne, Dr. Draheim performs numerous operations, including tumor operations, facial fractures, cheekbone fractures, lips, jaws, cleft palate, and the whole spectrum of oral and maxillofacial surgery. She's responsible for taking care of all patients — not just the patients she's operated on. A part of her job summary is also to provide informative talks to educate patients. And that's naturally fed into her current interests in educating patients off-site via social media.
The need to promote patient education via social media platforms

Dr. Draheim developed a keen interest in patient education via social media because of what she noticed at her daily work — dental education is generally neglected. She's usually given 5 minutes to plan educational talks, and there's a strong emphasis on providing information "quickly." The education patients receive at dental clinics and hospitals is usually inadequate and perfunctory, not nearly concise enough to ensure practical application. "That's always been a thorn on my side," Dr. Draheim says, "but it's difficult to implement."

The perfunctory nature of dental education at clinics isn't a personal issue but rather a systemic one. Most dentists and doctors have to rush through the education because of the lack of time, overload of patients, and what Dr. Draheim calls the "economic aspect." Driven by economics, dental clinics and hospitals accept a large number of patients per day, and so there's no time to schedule detailed education. This necessitates the slap-dash approach to dental education. 

However, Dr. Draheim's desire to promote dental education online has been propelled by another observation — the shocking lack of oral hygiene amongst patients. Over the five years that she's been a dentist, Dr. Draheim says she's shocked at her patients' bad oral hygiene. She has noticed that most patients aren't even aware of the basics of oral hygiene. Instead of passing the buck to someone else, Dr. Draheim is determined to promote dental education on her own terms, using a platform that's widely accessible to the masses — social media.

Planning the social media content

When asked how she plans and manages her social media presence, Dr. Draheim provides a detailed overview of her process. She always does content planning a week in advance and then completes a bulk of the work from mid-Friday (after work) to Sunday, dedicating 3 out of 7 days a week to her social media.

When it comes to choosing topics, Dr. Draheim relies on requests from follows who ask specific questions. That makes the content planning process easy because she can simply build posts around their concerns, providing the exact information her patients would find useful. And she continues fine-tuning the content plan based on feedback and questions.

Dr. Draheim says she initially started with subjects related to general oral hygiene. What is tartar? How does tartar develop? How often do you actually have to brush your teeth? What is the ideal dental care routine? She even included videos explaining the perfect dental care routine. Over time, her content started relying more on feedback. 

Dr. Draheim also releases two email newsletters per week to keep her followers engaged. She posts new blog articles once a week and sends them to her followers via email, so they don't have to go to her blog every time. On Fridays, she sends a "Dr. Tina Facts Friday" newsletter wherein she briefly explains five medical facts.

Choosing the ideal social media platforms

Dr. Tina Draheim currently has over 15,000 followers on social media, even though she's been active on TikTok and Instagram for about 6 weeks. When asked about how she chooses her social media platforms, she says she prioritizes reach. "When dealing with social media," she says, "you have to be aware of which people can be found where and how you have to address them."

She has chosen Instagram and TikTok because they're huge platforms that are still growing in reach. She also maintains a personal blog with an associated newsletter to reach her audience directly rather than being completely reliant on third-party platforms. She also intends to eventually branch into podcasts and YouTube, but she wants to take it step-by-step to keep the focus on quality.

After choosing the social media platform, Dr. Draheim also says it's important to plan the content according to the audience. While she doesn't claim to be an expert on TikTok's algorithm, she believes videos have a strong chance of going viral on TikTok if they're socially relevant. "My theory is that videos that go viral have an incredibly high social relevance."

She cites the example of a recent trend that's sweeping across TikTok — girls are filing their teeth straight and posting the video online. Dr. Draheim responds to that trend by displaying why teeth-filing is dangerous and why girls shouldn't be doing it. That allows Dr. Draheim to catapult her video off existing trends while raising awareness about this harmful practice.

Changing patient communications in the age of social media

Dr. Tina Draheim believes social media has a major role in changing patient behaviors and communication. She believes this change is driven by two factors — anonymity and familiarity.

Due to social media, Dr. Draheim states her followers can contact her anytime under the cloak of anonymity. This allows them to ask personal questions or even send pictures of their teeth — something they may feel self-conscious about in person. One of her followers once asked her, "I have such crooked teeth. I am ashamed to go to the doctor with them. Can you tell me what I have to do?" As such, social media takes inhibition out of the equation.

Another reason for communication differences is that patients can be more familiar online. "When I talk to my patient in the clinic, in a white coat," Dr. Draheim says, "there's a distance, and building trust takes time." However, over social media, her followers are already on a first-name basis with her, and they get to see her personality before they strike up a conversation. This allows them to be more familiar, so communication is easier. 

The limits of social media interactions and medical advice

While social media certainly helps Dr. Draheim communicate with her patients and offer relevant medical advice, she's also honest about its limitations. "You can explain an incredible amount about general issues, but when it comes to individual cases, it becomes difficult." When her followers send pictures and ask for specific recommendations, she can offer general advice with reservations, but she always emphasizes the generality of her statements and asks them to consult their dentists in person.

Tips for dentists who want to start their social media platforms

#1. Maintain a Newsletter
Always build a blog with a newsletter because it belongs to you completely. The newsletter list with the followers is yours. The followers on TikTok and Instagram can be taken away if the account is deleted, but your personal blog and newsletter list are yours.

#2. Find the Right Social Media

Ask yourself the following questions: Where do I find my followers? Which followers do I want? Which people do I want to address? Where do I find them? Asking these questions and figuring out their answer will help you trace the ideal platform for your goals.

#3. Start and Learn by Trying

The most important tip is to simply start and learn by experience. You can go through courses and online tutorials, but this subject can only be learned through trial and error.

#4. Shed Your Inhibitions

Try to shed some of your inhibitions. While you shouldn't post anything too embarrassing, it's important to push your inhibition threshold to really connect with people. Ask your friends or partners about the pictures or videos, and then post them.

#5. Find a Balance

Get involved with the format and its demands. You can't post super-detailed and high-quality knowledge on TikTok, and you must be okay with that. Try to find a good balance between quality content and the platform's demands.

In our previous podcast, Dr. Delyan Kukurinkov discussed how a strong social media presence and follower count can be leveraged into patients. When asked if Dr. Draheim has similar goals, she frankly answered that it's not her primary concern. To her, social media education is merely a passion project. "Of course, I'm happy to take along the side effects of building up a reputation," she says, "but that's not the intention."

If you're interested in learning more about Dr. Draheim or exploring her platforms, you can find her on her personal blog, Instagram (@dr.dentin.a), TikTok (@dr-dentin.a), LinkedIn, or email her at tina@dr-dentina.de. She can also be found offline at the University Hospital in Cologne. You can also listen to Dr. Draheim in our Zircon Medical podcast or continue reading for a detailed article on finding the right social media platforms for dentists.

Register for our free newsletter.
Never miss one of our weekly episodes with leading dental professionals.
Which Social Media Platform is Right for Your Dental Practice? 

An independent article by the Zircon Medical Team

Dr. Tina Draheim pointed out in her article that one must assess their options carefully while selecting a social media platform. Whether your goal is to acquire new patients or simply educate your patients, you need to consider your options carefully. The right social media platform should have sufficient people to make your endeavor worthwhile, it should have a friendly algorithm that allows you to reach more people, and it should have your target demography.
However, selecting the right social media isn't enough — you must also consider the social media's capabilities and environment. Posting detailed educational videos on TikTok will be pointless because the platform is largely dominated by light-hearted content and 30-second dance videos. Similarly, posting an educational video formatted with a trending TikTok dance to LinkedIn is sure to earn you more than a few eye rolls. You must curate content that's platform-faithful.

Below, we provide a general overview of some of the most accessible and popular social media platforms in 2021 to help you decide which to use. 
#1. Facebook

Facebook is the OG social media platform. While it's not the first social media platform ever (MySpace and various others came before), it's the first platform to gain mainstream acceptance as a serious platform. It currently boasts over 1.7 billion active users, making it the go-to platform for most businesses. Facebook allows you to share informative and detailed content with your audience with few limitations (such as time, format, etc.)

However, Facebook has certain limitations. Most significantly, you must be your patient's "friend" to access their feed, making it unsuitable to reach new people — unless you spend on advertising. In recent years, Facebook has been losing popularity amongst younger users, so its current demography skews 30 and older, and its popularity is likely to continue dipping, though it's still an incredibly valuable platform to reach older patients. 

Facebook is also useful because of its large groups — you can find a group for most subjects, including dental concerns. This allows you to reach potential patients or followers actively looking for the kind of content you're primed to offer. You can also scope the groups to learn about existing concerns and curate your social media content accordingly. As such, there's significant potential with Facebook even now.

Audience
25 to 45 years old

Pros
Suitable for long-term relationships.


Suitable for long-form content and detailed guides.

Cons
Not popular amongst younger generations.


Content can only reach a wider audience if you pay.

#2. Instagram

Instagram currently has close to a billion monthly active users, and it claims to be one of the most engaging platforms. This platform is particularly popular amongst millennials, including younger millennials. Instagram leans heavily towards visual content — photographs, videos, video reels, stories, etc. As such, dental practices that want to succeed on Instagram must abide by its demands for aesthetically pleasing content. 

Instagram allows you to reach a wider audience because of the #hashtag feature, which puts your content before audiences looking for your kind of content. Instagram is the perfect platform for before-and-after pictures, short patient success stories, and aesthetically shot pictures of your dental practice. If you use social media for educational purposes, you must ensure the content is graphically engaging.

Audience
18 to 45 years old

Pros
You can reach a wider audience.


Ideal for visually stimulating content.

Cons
Not suitable for long-form written content.


Limited opportunities to link the content to your website.

#3. Twitter

Twitter is one of the best platforms for real-time communication with your followers and potential patients. Twitter blends videos, pictures, written text, polls, and various forms of media to give you great control over your content. However, you must abide by Twitter's word count limitations, so it's not suitable for long-form scientific explanations and nuanced conversations. If you want to reach your patients with quick and snappy content, Twitter is the ideal platform.

Your content on Twitter must generate high engagement to remain relevant. As such, you can ask questions on Twitter, ask patients about their dental concerns, or release polls to collect information. These forms of content invite participation, allowing you to stay in your followers' feeds and reach even their connections. As such, rather than simply educating your followers, you must engage with them.

One of the greatest advantages of Twitter is that the right content can go viral within hours. It's extremely amenable to wide reach — with the correct hashtags, you can make your content reach the exact audience desired. However, with over 7,000 tweets per minute, it's easy to get buried in the constant stream of content. This creates a need to produce new content, push out new tweets, and engage with your followers regularly.

Audience
18 to 45 years old

Pros
Suitable for dentists who want to connect directly with patients.


Suitable for short snappy tips and information.


Your tweets can reach an extremely wide audience quickly. 

Supports various forms of engaging media.

Cons
Not suitable for in-depth and long-form educational content.


Without engagement, your tweet can get buried in a few minutes.


Demands a lot of time and active engagement.

#4. TikTok

TikTok is the latest social media platform to take over the internet. It's particularly popular amongst Generation Z, so it's likely to continue growing in popularity over the coming years. TikTok seems like an unlikely platform for dentists (or any medical professional) because of its unique capabilities and environment. TikTok is primarily driven by 15 to 30-second dancing challenges, parodies, and other forms of light-hearted content.

Some dentists and medical professionals are averse to using TikTok because they believe they'll be asked to dance around their dental practice. However, various dentists, including Dr. Tine Draheim, have found a way to offer valuable dental insight while following TikTok's unique format. You can use TikTok to offer 15-second tips on oral hygiene and dental treatments, break myths related to dentistry or produce other such snappy content. 

Audience
15 to 25 years old

Pros
Popular amongst younger patients.


Content can go viral easily.


Reach a broad audience.
Cons
Not suitable for serious dental education.


Demands that you lose your inhibitions considerably.

#5. LinkedIn

LinkedIn was initially created as just another social media platform, but it has since become a platform for professionals and businesses. It's the ideal platform to network with colleagues, community members, peers, and potential clients/ patients. Due to the serious nature of LinkedIn, this platform is ideal for long-form and serious-minded content. You can promote detailed guides, dental education, and other forms of content. 

However, maintaining a social presence on LinkedIn is more about connecting with other professionals rather than potential patients. It allows you to build professional credibility and talk to other dental professionals in the industry, which can open up potential opportunities down the line. When using LinkedIn, it's a good idea to post articles and videos directly related to your dental practice, such as case studies of challenging dental treatments.

Audience
25 to 45 years old

Pros
Helps you network with other professionals.


Don't have to sacrifice your content's educational value and quality.


Can help you get quality referrals.
Cons
Not suitable for dentists who want to communicate with patients directly.


Hard to reach a broad audience.

You don't have to restrict yourself to the platforms mentioned above, but these are currently some of the most popular social media platforms. While all of them have different capabilities demanding different types of content, you can find innovative ways to structure or modify your content according to the platform.