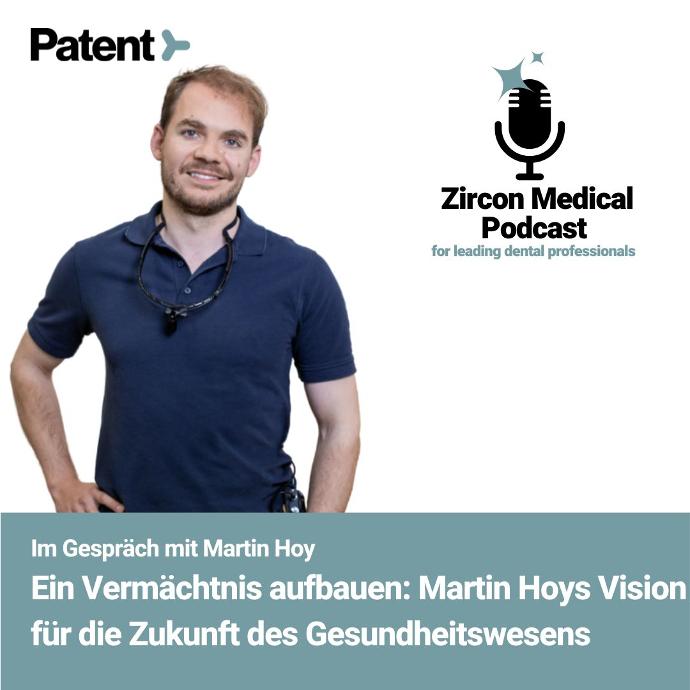 Taking over an established dental practice


Growth and expansion of a dental practice


alancing patient satisfaction and financial stabilization


A journey of personal and professional growth


       Understanding the connection between lifestyle, health, and long-term wellness
     The importance of learning and seeking mentorship for success
     Developing the practice and inspiring talent
Martin Hoy

Owner of Dr. Hoy Dental Practice

An address must be specified for a map to be embedded
In Conversation with Martin Hoy

The Zircon Medical team recently interviewed Martin Hoy, the owner of the Dr. Hoy dental practice in Falkenstein. Martin is an expert in gum disease, surgery, and periodontology. In the interview, Martin talked about his journey, what motivates him, the changes that have taken place in his practice since he took over, and much more.
Taking over an established dental practice
Taking over an established dental practice can be a daunting task, especially if it is a small, family-run business. However, Martin Hoy was up for the challenge. Martin's drive and motivation come from his desire to create change in his professional field on a daily basis. He was inspired by the idea of making a difference in the lives of his patients, especially those who came to him with pain and left without it. Martin also wanted to pursue his own strengths and develop his practice into a small competence center.
One of the key factors that motivated Martin to take over his father's practice was the fact that his father was constantly rotating and was good at many things, but not perfect at any of them. Martin wanted to change that and create a practice where each dentist could specialize in their strengths and complement each other. With that in mind, Martin and his family found a great property, a former bank, which allowed them to expand their practice and create more room for growth. The practice now has six treatment rooms, four of which are fully-fledged, and two of which are prophylaxis rooms, allowing for a more spacious and comfortable environment for both the patients and the staff.
In addition to the physical changes, the practice has also grown in terms of staff. At the moment, Martin's father is still employed as a dentist, along with Dr. Mauritz, and soon, there will be another colleague joining them on a temporary basis. The practice also employs ten other employees, ensuring that the family-like interaction that was important to Martin and his family is maintained despite the growth of the practice.
Growth and expansion of a dental practice
With the growth of the medical practice from three to thirteen employees, it became necessary to introduce processes and systems to ensure efficiency and ensure that everyone is on the same page. The larger number of employees made it more complex to manage holiday planning, working hours, and communication between staff members. The new processes and systems were put in place to ensure that everyone knows what is going on, how to operate new devices, and how to communicate effectively with patients and each other.
As Martin's father plans to step back, attracting young colleagues and growing the practice has become the biggest challenge. The goal is to maintain the same level of care and quality in the more rural areas and to be an attractive employer for interested people. Martin is trying to approach this challenge from multiple angles, including working with his former university, offering work shadowing and internships, introducing the practice to students, and having a strong media presence. Although these efforts have not yet led to success, he remains optimistic and is continually exploring new ways to attract and retain young talent.
Balancing patient satisfaction and financial stabilization
In this conversation between Ben and Martin, the two discuss the various key figures that they pay close attention to in order to ensure that their practice is running efficiently. The most important figure, according to Martin, is the turnover, which has to be maintained in order to cover the costs of paying employees and bills. However, they also take into consideration other factors, such as the number of patients in prophylaxis, evaluations received, and appointments given.
One challenge that Martin and his team face is balancing the need for financial stability with patient satisfaction. For example, when patients have to wait several months for an appointment, it can lead to frustration and dissatisfaction. To address this issue, Martin and his team try to control appointment times so that patients can receive care in a timely manner, even for unplanned cases. The goal is to provide the best possible care for their patients while also ensuring that their practice remains financially stable.
A journey of personal and professional growth
Martin Hoy looks back with pride on the general development of his practice and the positive feedback received from patients, colleagues, and acquaintances. He also takes pride in his personal life, including his path to professional success and his various hobbies that push him to his limits. Whether it's ice climbing or mountaineering, Martin finds a lot of pleasure in new challenges and always strives to reach new heights.
In his most recent mountain climbing adventure, Martin climbed several four-thousand-metre peaks in Switzerland, including Castor. Despite the challenges, Martin recognizes that climbing doesn't always have to end at the summit, as the journey itself can also be fulfilling. He brings the same attitude to his dental practice, allowing himself to enjoy the journey as it expands.
Understanding the connection between lifestyle, health, and long-term wellness
Martin Hoy spoke about the importance of personal responsibility for one's health during a recent conversation with Ben. Hoy believes that individuals have a significant role to play in their own health and well-being. He is passionate about educating patients about the impact of lifestyle and diet on their health and the significance of taking long-term approaches to maintaining good health.
Hoy highlighted that while there may be accidents or illnesses that are beyond our control, there are still many things we can influence with our lifestyle, diet, and physical activity. Instead of solely relying on prescription drugs to treat illnesses, he believes that it's essential to address the underlying problem and make positive changes to our lifestyle.
Ben concurred with Hoy, pointing out that his mother's generation is an example of taking a quick-fix approach to health problems by relying on painkillers. However, they both acknowledged that this approach only provides temporary relief and doesn't address the root cause of the issue.
Hoy compared our health to building a house, stating that the food we eat acts as the building blocks for our bodies. If we consume poor-quality building blocks, our body will eventually fall apart, just as a house built with weak bricks would eventually collapse. On the other hand, if we use high-quality building blocks, we can build a sturdy foundation for our health for a lifetime.
The importance of learning and seeking mentorship for success
Success is a journey, not a destination. It is a continuous process of learning, growing, and improving. Martin Hoy believes that it is difficult to pinpoint one person who has influenced his success. Instead, he tries to find someone who is a few steps ahead of him in different aspects of life. He has learned a lot from mentors in various fields, including sports, further education, and periodontology, which has helped him integrate biological dentistry into his practice.
According to Martin, the key to finding the right mentor is to keep your eyes open and be willing to put aside your ego. He believes that it is essential to listen to people, even if you don't agree with everything they say, to learn from their experiences and knowledge.Martin states that overcoming ego is essential for success. He believes that by approaching challenges with an open mind, one can turn their weaknesses into strengths and grow from them.
The best thing about seeking mentorship, according to Martin, is finding someone who complements your strengths and weaknesses. By working with people who excel in areas that we may struggle with, we can live out our best sides and achieve success together. Martin cites his father as an example. His father is an excellent prosthodontist and specializes in dentures, while Martin prefers to do preparatory work in surgical and periodontal fields.
Developing the practice and inspiring talent
In the next three years, Martin Hoy has set his sights on developing the practice to new heights. He wants to inspire more "really good people" to join the region, so that the care and quality can be maintained. Martin wants to ensure that the practice is able to continue and grow even after his father steps down.
To achieve this, Martin is not just looking for doctors to fill positions, but for people who fit in with the team and the region as a whole. He wants to ensure that everything works well together, without lowering standards or making compromises. These goals will be a major focus for Martin in the next few years, and he is committed to maintaining the high level of quality that the practice is known for.
Martin Hoy can be found at his dental practice in Falkenstein. You can also follow him and his team on YouTube, Facebook, or Instagram. And finally, please listen to the conversation between Ben and Martin Hoy on the latest episode of the Zircon Medical Podcast.