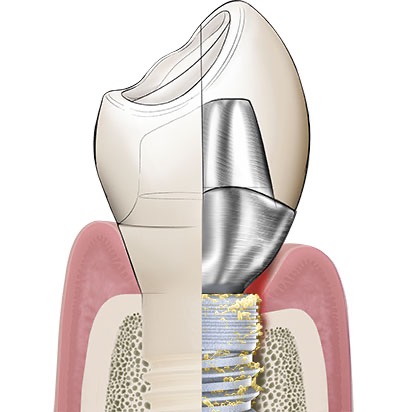 Since dental implants are located partly inside the patient's body and partly in their oral cavity, the peri-implant soft tissue around them with its marginal epithelium represents a decisive defense barrier against attacks by bacterial pathogens from the outside world. The stronger the soft-tissue adaptation to dental implants, the harder it is for pathogenic bacteria in the oral cavity to bypass the barrier of the marginal epithelium and to penetrate past the implant into the deeper tissue, where such bacteria would promote periimplant inflammation and marginal bone loss, among others.

With a view to the long-term health of implant patients, it therefore would be crucial if the soft tissues would connect to their inserted implants as tightly as possible. In the past, however, synthetically produced implant materials have only been able to achieve soft tissue attachment and have not been able to achieve a complete and sustainable bond with it. The Patent™ Implant is leading the way: Thanks to unique design factors and a fundamental understanding of the specific material properties of zirconia, the Swiss innovation company Zircon Medical Management has succeeded not only in maximizing the soft-tissue integration of the Patent™ Implant, but in creating a veritable "soft-tissue seal" around its neck, largely sealing off the inside of the body from hostile attacks from the outside world. This can reduce or even prevent biological late-term complications such as peri-implantitis or marginal bone loss (Fig. 1).

Groundbreaking combination of design and material
The Patent™ Dental Implant System harnesses a unique combination of design and material that allows the peri-implant soft tissue to firmly adhere to the implant and form a cuff, largely free of irritation and undisturbed by bacterial pathogens. The transgingival portion of the Patent™ Implant is machined and does not undergo any surface treatment after milling, in contrast to the highly rough portion that is placed in contact with the bone. The smoothness of the transgingival implant surface is a key prerequisite for the incredibly strong attachment of soft tissue in this area. In addition, the soft-tissue-level implant design avoids the dangers of a bacteria-prone microgap at the subgingival level, which has been shown to negatively impact hard- and soft-tissue integrity [1-4]. As a result of the implant placement exactly at gingiva level, the implant-abutment interface is positioned equigingivally, in a controllable area that can be maintained for oral hygiene. Moreover, the implant material plays a decisive role in the soft-tissue integration of the Patent™ Implant. The yttrium-stabilized zirconia used for manufacture of Patent™ Implants has established itself as the gold standard among all available implant ceramics due to its tissue-friendliness and high fracture strength.

Histological examinations showed completely inflammation-free soft tissues after eight weeks – despite the accumulation of plaque. This observation was made within the context of a preclinical study on the bone healing of Patent™ Implants [5].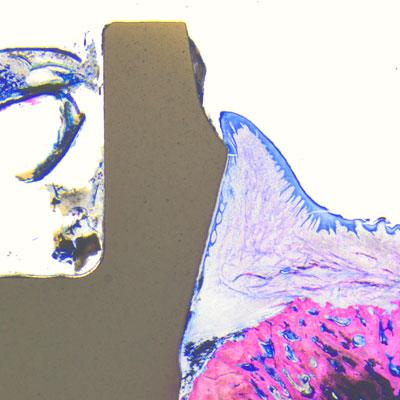 Histology of an inserted Patent™ Implant showing the tight soft-tissue seal after four weeks of healing (© Peter Schüpbach).
A three-year study by Brüll et al. reports about stable and healthy hard and soft tissues around Patent™ Implants [6]. The authors also report about significantly shallower pocket depths around the investigated implants than around the natural teeth of the same patients and that less bleeding on probing occurred around the implants [6]. Becker et al. reports an increase in keratinized gingiva around integrated Patent™ Implants after 24 months in their two-year study [7]. The long-term clinical benefits of the soft-tissue seal around Patent™ Implants has also been scientifically documented: Prospective and retrospective long-term studies on Patent™ Implants report about healthy hard and soft tissues, stable marginal bone levels (Fig. 3), and peri-implantitis-free implant function after up to twelve years [8, 9].

In order to support the oral health of implant patients in the long term, practitioners are urged to keep abreast of technological advancements and to use only medical devices whose clinical success is backed by long-term scientific data. The promising observations made in the aforementioned studies not only suggest that the risk of biological late-term complications is reduced thanks to the soft-tissue seal around Patent™ Implants. It goes far beyond that: The soft-tissue seal around Patent™ Implants can prevent biological complications, such as peri-implantitis or marginal bone loss, from occurring in the first place. In light of the impressive study results, further research is underway to specifically address the clinical phenomenon of the soft-tissue seal.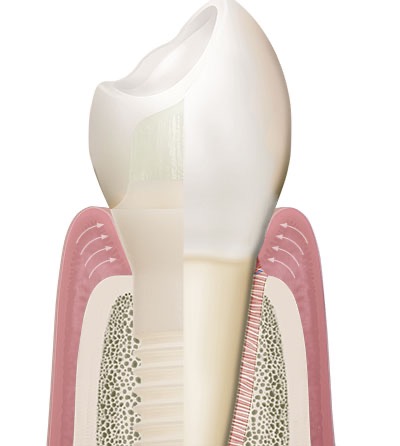 References:
1.    Nothdurft, F. P., Fontana, D., Ruppenthal, S., May, A., Aktas, C., Mehraein, Y., Kaestner, L. (2015). Differential behavior of fibroblasts and epithelial cells on structured implant abutment materials: A comparison of materials and surface topographies. Clinical Implant Dentistry and Related Research, 17, 1237–1249.
2.    Glauser R, Schüpbach P. Early bone formation around immediately placed two-piece tissue-level zirconia implants with a modified surface: an experimental study in the miniature pig mandible. Poster presented at: Implant dentistry for all: honoring the past—treasuring the present—shaping the future. Academy of Osseointegration 2022 Annual Meeting; 2022 Feb 25; San Diego, CA.
3.    Brüll F, van Winkelhoff AJ, Cune MS. Zirconia dental implants: a clinical, radiographic, and microbiologic evaluation up to 3 years. Int J Oral Maxillofac Implants. 2014 Jul-Aug;29(4):914-20. doi: 10.11607/jomi.3293.
4.    Becker J, John G, Becker K, Mainusch S, Diedrichs G, Schwarz F. Clinical performance of two-piece zirconia implants in the posterior mandible and maxilla: a prospective cohort study over 2 years. Clin Oral Implants Res. 2017 Jan;28(1):29–35. doi: 10.1111/clr.12610.
5.    Karapataki S, Fahrenholtz H, et al. Peri-implantitis and zirconia implants: results after five and up to 12 years of function. In preparation.
6.    Becker J, et al. Clinical performance of two-piece zirconium implants in the posterior mandible and maxilla: a prospective cohort study over nine years. In preparation.