An independent long-term study conducted over nine years on integrated two-piece Patent™ Implants has reported healthy soft tissue, minimal marginal bone loss and no peri-implantitis.[1] Are we witnessing the redefining of implant success?

Dr. Roland Glauser, a specialist in synoptic implantology based in Zurich, has been conducting independent research on the Patent™ System for several years. In this interview, he explains how Patent™ is able to minimize the risk of chronic tissue inflammation over the long term.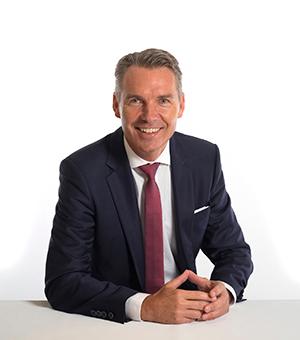 No peri-implantitis around two-piece Patent™ Implants after 9 years—what is the decisive factor for such a finding?

The crucial factor in preventing peri-implantitis is the soft tissue. It plays a vital role as the primary defense barrier. In the transmucosal region, it's not the material itself but rather the nanotexture and surface chemistry that are decisive. These factors must be optimized to ensure the rapid and sustained attachment of fibroblasts and junctional epithelial cells. The goal is to create an effective barrier against bacteria. Patent™ has achieved precisely that, creating a powerful "biological firewall" between the soft tissue and the implant surface.

What sets the Patent™ System apart in the transmucosal region?

The transmucosal implant portion is mucophilic. This is the result of an interplay of three key factors: surface structure, material composition and surface chemistry. During wound healing, soft tissue seeks direct contact with the mucophilic implant collar and adheres to it immediately. This mucophilic zone serves as a highly effective guiding structure during the healing process. After healing, the mucophilic portion also supports the continuing coronal migration of junctional epithelial cells, maintaining a crucial defense mechanism. The surface characteristics also support additional humoral and cellular defenses. Furthermore, the mucophilic portion is resistant to plaque, reducing bacterial colonization. I refer to this favorable interaction between soft tissue and the Patent™ Implant surface as an "augmented biological interface"—the key to long-term health of the peri-implant soft tissue.

What does this mean for the soft tissue in practical terms?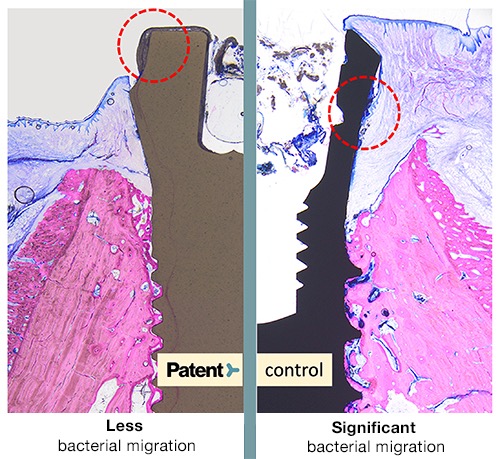 There is hardly any downward migration of plaque. Although plaque tends to accumulate on any implant surface, this augmented biological interface is able to prevent plaque migration, including harmful microorganisms, toward deeper tissue, thus preventing chronic and progressive tissue inflammation.
Figure caption: In histological analyses, Drs. Roland Glauser and Peter Schüpbach demonstrated less bacterial migration on Patent™ Implants compared with the control implants.

Are there any other aspects that play a role in preventing peri-implantitis?

It's equally important that the implant design does not feature a gap at a depth that microorganisms can penetrate. Regardless of the system, no implant–abutment connection is entirely sealed under clinical conditions, even though this is often claimed. Studies have shown that the presence of microgaps at critical levels, subcrestally, epicrestally and supracrestally, promotes biological complications. The prosthetic connection of the Patent™ Dental Implant System is not positioned at such a critical point; it's located equigingivally to make it controllable and maintainable. 
Another frequently underestimated factor for healthy peri-implant soft tissue is the unaltered quality of surfaces directly adjacent to soft tissue. In daily practice, these surfaces, crucial for soft-tissue attachment, are often altered by grinding, burning or cementation processes in the laboratory or the clinic. The Patent™ Dental Implant System eliminates this factor too, as its transmucosal region is not exposed to such changes at any point.
If peri-implantitis can be prevented in the long term, what does this mean for practitioners in their daily practice?

The message to practitioners is clear: Peri-implantitis must not be accepted as an inevitable part of implant treatment. Worldwide, considerable time and money are invested in treating peri-implantitis. However, current treatment approaches are far from achieving lasting success. This means that, as we continue to grapple with existing cases, new ones will keep emerging, unless there is a change in thinking. It's crucial to understand that this problem can be entirely averted, as demonstrated by the long-term study at Heinrich Heine University Düsseldorf, which found healthy soft tissue, minimal marginal bone loss and no peri-implantitis after nine years. This is an unequivocal message for all of us that today's implant treatments must aim for such long-term results.

Thank you for the enlightening conversation.

This interview was first published in issue 5/23 of pip—Praktische Implantologie und Implantatprothetik.
Reference:
1. Brunello G, Rauch N, Becker K, Hakimi AR, Schwarz F, Becker J. Two-piece zirconia implants in the posterior mandible and maxilla: A cohort study with a follow-up period of 9 years. Clin Oral Implants Res. 2022 Dec;33(12):1233-1244. doi: 10.1111/clr.14005. Epub 2022 Oct 31. PMID: 36184914.