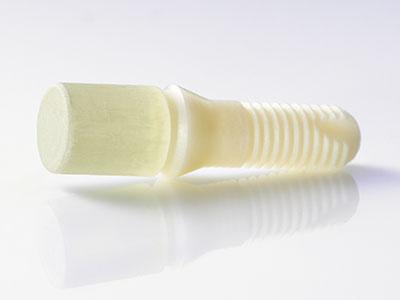 Ceramic implant materials have gained momentum in restorative dentistry in recent years due to their immunological advantages. While dental implants made of older generation oxide ceramics, such as alumina-toughened zirconia, struggled with high fracture rates, engineering leaps have led to the development of increasingly advanced ceramic materials that are now on par with conventional titanium implants in terms of fracture resistance, long-term stability and survival rates.
The most advanced ceramic implant material currently available on the market – yttria-stabilized zirconia polycrystal (Y-TZP) – is used in the manufacture of the Patent™ Implant System. To achieve the desired strength and stability of zirconia, it is doped with yttria as a stabilizer during the processing of the raw materials. The resulting ceramic implant material offers excellent tribological properties and is particularly resistant to abrasion and wear. Compared with all available ceramic materials, Y-TZP has the highest flexural strength and tensile strength. It is not without reason that Y-TZP is commonly referred to as "ceramic steel", since Y-TZP has a similar modulus of elasticity. The patented production process of Zircon Medical Management, manufacturer of the Patent™ Dental Implant System, is leading the way: In order to optimize the long-term stability of the Y-TZP used for Patent™ Implants in an unparalleled way, a process was developed in collaboration with leading material scientists in which all surface-machining steps are carried out before sintering. In the subsequent sintering process, process-related microcracks are eliminated, resulting in a ceramic implant that is unparalleled in terms of fracture strength.

Y-TZP is also considered to be incredibly advantageous from an immunological point of view, as this ceramic implant material causes an extremely low inflammatory stimulus of the peri-implant tissue and consequently attracts adjacent soft tissue to a particularly high degree. For this reason, among others, healthy soft-tissue conditions with an unprecedented degree of soft-tissue adaptation can be observed in placed Patent™ Implants even after more than a decade of wear. This so-called "soft-tissue seal" is particularly advantageous because it is able to prevent pathogenic bacteria in the oral cavity from penetrating past the implant into the deeper tissue, where they would promote, among other things, peri-implant inflammation (in the worst case, periimplantitis) and marginal bone loss. Long-term scientific studies have demonstrated just that: Karapataki et al. for example, in a retrospective study, documented over 90 placed Patent™ Implants up to 12 years of function and found no signs of periimplantitis in any of them. Furthermore, Becker et al. found stable marginal bone levels and healthy soft-tissue conditions (with gingival recession of <1 mm) in placed Patent™ Implants after 9 years of wear as a result of their prospective long-term study at Heinrich-Heine University Düsseldorf.

Due to the low thermal conductivity of Y-TZP, users of the Patent™ Dental Implant System are encouraged to use moderate torques when screwing in the implant in view of the high roughness endosseous implant surface, which is a prerequisite for the scientifically proven superior osseointegration of the Patent™ Implant, as heat developing on the implant surface as a result of excessive torque may compromise the vitality of the periimplant bone during healing.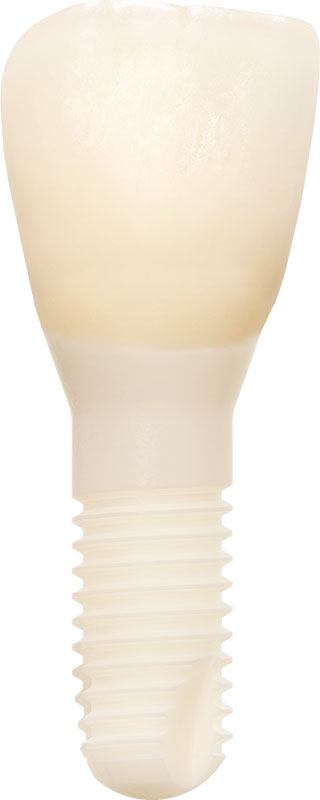 In perfect harmony with the specific material characteristics

The yttrium-stabilized zirconia used to manufacture Patent™ Implants is also so durable and stable over the long term because the implant system was conceived and developed on the basis of a fundamental understanding by highly specialized material experts of the specific material properties of this ceramic material. For example, the Patent™ Dental Implant System does not incorporate an unfavorable screw connection of a ceramic implant and a ceramic abutment. Ceramic implant systems from various manufacturing companies with such a design have had high fracture and failure rates in recent years. A screw connection of ceramic with ceramic is considered to be disadvantageous in clinical application because it involves a connection of two largely "rigid" materials without significant flexibility. An implant system that uses this type of screw connection tends to fracture when too much force is applied, since the ceramic components screwed together are not able to dissipate the high forces applied in a functional manner. The Patent™ Dental Implant System, on the other hand, uses a highly stable yet flexible glass fiber post as an abutment, which is cemented into the 3C platform of the inserted implant and, thanks to its damping flexibility, is able to absorb forces to a certain extent and not transfer them to the implant in an unfavorable way.