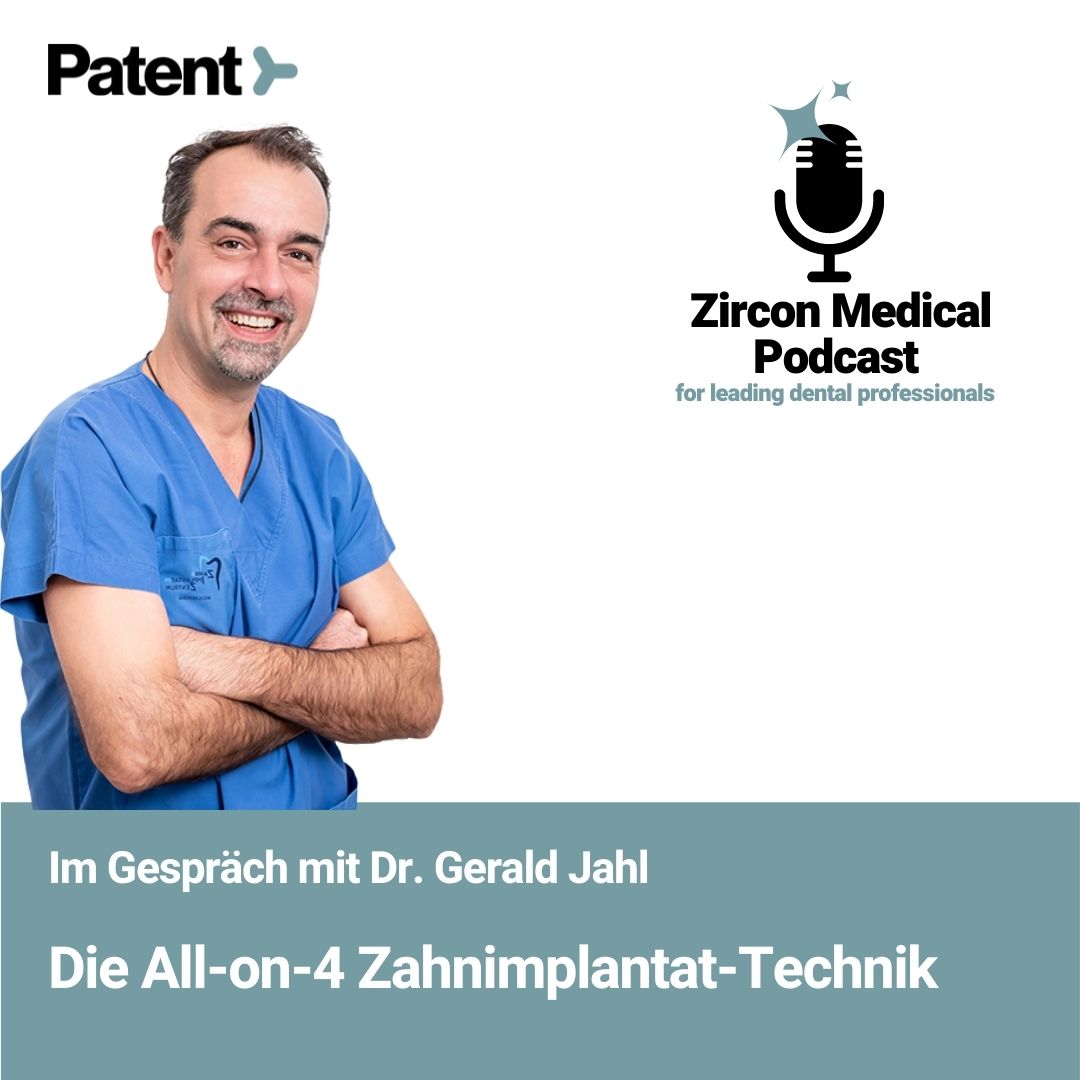 Introducing Dr. Gerald Jahl, the oral and maxillofacial surgeon in Krems an der Donau


Walking the tightrope between medical ethics and economic efficiency


Specializing exclusively in the All-on-4 technique for dental implants


Considerations for the All-on-4 technique for dental implants

Overcoming social and psychological hindrances to seeking dental implants


The bio-mechanical advantages of fixed restorations over removable restorations


The field of oral and maxillofacial surgery has an image problem

Dr. Gerald Jahl
Oral and Maxillofacial Surgeon in Krems an der Donau
Oral and maxillofacial Surgeon specializing in implant dentistry


Owner of a private practice dedicated to dental implants in Krems an der Donau


One of the only practices specializing in the All-on-4 dental implant technique in Austria


10,000+ dental implants performed since the start of the practice

Website: http://www.implantat.or.at/


Instagram: https://www.instagram.com/geraldjahl/

Rechte Kremszeile 62a, 3500 Krems an der Donau, Austria
In Conversation with 
Dr. Gerald Jahl
Over the past decade, the All-on-4 technique has established itself as one of the most convenient full-mouth restoration options for edentulous patients. Instead of replacing individual teeth over several years, the All-on-4 technique allows patients to replace all of their missing teeth at once and sometimes in a single session. However, despite the promise shown by the All-on-4 technique, some implant specialists and patients still show some hesitation and reservation.
Our team at Zircon Medical recently hosted Dr. Gerald Jahl on our podcast. Dr. Jahl is the owner and oral and maxillofacial surgeon at a private practice dedicated solely to dental implants, with special emphasis on the All-on-4 technique. In the podcast, we discuss the implications and considerations for the All-on-4 technique and how it's transforming the landscape within implant dentistry.
Introducing Dr. Gerald Jahl, the oral and maxillofacial surgeon in Krems an der Donau
Dr. Gerald Jahl is the founder and owner of a new private practice located in Krems an der Donau in Lower Austria. He's an oral and maxillofacial surgeon with specialized training in implant dentistry, and his practice primarily focuses on the All-on-4 technique. Over the course of his career, Dr. Jahl has placed over 10,000 dental implants and performed over 20,000 operations in the mouth, jaw, and face areas.
Dr. Jahl says he never truly wanted to become a dentist, but he had been interested in oral and maxillofacial surgery from the very beginning. He simply took up dentistry as a counter-subject to maxillofacial surgery, but he has always seen himself as an oral surgeon. For a long time, Dr. Jahl worked at various hospitals as a senior physician in Germany, following which he opened a private practice. When his practice first started, he split his time between the hospital and his practice, but he soon decided to work in surgery full-time.
Over time, Dr. Jahl changed the scope of his practice from an oral and maxillofacial surgery practice to a purely implantology practice. Because of their deep focus on implantology, patients visiting the practice know what to expect, and they know they can assess their condition objectively. He can simply tell them if an implantological treatment makes sense or refer them to other suitable dentists for alternative treatments. If the patient needs a bridge, partial prosthesis, or other types of restorations, he refers them to his network of dentists. His practice only provides dental implants.
Walking the tightrope between medical ethics and economic efficiency
Dr. Jahl acknowledges the possibility of unnecessary implantations, but he also emphasizes the need for ethicality and decency. The implant surgeon must have the ability to say no over and over again if they believe the patient shouldn't get dental implants. He believes that's an attitude that gradually matures with age and experience and that everyone — regardless of specialty —must navigate the tightrope walk between medical ethics and economic considerations.
After all, everyone has economic pressure. Those who have opened their private practices would be naturally concerned about their debts, the running cost of business, paying their employees, and more. And that's true even for general dentists, so all medical professionals must learn to walk that tightrope between ethics and economic efficiency. He emphasizes that maintaining balance is difficult, and everyone must go through the journey on their own.
Specializing exclusively in the All-on-4 technique for dental implants
Dr. Jahl says his awareness of the All-on-4 technique was first triggered at the end of 2004 or early 2005. He was told about this new technique for full mouth restoration by a colleague at an oral surgery department — they were performing the first case in the hospital the next week. The procedure was done perfectly, and the patient was thrilled with the results. From that point onwards, Dr. Jahl and his colleagues were fascinated by the All-on-4 technique and its implications.
Traditionally, the dental implant process had involved these steps: remove the teeth, allow them to heal, implant them, allow them to heal again, and place the prosthetic. That process was (and is) certainly effective, but it's also time-consuming. Dr. Jahl and his colleagues eventually wondered if the process could be streamlined and sped up — if there was a faster and more effective solution for patients. And the All-on-4 technique proved to be the ideal solution.
People were initially skeptical of the All-on-4 technique because of the lack of clinical studies in 2005. Even though the procedure had been practiced as far back as the 90s, they didn't have access to a broad range of studies. But the more they performed this treatment, the more it became evident that the All-on-4 technique truly was effective, and, above all, it was extremely patient-friendly.
"The life expectancy of a man in Austria is just over 80 years," Dr. Jahl says. "If we have a case where the patient has bad teeth in the upper jaw, and we have to remove all the teeth and place fixed restorations, perhaps with bone augmentation, the entire procedure would take over 12 months using the traditional approach. That means the patient will lose one year of their life just for dental restoration, which is completely out of proportion."
Dr. Jahl emphasizes that the human body is capable of a speedy recovery, as seen in the fields of orthopedics, trauma surgery, physiotherapy, and sports medicine. The body can tolerate being placed under stress, and it has an incredible regeneration potential. The human body can regenerate and recover, even when it's loaded with an implant and dentures. That scientific understanding, including the positive response from patients, encouraged them to specialize in the All-on-4 technique.
Considerations for the All-on-4 technique for dental implants
When asked about considerations for the All-on-4 technique, Dr. Jahl said he simply needs sufficient jawbone in strategically important places in the mouth. After examining the bone density in the volume tomography, they consider the density of the bone, whether it's spongy, and the ratio of spongy tissues to compact bone density. Based on these factors, they can determine whether immediate loading will be possible and whether they can place implants in four strategically important places.
The situation is slightly different for patients who have been edentulous for several years because of the problem of atrophy. The loss of teeth triggers bone atrophy, which makes direct implantation impossible, even with inclined implants. When that occurs, they must use the conventional route via bone augmentation. He emphasizes the need for patients with bad teeth to consult dentists immediately to prevent complications down the line.
In terms of contraindications, Dr. Jahl says patients with cysts and large inflammations can't opt for dental implants. Other contraindications include poor general health, cardiovascular diseases, undergoing antibody therapy, or medications that reduce the bone's regenerative properties. The immediate loading technique won't work if the body isn't capable of healing itself. Dr. Jahl and his team determine if the patient can proceed with dental implants after their first consultation and 3D X-rays.
Overcoming social and psychological hindrances to seeking dental implants
Dr. Jahl says most patients have a general fear of going to the dentist for treatments, contributing to the worsening of dental conditions. Patients usually suffer from dental problems in silence until their partners or children encourage them to seek dental care and treatments. Once patients overcome the initial hesitation about seeking dental care, they go online to learn about their options. In Germany, Austria, and Switzerland, i.e., countries that primarily favor conservative treatments, patients usually learn about the traditional dental implant procedure, which can take several years, which can further disincentivize them from treatment.
The All-on-4 technique is ideally suited to overcome the social and psychological barriers to seeking dental care. Instead of getting multiple individual dental implants over several years, patients are promised immediate results after one session, encouraging them to proceed with treatment. That's why patients accept the All-on-4 technique with greater willingness than traditional implants. Dr. Jahl says patients undergoing the All-on-4 technique feel especially grateful because it dramatically improves their quality of life, which further cements a strong psychological bond between the practitioner and the patient.
The bio-mechanical advantages of fixed restorations over removable restorations
Dr. Jahl says the All-on-4 technique is a fixed restoration procedure because the dentures are permanently fixed on the implants. This technique leads to considerably less bone resorption than with removal restorations, so it poses clear biomechanical advantages, a fact that he demonstrated by means of a simple hypothetical case.
"Imagine you have 4 to 6 implants in the upper jaw and a greatbar, and you put this denture down 3 times a day, which is the normal amount, and then put it back up again," Dr. Jahl says. "That means you put 1200 loads on this denture over the course of a year. Furthermore, because these dentures are designed to hold firmly, the withdrawal force is even stronger, so you have to pull these dentures using a certain force approximately 1200 times a year. Meanwhile, fixed dental implant-based restorations aren't removed over and over again, so they're scientifically proven to have better long-term outcomes than removable restorations."
The field of oral and maxillofacial surgery has an image problem 
Dr. Jahl states that the field of oral and maxillofacial surgery has a serious image problem in the general populace, especially in Austria. The maxillofacial surgery field has never marketed or positioned itself clearly, so patients generally believe that maxillofacial surgeons primarily do braces. Some even believe that the term "oral surgeon" is merely a promotional gimmick that dentists use to distinguish themselves. However, in actuality, the scope of maxillofacial surgery is incredibly broad, encompassing tumor surgery, traumatology, the middle, face, skull, fractures, mandible, soft tissue surgery, aesthetic surgery, and much more.
Dr. Jahl passionately highlights the beauty of maxillofacial surgery, and, in his attempt to spread awareness about this field, he also teaches a course at a university. He says he selected the field of maxillofacial surgery because it gave him numerous opportunities, and he has been able to operate on everything from nose corrections to accidents. And it's only through the process of trying everything that he's come to realize his true passion lies in implant surgery, especially the All-on-4 technique. He's committed to giving the field of oral and maxillofacial surgery a makeover in the public consciousness.
Dr. Gerald Jahl can be found in his practice in Krems an der Donau, Austria. You can also follow him on Facebook or Instagram, platforms that he uses to provide accurate facts and information on various subjects related to implantology. You can also listen to Dr. Jahl at our Zircon Medical Podcast.