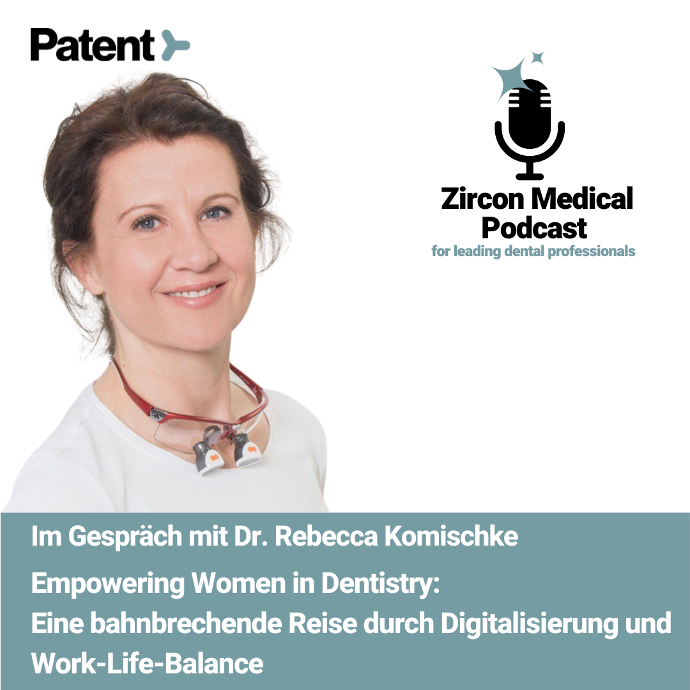 Transitioning from practice owner to manager


Juggling a demanding career and motherhood


Working with DSO: the advantages of working in large, structured practices


Becoming an expert coach and speaker in aligner therapy and digital dentistry


       Building a lasting legacy and inspiring women
       Striking the perfect work-life-motherhood balance
Dr. Rebecca Komischke

Dentist, Speaker, and Coach

Since 2003, she has been working as a dentist in a second-generation family dental practice in Medebach (North Rhine-Westphalia), near Kassel and Marburg


Certified Invisalign user since 2008


Holds lectures on digital dentistry, ClearCorrect, and work-life-mother balance


        Certified coach to aspiring dentists and practice owners

       Personal Website: https://www.dr-komischke.de/       
       Practice Website: https://www.zahnarzt-medebach.de/
An address must be specified for a map to be embedded
In Conversation with Dr. Rebecca Komischke
In the dental industry, it can be challenging for dentists to balance their passion for dentistry with the responsibilities of running a practice and personal life. Dr. Rebecca Komischke, a German dentist, found a solution in joining a multi-location dental center or DSO.With the support of a team of professionals, including colleagues, management, and back-office support, she can focus on her expertise in aligner therapy, as well as other areas of dentistry.
In the latest episode of the Zircon Medical Podcast, Dr. Komischke shares her experience of selling her practice to an investor and coming back in as the manager and how it enabled her to pursue her professional goals while maintaining a work-life balance.
Introducing Dr. Komischke, a dentist, speaker, and coach in Medebach (North Rhine-Westphalia)
Dr. Rebecca Komischke is a highly respected dentist, speaker, and coach in Medebach, a small town in North Rhine-Westphalia, Germany. She has been practicing dentistry since 2003 at a second-generation family dental practice in the region, where she has gained an excellent reputation for her skills and expertise.
Dr. Komischke is a certified Invisalign user, and she has been lecturing on various topics in dentistry, including digital dentistry and ClearCorrect. She is also known for her work on achieving a work-life balance for mothers in the dental profession. As a certified coach, she has helped many aspiring dentists and practice owners to grow their skills and succeed in their careers.
With a passion for sharing her knowledge and expertise, Dr. Komischke has become a sought-after speaker, frequently invited to speak at conferences and events. Her expertise in various aspects of dentistry, combined with her experience as a coach, has allowed her to provide unique and valuable insights to her audiences.
Transitioning from practice owner to manager
For many dentists who own their own practices, the daily grind of running a business can often takea toll on their professional and personal lives. It can be especially challenging for those who want to focus more on providing quality dental care to their patients and less on the administrative tasks involved in running a practice.
In the Zircon Medical Podcast, Dr. Rebecca Komischke discussed her experience of selling her practice to an investor and coming back in as the manager. She explained that the biggest challenge in making the transition from owner to manager was learning how to let go of the administrative tasks and bureaucracy that came with owning the practice. She found that this was a significant source of stress, and it was impacting her ability to focus on providing quality care to her patients.
However, by selling the practice to an investor, Dr. Komischke was able to free herself from these burdensome tasks and focus more on being a team leader and providing excellent dental care to her patients. This allowed her to become more motivated and less financially driven as an owner, and instead, she became more of a team player and leader as a manager.
The transition from practice owner to practice manager can be a daunting one, but it can also be a rewarding one. By letting go of the administrative and financial burdens that come with owning a practice, dentists can focus more on their passion for dentistry and providing quality care to their patients. In many cases, it can also provide an opportunity to become a better leader, more in tune with the needs of their team and their patients.
In Dr. Komischke's case, she was able to maintain her team and employment structures when she sold her practice, which allowed her to remain the head of the team and continue to provide a high level of care to her patients. By sharing her experience, she has provided valuable insights for dentists who may be considering selling their practice and transitioning to a management role, showing that it is possible to strike a balance between running a successful practice and providing excellent patient care.
Juggling a demanding career and motherhood
Dr. Komischke's experience as a working mother and self-employed dentist offers valuable insights into the challenges of balancing a successful career with family life. She discussed how the transition from self-employment back to employment allowed her to better manage her finances and improve her work-life balance. As an entrepreneur, Dr. Komischke had to keep track of a large number of financial transactions, which was not always her strong suit. However, as an employee, she now has a clear understanding of her revenue share and can manage her finances better, which allows her to focus more on her work and personal life.
Moreover, Dr. Komischke shared her experience of raising four children while working full-time as a dentist, which was not an easy task. She breastfed all of her children and returned to work just four weeks after giving birth. She had a structured routine, where she would breastfeed her children in the morning before leaving for work, breastfeed during the two-hour lunch break, and her husband would visit her at the practice in the afternoon to have coffee with the children.
Dr. Komischke's ability to balance her professional and personal lives while raising her children is a testament to her strength, resilience, and determination. She also credits her husband for supporting her throughout her career and helping her manage the family's needs. Her story offers valuable lessons for working parents, particularly mothers, who are seeking to balance their careers and family life. Dr. Komischke's dedication to her work and family provides a model for how it is possible to be successful in both areas of life with the right strategies, support, and mindset.
Working with DSO: the advantages of working in large, structured practices 
Dr. Komischke shared her experience of "Dental Support Organization" (DSO), which provide larger structures that allow for better management of practices. One of the advantages of DSOis the ability to share staff between locations and to find new staff easily. The larger structure and the presence of multiple colleagues make it easy to find replacements when necessary. Dr. Komischke noted that many dentists are actively seeking out such arrangements, as opposed to small, family-run practices where the boss is overly present.
Dr. Komischke never worked alone; her partner, Thomas, was always present in the practice. In 2015, she hired another colleague to work part-time. However, the DSO structure requires that there be at least two dentists on-site at all times, which meant that Dr. Komischke had to add another dentist to the practice. While this may have been a challenge for a small, family-run practice, the DSO larger structure made it easier to accommodate the additional staff member.
Additionally, Dr. Komischke pointed out that one of the benefits of working with DSO is that the cost of new hires is not deducted from the existing turnover. In smaller practices, hiring new staff can be costly and may affect the practice's overall turnover. However, with the DSO structure, the turnover is separate for each dentist, and the cost of adding new staff is not borne by existing staff members.
Dr. Komischke's experience highlights the benefits of larger, structured practices such as DSO, which offer advantages such as shared staff, access to new talent, and the ability to manage costs more efficiently. Such practices may offer a viable alternative to small, family-run practices, particularly for dentists seeking more stable, manageable working environments.
Becoming an expert coach and speaker in aligner therapy and digital dentistry
Dr. Rebecca Komischke is a renowned speaker and coach in the field of dentistry. She has expertise in aligner therapy, digital dentistry, and implantology. She has successfully digitized her practice and her laboratory, making her one of the experts in this field.
Dr. Komischke believes that digitalization is the cornerstone of modern dentistry. She has digitized her practice and laboratory since 2018, making her practice paperless. She is one of the early adopters of intraoral scanners, and she has been able to streamline the digital processes. She is open to sharing her experiences with other practitioners who would like to digitize their practice.
Dr. Komischke has a unique coaching approach, with a three-way construct of understanding the digital mouth, digital construction, and how to account for it. Her brother is a master dental technician who understands digital construction, and her sister is the practice manager who knows how to account for the financial side of the practice. Together, they provide a complete package to anyone who would like to learn about digital dentistry. She is open to visits to her practice, where dental practitioners can have a closer look at how the practice works.
Dr. Komischke is one of the experts in aligner therapy. She is a representative for the top aligner companies, such as Invisalign and ClearCorrect. She believes that aligner therapy is a logical conclusion of digitalization and should be offered and carried out in the same way.
In addition to her expertise in aligner therapy and digital dentistry, Dr. Komischke's practice covers other areas of dentistry. She performs adult orthodontics using aligners, immediate implantology, and refers to complex surgical procedures.When it comes to wisdom teeth, Dr. Komischke prefers to refer cases. She acknowledges that she can perform the procedure but does not enjoy it as much as other aspects of dentistry. It is a refreshing admission that shows that even experienced professionals have areas that they are not comfortable with.
Building a lasting legacy and inspiring women
Dr. Rebecca Komischke's passion for dentistry and innovation is evident in her plans for the future. As a speaker, coach, and team leader, she seeks to inspire and empower women in the field of dentistry. Her experience and expertise in digitalization, aligner therapy, and practice management have led her to believe that dentistry is ripe for disruption, and she wants to be at the forefront of that change.
Dr. Komischke's position as a successful female dentist and entrepreneur has made her a role model for young women aspiring to enter the field. Her goal is to inspire more women to take the leap and pursue their dreams. With her extensive knowledge of digitalization, Dr. Komischke wants to push the dental industry forward and make it more accessible to people everywhere.
Dr. Komischke is currently riding a wave of success and is excited to see where her journey will take her. She hopes to continue in her current position as a managing director, team leader, speaker, and coach for another 20 years. She plans to continue building on her current success, meeting new goals, and pushing herself and her team to new heights.
While Dr. Komischke is currently focused on managing the dental practice and inspiring others in the industry, she knows that things can change quickly. She has the option to leave her management contract in five years and is open to exploring new possibilities in the future. Whatever the future holds, Dr. Komischke is committed to making a positive impact on the dental industry and inspiring others to pursue their passions.
Striking the perfect work-life-motherhood balance
Dr. Rebecca Komischke shared her experience on how the DSO concept helped her achieve a work-life balance, particularly for mothers who want to pursue their careers without compromising their family life. She emphasized the importance of not overworking as a dentist and recommended working for only 32-35 hours maximum on a patient per week, which is equivalent to a full-time job when combined with five hours of office work.
The DSO concept provides support in the background, such as bookkeeping and collecting receipts, which allows dentists to have more flexible and comfortable part-time models. The DSO also offers dentists the option to work only 20 hours per week, which can easily be accommodated, including remuneration for the additional three or four hours of office work.
Dr. Komischke also highlighted the supportive work environment in the DSO concept, wherein someone is always available to take something off your hands. This support is essential for working mothers who need to balance their family and professional responsibilities. Dr. Komischke also employs mothers in her practice, and none of them work more than two afternoons per week, which is manageable for any mother. She also limits her work to two afternoons per week, allowing her to learn English and Latin with her children, which is a luxury that was previously unavailable to her.
Dr. Komischke further emphasized that the DSO concept allows her to focus on the quality of her work instead of just every minute that counts. It is a relief not to be monetarily driven and to prioritize the quality of work and personal life.
Dr. Rebecca Komischke can be found at https://www.dr-komischke.de/ You can also follow her on Instagram or LinkedIn. And finally, please listen to the conversation between Ben and Dr. Komischke on the latest episode of the Zircon Medical Podcast.