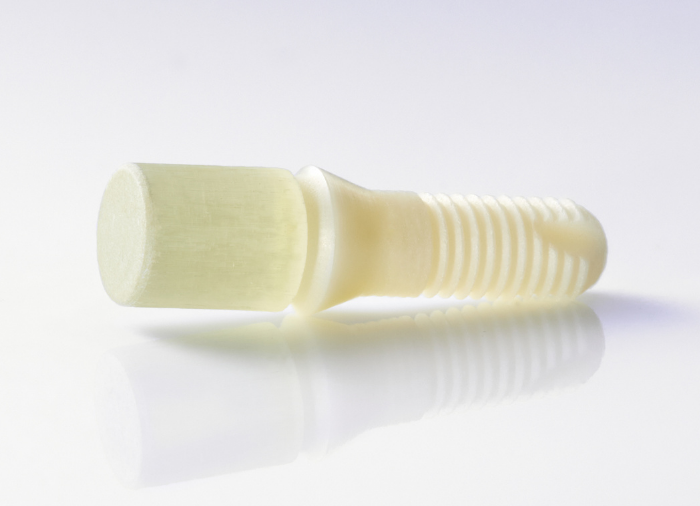 In reconstructive dentistry, the replacement of missing teeth to restore masticatory function after tooth loss is one of the most sought-after treatments by patients. In the early days of dental implantology, the focus was on osseointegration, i.e., the healing into the bone, as the primary aim was to ensure that dental implants would remain in the bone for as long as possible. The mechanism of osseointegration was discovered by the famous Swedish scientist Prof. Per-Ingvar Brånemark in the 1960s, who heralded a new era of oral rehabilitation.
The Patent™ Dental Implant System not only achieves osseointegration, but complete Bio-Integration – the sustainably healthy connection with all surrounding tissues.
Osseointegration is not enough
According to Prof. Brånemark's definition, osseointegration is the "direct connection between living bone and a load-bearing endosseous implant at the light microscopic level." This definition is supported by countless scientific studies, and this mechanism of bone healing of dental implants is well documented. Millions of people worldwide have been able to restore their masticatory function as well as their esthetics over the past decades thanks to the osseointegration of dental implants – primarily made of titanium – and thus improve their quality of life.

In the 1980s and 1990s, at a time when the initial euphoria surrounding titanium implants began to die down in the face of surging peri-implantitis cases (primarily associated with titanium implants), it became apparent that a mere focus on osseointegration as well as a limited view of what dental implants should do for the long-term health of edentulous patients was not enough. Against this background, the healing concept of Bio-Integration has been gaining popularity in recent years.

Bio-Integration means the complete and sustainable healthy connection of a dental implant with all surrounding tissues – including the soft tissues. Today, scientists worldwide agree that the soft tissue around dental implants plays a central role in preventing bacterial infections, peri-implant inflammation, and maintaining the overall health of implant patients. With the Patent™ Dental Implant System, the innovative dental implant manufacturer Zircon Medical Management has embraced a technology that has become synonymous with the concept of Bio-Integration.

What is Bio-Integration?
Bio-integration is defined as "the bonding of living tissue to the surface of a biomaterial or implant." Unlike osseointegration, which focuses only on the healing into the bone, Bio-Integration is achieved only when all surrounding tissues bond to the implant.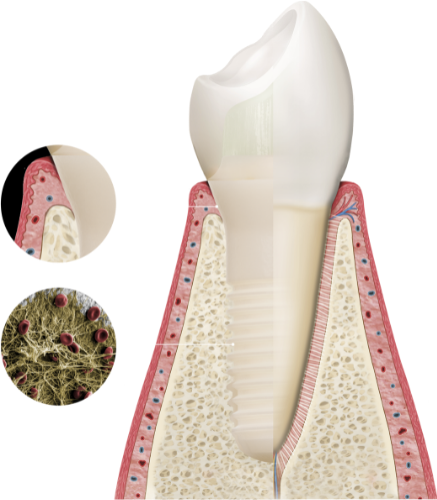 Thanks to the particularly high degree of soft-tissue adaptation around the implant neck and the highly rough, hydrophilic and osteoconductive endosteal surface, which facilitates the formation of a fibrin network on the implant within minutes after insertion, Patent™ Implants achieve complete Bio-Integration.
Stable bone and soft-tissue levels
Thanks to its various special design factors, the Patent™ Dental Implant System achieves osseointegration and complete and sustainably healthy Bio-Integration. The fundamental idea behind the Patent™ Dental Implant System is as simple as it is eye-opening: Why not replace a tooth with something tooth-like? The Patent™ Dental Implant System is biomimetic, modeled after a natural tooth. Thanks to this special design factor and the incredibly tissue-friendly implant material zirconia, the machined transgingival neck of the Patent™ Implant permits a particularly high degree of soft-tissue adaptation, forming a tight Soft Tissue Seal, which hinders pathogenic bacteria from infiltrating the inner body, reducing the risk of peri-implant inflammation, marginal bone loss, and systemic complications as a result.

The fact that stable bone levels and healthy soft tissue conditions (which are key to the long-term success of implant restorations) are found around inserted Patent™ Implants even after a functional period of more than 9 years, among other things, thanks to the tight Soft Tissue Seal, was impressively demonstrated in a prospective long-term study conducted by Heinrich-Heine-University Dusseldorf.[1] In view of the impressive long-term results of his study on two-piece Patent™ Implants, lead study author Prof. Jürgen Becker confirms: "The 30 inserted Patent™ Implants included in this study showed stable marginal bone levels and healthy soft-tissue conditions even after 9 years of wear."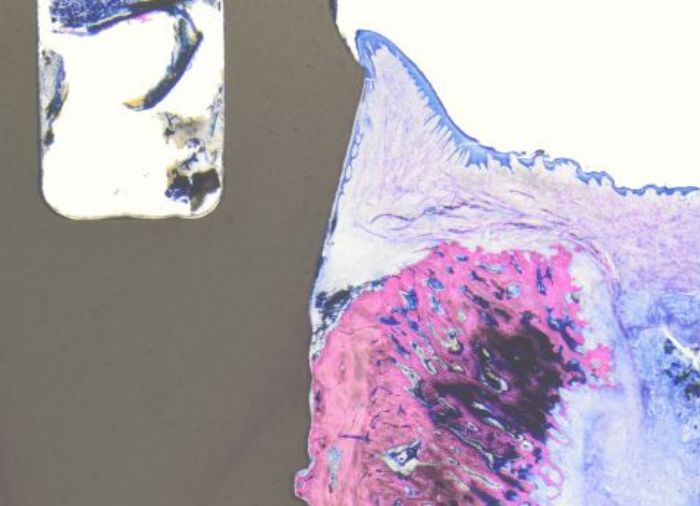 Furthermore, histological investigations carried out as part of a preclinical animal model study (in publication) by Dr. Roland Glauser and Dr. Peter Schüpbach showed that the vertical histoarchitecture of the soft tissue around inserted Patent™ Implants has an incredibly beneficial structure. The soft tissue around Patent™ Implants is comparable to that around natural teeth regarding its composition (biologic width) of 2/3 connective tissue (65,4%) and 1/3 epithelial tissue. In contrast, the soft tissue around titanium implants has a significantly lower percentage of connective tissue (38.1%).[2]

Animal model study by Dr. Roland Glauser and Dr. Peter Schüpbach (in publication): Histology of an inserted Patent™ Implant shows a particularly high degree of soft-tissue adaptation.
It can be argued that a higher percentage of connective tissue provides better protection of the peri-implant tissues. These observations are supported by numerous reports on the beneficial soft-tissue integration to the ceramic implant material zirconia. For instance, in studies from Brüll et al. and Becker et al., the authors emphasize that there is an increase of keratinized gingiva around inserted Patent™ Implants over time. They also report significantly less bleeding on probing around Patent™ Implants than around the natural teeth of the same patients, and that the periodontal pockets are shallower around the Patent™ Implants investigated.[3, 4]  Moreover, the beneficial soft-tissue integration protects the Patent™ Implant from bacterial colonization, which can trigger inflammatory processes that potentially lead to peri-implantitis. In addition, the plaque affinity of zirconia is significantly lower compared to titanium.[5, 6]

Another factor that has a beneficial impact on the soft-tissue integration of Patent™ Implants is the design of the prosthetic connection. Screw-retained bone-level implant systems usually have micro-gaps in the implant-abutment interface that are susceptible to pathogenic bacteria. The fact that such prosthetic designs can have a negative effect on soft-tissue integration and may promote the development of peri-implantitis has been reported for both titanium and ceramic bone-level implants.[7] In addition, as part of the installation of such implant systems, prosthetic components must be removed and replaced multiple times. The Patent™ Dental Implant System, on the other hand, features a true tissue-level design. The implant-prosthetic connection of this implant system is positioned at equigingival level.

Furthermore, unlike many conventional implant systems, the two-piece Patent™ Dental Implant System is not screw-retained. Rather, its prosthetic connection is realized via a metal-free, innovative glass fiber post, which is inserted into the patented 3C connection of the implant, cemented, prepared, and prosthetically restored like a natural tooth. Thanks to this 100% gap-free design, the risk of subgingival plaque colonization is significantly reduced. The highly stable glass fiber post, having dentine-like properties, attenuates the masticatory forces within the context of definitive restoration.

Highly rough endosteal surface
Another factor that facilitates complete Bio-Integration of Patent™ Implants is the surface of the endosteal implant part. By employing a special manufacturing process protected by 14 patents, an osteoconductive surface is created in this portion of the Patent™ Implant that, with a surface roughness of 6 μm, is significantly rougher than conventional ceramic implant surfaces.

In addition, the Patent™ Implant surface is hydrophilic and attracts autologous blood to a particularly high degree. As a result, a fibrin network begins to attach to the surface of the Patent™ Implant within minutes after insertion, initiating rapid and successful bone formation in the sense of contact osteogenesis.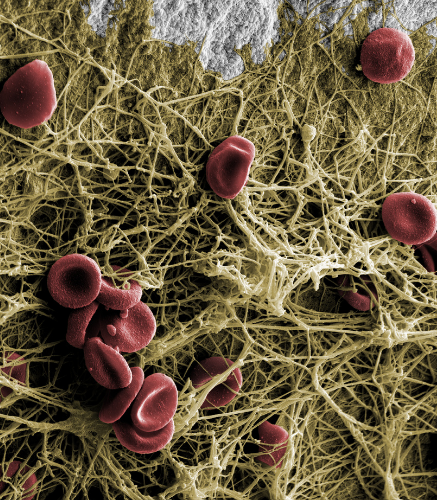 A fibrin network forms on the implant surface within minutes after insertion, facilitating rapid bone formation (© Peter Schüpbach).

The fact that these special surface properties particularly optimize the early phase of bone healing was impressively demonstrated in the previously mentioned animal model study by Dr. Roland Glauser and Dr. Peter Schüpbach: the two researchers determined a BIC value (bone-to-implant contact) of more than 70% for inserted Patent™ Implants after a healing period of just 4 weeks. With this value, the Patent™ Dental Implant System outperforms all implants that have been investigated in comparable studies to date.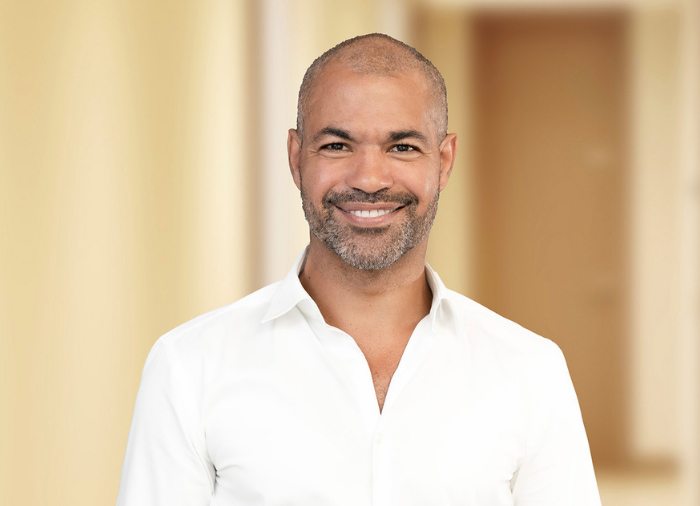 Luxembourg-based specialist for metal-free implant dentistry Prof. Marcel Wainwright is among the many users of the Patent™ Dental Implant System today.  He praises the outstanding Bio-Integration of Patent™ Implants, saying:

"Based on my experience with more than 10 different zirconia implants, I can say that the Patent™ Dental Implant System achieves Bio-Integration success that is second to none."
Prof. Marcel Wainwright (© INTEGRA Biohealth)
1.   Rauch N, et al. 2022. Two-piece zirconia implants in posterior regions: a prospective cohort study with a follow-up period of 9 years.
2.    Lee D-J, Ryo J-S, Shimono M, Lee K-W Lee J-M, Jung H-S: Differential healing patterns of mucosal seal on zirconia and titanium implants. Front. Physiol. 10:796. doi: 10.3389/fphys.2019.00796
3.    Brüll F, van Winkelhoff AJ, Cune MS. Zirconia dental implants: a clinical, radiographic, and microbiologic evaluation up to 3 years. Int J Oral Maxillofac Implants. 2014 Jul-Aug;29(4):914-20. doi: 10.11607/jomi.3293
4.    Becker J, John G, Becker K, Mainusch S, Diedrichs G, Schwarz F. Clinical performance of two-piece zirconium implants in the posterior mandible and maxilla: a prospective cohort study over 2 years. Clin. Oral Impl. Res. 28, 2017, 29–35. doi: 10.1111/clr.12610
5.    Kajiwara N, Masaki C, Mukaibo T, Kondo Y, Nakamoto T, Hosokawa R. Soft tissue biological response to zirconia and metal implant abutments compared with natural tooth: microcirculation monitoring as a novel bioindicator. Implant Dent. 2015 Feb;24(1):37-41. doi: 10.1097/ID.0000000000000167.PMID: 25290282
6.    Roehling S, Astasov-Frauenhoffer M, Hauser-Gerspach I, Braissant O, Woelfler H, Waltimo T, Kniha H, Gahlert M.J In Vitro Biofilm Formation on Titanium and Zirconia Implant Surfaces. Periodontol. 2017 Mar;88(3):298-307. doi: 10.1902/jop.2016.160245. Epub 2016 Oct 7.PMID: 27712464
7.    Grimm WD, Giesenhagen B, Vukovic MA, Fritsch T. Osseointegration von Zirkoniumdioxid- und Titanimplantaten. Eine histologische Untersuchung im Vergleich. Implantologie Journal. 2017/11:14-18.