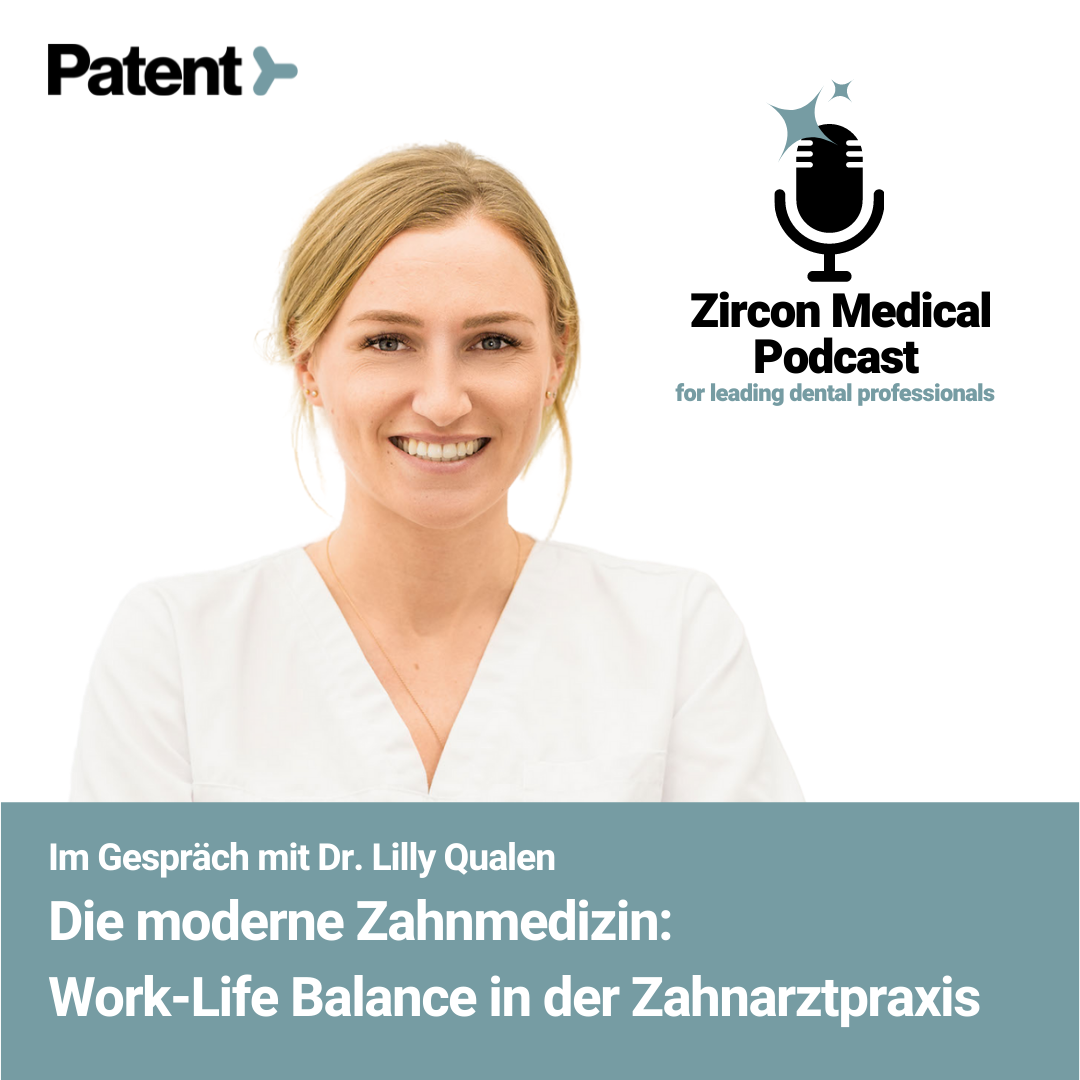 Being a dentist, entrepreneur, and young mother


Commitment to truly modern dentistry


All tasks are equally important


Involvement of the staff in the weekly meetings

Non-specialists can be an advantage for dental practices


Figuring out what and how to delegate tasks

The relationship between practice management and dentistry

Dr. Lilly Qualen

Dentist & owner of a dental practicein Niendorf
In 2015, she completed her dental studies in Leipzig.


Owner of a dental practice in Niendorf on the Baltic Sea


Location: Hafenstraße 1, 23669 Timmendorfer Strand, Germany


Website: https://zahnarztamhafen.de/


E-mail: info@zahnarztamhafen.de


Phone: +49 4503 8987500

Facebook: @dentistamhafendentistamhafenzahnarztamhafen


Instagram: @dentist.dr.q

Hafenstraße 1, 23669 Timmendorfer Strand, Deutschland
In conversation with Dr. Lilly Qualen
Dentists who run their own practices often struggle to find the best balance between their professional and personal lives. That's understandable - between managing dental tasks, leading a team, keeping staff happy and running the business, it can be difficult to find time for family and leisure. Dr. Lilly Qualen is a dentist and mother of a three-month-old boy with her own dental practice in Niendorf, Germany.
Our team at Zircon Medical recently hosted Dr. Qualen on our podcast series to talk about how she finds the perfect work-life balance while running a dental practice and being a mom to a young child.
Dr. Lilly Qualen, the owner of a dental practice in Niendorf, Germany, introduces herself
Dr. Lilly Qualen completed her dental studies in 2015 and founded her own practice in Niendorf on the Baltic Sea in April 2018 at the age of just 26.
Dr. Qualensays that the possibility of becoming a dentist always played a big role in her youth, as her father was also a dentist. She especially liked that her father was always home for lunch, dinner, and weekends. That's why she never ruled out dentistry, even when she considered a career in law or writing. In the end, dentistry always seemed to her to be the "more solid choice" that would guarantee long-term satisfaction.
 Dr. Qualensawdentistry asa way to be a happy professional for the longer term.  In her region, a dentist typically has only one emergency service a year, requiring them to be on call one weekend. Since they can set their own work and opening hours, all other weekends of the year are their own. 
Being a dentist, entrepreneur, and young mother
Dr. Lilly Qualensays her hours don't match the classic 9-to-5 job - it's more 8-to-6 and until 7 p.m. on three days. That's because the office hours are set up to accommodate later appointments starting at 6 p.m. or even early mornings starting at 7. Wednesday and Friday afternoons are more relaxed, she says.
As the owner of a dental practice, however, she has to work much more than just 40 hours a week. She works an additional minimum of 10 hours a week to handle various bureaucratic tasks. While she delegates some of the work to her team, she has to do some of it herself, such as correcting bookkeeping, checking accounts,and more.
Dr. Qualenhas to manage her duties as a dentist and practice owner while raising a young, three-month-old son. In recent months, she has taken a bit of a break from her dental practice to focus on being a mother. Now,she primarily treats regular patients or acute pain cases. This allows her to reduce her office hours and work her second full-time job at home, taking care of her dog and family.
"When you're home with a small child in your arms," she adds. "you're happy to get the laundry sorted somehow."
Commitment to truly modern dentistry
Dr. Qualen says that she is committed to modern dentistry. However, she clarifies that modern dentistry does not only refer to the technical aspects, i.e., being up-to-date with the latest technology. She says that all dentists in Germany are required to continue their education, and most dentists strive to keep up with the latest changes and developments in their field. All dentists in Germany are committed to modern dental standards. So when she talks about "modern dentistry," she means modern working principles.
According to Dr. Qualen, modern dentistry is about bringing in new impulses and standards in terms of personnel management and team building. How do I deal with the personnel structure? What salaries do I pay to keep my staff happy? How do I invest in interpersonal relationships with my employees to develop a team spirit? These are some of the questions she grapples with as she tries to promote modern dentistry and the workplace. She believes that all team members are equally important, no matter how small the cog in the clockwork of the practice may seem.
Dr. Qualen says she would rather have too many employees than too few, all of whom are overworked and stressed. Currently, her practice has six employees, which is quite a large number for a small dental practice. However, having many employees allows everyone to work in a relaxed environment, take breaks sometimes, and avoid stress. Her team members also have enough time to talk to each other and to patients, which improves the patient experience.
All tasks are equally important
Dr. Qualen says all of her employees have a sense of belonging. That's because she often communicates that all tasks are equally important - everyone has a role to play. Even actions as small as answering the phone and opening the door for the patient pave the way for a positive patient experience. Even offering the patient a glass of water in the waiting room is an important service. These small actions contribute to the success of the dental practice and create a positive overall experience.
However, Dr. Qualen says that despite their best efforts, there are always stressful days when they can't please everyone. But such days are kept to a minimum - they are the rare exceptions. 
Involvement of the staff in the weekly meetings
Dr. Qualensays her staff meetings are designed so that everyone has a voice. She gives her staff the floor and encourages them to make recommendations about their workflows. Rather than making unilateral decisions and informing her staff of them, she involves them in a conversation. She says she often implements her employees' ideas, which improves the overall workflow. "If you really listen to your staff," Dr. Qualen says, "they have incredibly good ideas and may even bring professional experience from other practices."
In addition to weekly meetings, Dr. Qualen also makes an effort to talk with her team members individually. She talks to them about their personal histories and has one-on-one conversations about their futures. She might ask them where they see themselves in 20 years, if they are happy in their jobs, and if they are satisfied. During these conversations, she actively takes notes to improve her employees' experience, for example, by changing their work hours or tasks.
"You have to ask with an open mind," Dr. Qualensays. "If you always assume everything is fine, you quickly realize something is wrong."
Non-specialists can be an advantage for dental practices
Dr. Qualen says she had a non-specialist named Jennifer at the front desk when she opened the dental practice. This employee had previous experience in hotel management and hospitality, but not in a dental practice. However, because of her training in hotel management and etiquette, she introduced numerous ways to improve the patient experience in the dental office. These included holding the door for patients, escorting them to treatment rooms, letting them walk in front of her, and other little things that made a big difference for patients.
Dr. Qualen says these are small manners that most patients don't expect, but they enhance the overall experience. Although the employee is no longer on her team, Dr. Qualen says she definitely left a mark. Her hotel etiquette has now remained in the practice and has been adopted by all other colleagues. If you're having trouble with your front desk, Dr. Qualen recommends giving an outside specialist a chance at the job.
Figuring out what and how to delegate tasks
Delegating is an essential part of team leadership, and figuring out what to delegate and how to delegate is critical to successful team leadership. Dr. Qualen says she delegates all the preparatory steps for treatment, such as scheduling appointments and preparing dentures. She says she relies completely on her girls to handle these issues, and they also know who to contact if they have questions. She also delegates communication with dental labs and health insurance companies.
Nevertheless, Dr. Qualenhas to keep an eye on things herself. "InGermany, we have a contract with the statutory health insurers, and you simply have to document certain things correctly. And in the end, she bears the responsibility if something is not in order. That's why I don't want to stop checking. My girls support me in this, as does the employed dentist. I put my stamp on it, and that's why I can't leave everything to the girls."
The relationship between practice management and dentistry
Dr. Qualen says she currently spends 70% of her energy on dentistry and 30% of her energy on practice management. She wants to spend most of her time on dentistry because that's her main expertise, and that's what she studied. However, achieving the ideal 7:3 ratio took her some time and effort. She says she first had to learn business administration on the side through self-study and take numerous mental coaching sessions to improve her skills as a boss and team leader.
Dr. Qualen says new practice owners have to do a lot of difficult work in their first year, but they need to learn to get organized quickly so they don't burn out later.
You can find Dr. Qualen in Niendorf at the dog beach or in her practice in Timmendorfer Strand. You can also go through her official website, call her, email her, or find her on Facebook or Instagram. You can listen to Dr. Qualen on our Zircon Medical podcast or read on for an in-depth article on strategies for effectively delegating tasks in the dental office.
Related articles:
Register for our free newsletter.
Never miss one of our weekly episodes with leading dental professionals.
How to delegate tasks effectively in a dental practice? 
An independent article by the Zircon Medical Team

Delegation is a fine art that all practice owners must master. Without effective delegation, you may find yourself working overtime or neglecting your primary duties as a dentist. This can prevent you from measuring your shortcomings or realizing the potential for growth, which can stunt the growth of your dental practice or even lead to burnout. However, with effective delegation, you can automate most of the tasks in your dental practice while ensuring that you spend the most time on your primary skills, which is being a dentist.
Below, we present six important steps to help you delegate tasks effectively in a dental practice. 
1. Define the target
Before delegating a task, you need to know exactly what you are delegating and why. You should clearly understand the goals of the task, its importance, and how it will be accomplished. If you thoroughly understand the task and its objectives, you can effectively communicate them to your team members. When you emphasize the importance of the task (and how it fits into the overall goals of your dental practice), you create value.
2. Select the team members for the task
Once you have determined the tasks to be delegated and their goals, you should identify the ideal team members to accomplish those goals. You should select team members with the right skills and availability. If the team members you select already have too much to do, you can lower the priorities of some of their existing tasks so as not to overload them. You can also cross-train your team members to help them develop new skills for the task.
3. Ask the employee for his opinion
You should create an open environment where your employees can freely express their problems, questions and concerns. If employees don't have the opportunity to ask questions or raise objections, they could have trouble completing the task. Listen to your staff's ideas - they could provide important insights that will benefit your practice. Make sure you and your staff are clear about the assigned tasks.
4. Formulate clear expectations
You can only expect your employees to achieve the intended goals if you set clear expectations. You must give them the authority to complete the task, set clear deadlines, and provide the resources needed to complete the task. In some cases, you may also need to train the employee before they can effectively perform the task.
5. Review of their progress
You need to be proactive in talking to your team members about their assigned tasks, especially in the early stages. You can do this by asking for regular updates every few days or at weekly meetings. After the employee has been performing the task for a while, your need to review progress will decrease. This is especially important if you are assigning dental tasks to a non-specialist.
6. Make adjustments
Over time, you may learn more about your team members' defined tasks, goals, and skill sets. You should leave enough room to adjust your expectations over time. Your team members should also feel free to suggest changes to the tasks and goals. For example, team members responsible for scheduling could suggest a better and more efficient system for automating deadlines. They should be willing to change task expectations over time.