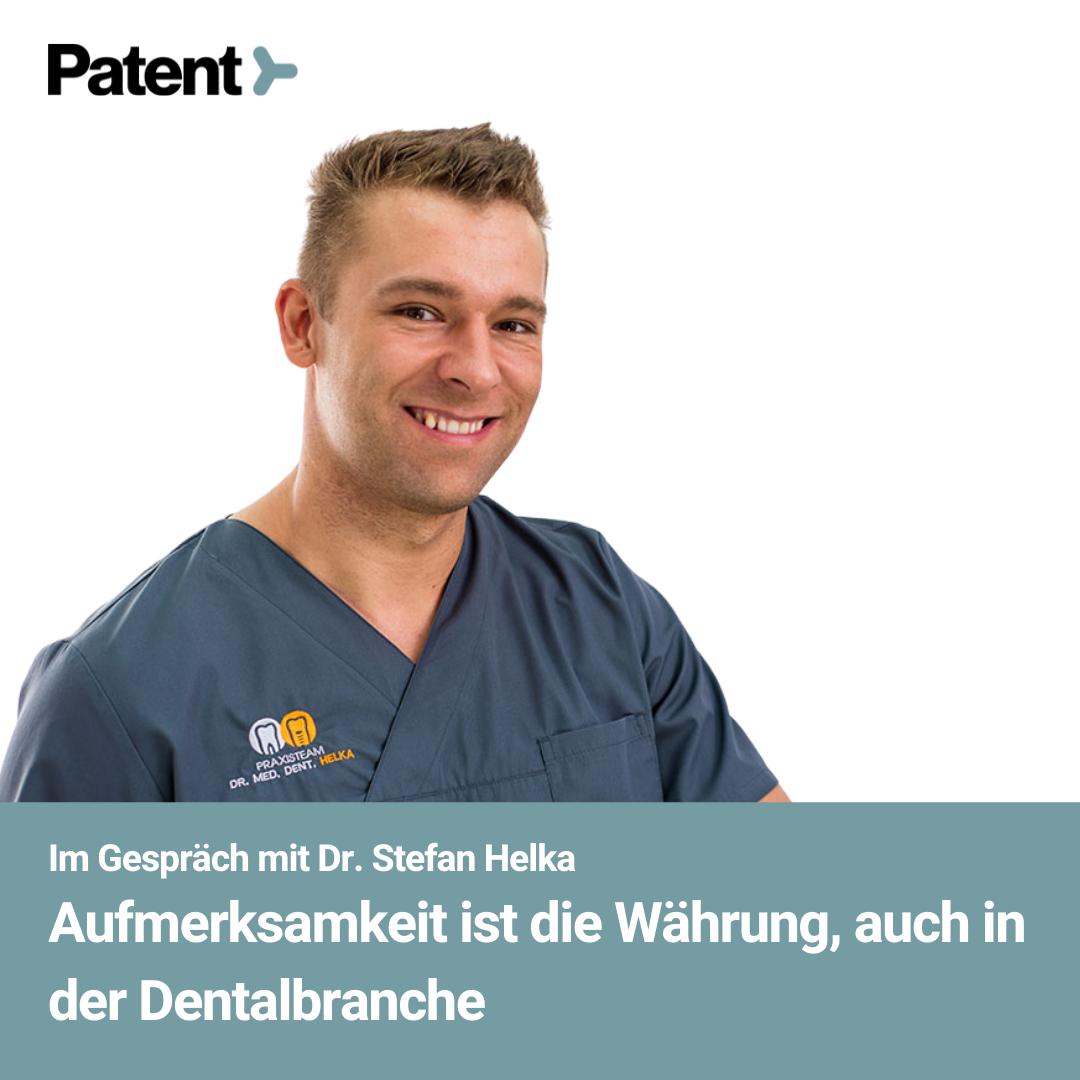 Digitization and automation at dental clinics


The trickle-down effect of digitization and automation


Adapting agile management principles in dental clinics


The link between automation and service orientation

Starting and running a successful YouTube channel


Marketing and communication within the dental industry

Attention is currency, even in the dental industry


Tips to automate and start digital marketing

Dr. Stefan Helka
Founder of Herne Implant Centre
Steinstraße 11, 44652 Herne, Deutschland
In Conversation with Dr. Stefan Helka
Digitization, automation, and digital marketing are essential for dental clinics that want to grow their businesses in these times. Each of these concepts addresses different aspects of the business, such as the technologies necessary to provide better services, automation tools that improve in-office productivity, and marketing tools that help with patient acquisition and awareness generation. No one understands the value of digitization, automation, and digital marketing more than Dr. Stefan Helka, the founder of Herne Implant Centre.
Our team at Zircon Medical recently hosted Dr. Helka on our podcast series to discuss the value and potential of digitization, automation, and digital marketing for dental practices.
Introducing Dr. Stefan Helka, the founder of Herne Implant Centre, Herne.
Dr. Stefan Helka is the founder of Herne Implant Center, a highly digitized and advanced dental clinic in Herne, Germany. He studied dentistry at the University of Münster and acquired his doctorate in 2014, following which he founded his dental practice in 2017. Dr. Helka is interested in digitization and communication with patients, the latter of which is facilitated via his popular YouTube channel boasting 20,000+ followers (at the time of writing.)
Dr. Helka says he comes from a family of doctors, so he grew up with a deep understanding of dental clinics. He also worked at his family's dental clinic for summer jobs and internships. His decision between medicine and dentistry was shaped by the fact that one of the doctors he observed during his civil service, whom he calls Dr. Müller, seemed to work 24-hour shifts, had "bags under his eyes," and didn't seem happy with his life.
Comparatively, Dr. Helka's mother worked regular hours and was fairly self-reliant, and he wanted the same for his life. "Self-reliance and autonomy have always been important for me," he says. "Dentistry was the logical step for me because I knew there was certain security. Later, I could take over my mother's practice and have a nest egg." Looking back, Dr. Helka believes he made the right decision.
Dr. Helka has also been driven by his entrepreneurial instincts. For him, dentistry seems to be more of a vehicle to live out his entrepreneurial aspirations, but he's pretty confident he would have been just as happy with other industries, such as business development. "I think I could have founded a good startup," he says with the utmost confidence. "At the end of the day, it's important that your career field includes opportunities for things you like." 
Digitization and automation at dental clinics
Dr. Helka says there are two levels to digitization — digitization and automation. Digitization, according to Dr. Helka, is the transformation of analog processes into the digital medium. For example, the use of paper-and-ink or mouth-to-mouth marketing has been taken over by digital processes and digital marketing.
Automation, meanwhile, means that repeatedly occurring processes in a company are mapped digitally to minimize individual human intervention. For example, emails and appointment bookings can be automated, so they don't have to be performed by people. In this case, an AI or computer can execute the process consistently over and over again. However, automation only works for processes that are truly similar and repetitive. While emails can be automated, implant placements can't be automated.
Dr. Helka has automated and digitized most aspects of communication in his practice. For example, he has curated detailed videos for patient education, which saves him the 5-minute lecture after procedures are complete. Instead of providing specific post-treatment guidelines, Dr. Helka can simply guide his patients to the relevant playlist on YouTube. Dr. Helka has also digitized x-rays and other aspects of their workflow, and he soon intends to digitize the provision of services.
Practices can also save considerable resources with an automated recall system, so the employees don't have to send letters or call patients individually. An automated recall system can automatically send reminders to the patient at pre-defined periods, such as 30 days or 6 months. When the time comes, the patient receives a fully automated WhatsApp message or email reminding them of the appointment. Furthermore, the patient can simply click a link to schedule an appointment without contacting the practice.
The trickle-down effect of digitization and automation
Over time, Dr. Helka believes the markets will become even more efficient — investors will demand more process-driven practices, patients will become more aware, and practices will have to adapt to lower operative costs and retain patients. He believes fully digitized impressions will soon be essential to save work power, increase output, and reduce costs.
Dr. Helka says automation in dentistry will have a "trickle-down effect from top to bottom." The AI processes only used by some multinationals will eventually be used by medium-sized companies, following which they'll be used by everyone. He says all technologies follow the trickle-down effect, becoming more mainstream as they become cheaper and cheaper.
Adapting agile management principles in dental clinics
Dr. Helka says job profiles and descriptions will change with time. Eventually, they'll need project managers, practice managers, controllers, process developers, i.e., employees who deal with the processes of the practice, improving, testing, measuring, and re-evaluating them to achieve better optimization and automation. He believes practices will have to adapt to agile management, a principle wherein the workflow is constantly tested and improved in successively shorter intervals to achieve optimal productivity.
The link between automation and service orientation 
"Automation frees up capacities for real service," Dr. Helka says. At the moment, practices are overloaded with repetitive tasks and processes that can be performed by AI and machines. However, "if something happens again and again more than twice, then you can develop a purely theoretical process for it." According to him, once practices are liberated from repetitive tasks, they'll focus more on improving the patient experience by making friendliness and service far more important in the company.
Starting and running a successful YouTube channel
Dr. Helka's dental clinic, Herne Implant Centre, has an incredibly successful YouTube channel with over 20,000 followers at the time of writing.
Dr. Helka says they had started their digital marketing efforts with a few images and posts on Facebook in 2014. Over time, they started producing amateur videos recorded on their smartphones, which, at the time, weren't known for their video recording quality. Soon after 2017, he decided to professionalize their efforts and worked with a DJ and a video producer he met at the gym.
Dr. Helka uploaded the first video to YouTube in September 2018, for which the production had started 5-6 weeks earlier. He started with one video a week and gradually ramped up to five or six videos a week, and now they have over 350 videos. They produce informational videos that provide helpful tips and advice to their audience, including patients and other colleagues.
When you explore their YouTube channel, you can find numerous playlists for different procedures, such as Root Canal Treatment, Tooth Anesthetics, Veneers, Bone Augmentation, All-on-4, and much more. Each playlist consists of numerous videos exploring various aspects of the subject, contributing to a platform that offers immense value to patients and colleagues alike. "The feedback so far has been really, really good," Dr. Helka says.
Marketing and communication within the dental industry
Dr. Helka says every company is ultimately a combination of its products, services, marketing, and communication. However, he believes marketing and communication aren't given enough emphasis in the dental industry. Other sectors, such as the fitness industry and the influencer industry, pay more emphasis to marketing than the product/ service. Comparatively, dental clinics focus far more on the product and not nearly enough on marketing.
According to Dr. Helka, the lack of emphasis on marketing is why most dental practices don't grow as fast as possible. "Maybe many don't even want to grow," he adds. "Because most most practices are run by non-entrepreneurs, even though they are entrepreneurs. Most of them want to spend 90% of their time in the operating room, treating patients."
Dr. Helka says he has a different philosophy — he wants to process demand in an entrepreneurial way by creating structure, processes, and a corporate culture that emphasizes both product and communication. However, entrepreneurship also takes its toll — it's not something you can do with 40 hours a week. Instead, an entrepreneur must dedicate 10 to 15 years of full-time work, contributing 80+ hours a week.
Attention is currency, even in the dental industry
Dr. Helka speaks of the concept of the 'Attention Economy' when he refers to attention as a form of currency. He says we spend several hours a day on the little screen of our smartphone, and the person on the screen, the one receiving the user's attention, molds the user's behavior. "If I watch two hours of a certain influencer, it's likely I'll buy a product from him or work with him in some way."
Dr. Helka says generating attention and combining it with relevance equals sales. He defines relevance as an individual or company's problem-solving capacity. Or perhaps the user doesn't yet have a problem, but you convince them that they need something. That's relevance — solving a problem or awakening desire. Once you have someone's attention online, you must work towards relevance to make a sale. However, the user must also learn more about the company and who they're working with.
Dr. Helka says most patients assume that the company's services are good or very good. As such, the only differentiation points are the user's identification with the product or service providers. He cites Apple as an excellent example of a company with strong marketing, unbelievable communication, and the ability to bind people emotionally to the brand. Dr. Helka believes that capacity will be the sole distinguishing factor between different dental clinics in the future.
Dr. Helka succinctly sums up his argument by saying, "digitization and online marketing are incredible opportunities for companies to attract the desired patients."
Tips to start and grow with digital marketing
Find your core value, communicate it with the outside world, and make sure you and your team are on the same page. That's the only way to be authentic.


Start with whatever platform or device you have, and gradually improve your capabilities as time goes on. The most important thing is starting — even if you're a dilettante at the beginning, professionalism will come with time.

Select the right platform to start. YouTube is the best discipline for dental clinics, but it demands a lot of time, effort, and work.


Understand that marketing always costs money, whether it's paper-click marketing or digital marketing. You need to make a budget if you want anything in return.

Have patience because the fruits of marketing appear gradually. In some cases, it may also take years before you see the results of your efforts.


Establish a strong routine and don't deviate from it. Once you cheat on your routine, your brain is more likely to cheat again.


The best way to get a big audience is to value your small audience. As such, you have to nurture your audience, however small it might be, with timely answers to their questions and comments.


Go into it without thinking solely in terms of money because you don't gain returns quickly, and waiting for it to pay off will be frustrating.

Dr. Helka also runs a digital marketing platform called ImplaCheck, to help other dentists and practices build up their marketing channels, be it YouTube, Instagram, or others. They have great systems in place and proven experience in the market, and they're eager to help other practices with their digital marketing efforts.
Dr. Helka also runs a digital marketing platform called ImplaCheck, to help other dentists and practices build up their marketing channels, be it YouTube, Instagram, or others. They have great systems in place and proven experience in the market, and they're eager to help other practices with their digital marketing efforts.
Other Similar Podcasts:
Register for our free newsletter.
Never miss one of our weekly episodes with leading dental professionals.
The 5 Essential Components of Digital Marketing for Dental Practices
An independent article by the Zircon Medical Team

As Dr. Helka highlighted in his podcast, most dental clinics struggle to grow according to their true potential because of their lack of emphasis on marketing, especially digital marketing. However, dentists with their own dental practices are also entrepreneurs, and, as such, it's worth exploring digital marketing solutions to acquire new patients.
In this article, we describe the 7 essential components of digital marketing for dental practices.
1. Local SEO
As Dr. Helka highlighted in his podcast, most dental clinics struggle to grow according to their true potential because of their lack of emphasis on marketing, especially digital marketing. However, dentists with their own dental practices are also entrepreneurs, and, as such, it's worth exploring digital marketing solutions to acquire new patients.
As such, when curating content, you must emphasize the local elements around your dental practice. You can create location pages within your website, giving the patient an overview of the exact location, its distance from other landmarks, and list the cafes, restaurants, and other highlights in the region.
You can also incorporate local elements in all other pages, especially during the call to action.
You must also ensure your dental clinic is listed in various online directories and mapping services, such as CitySquares, Google My Business, and Apple Maps Connect. You should also include a dynamic Google Map of your practice's location on your website.
This will serve two purposes. First, it will inform the potential patient that you're accessible to them. Second, Google will place your dental practice within the sphere of other local attractions, making it more likely that you'll stand out for your potential local patients. 

Organic social media, also known as free social media, refers to the strategy of promoting your dental practice via organic engagement with social media platforms, such as TikTok, Facebook, LinkedIn, Twitter, YouTube, etc.
Organic social media marketing may include posting regular pictures on Facebook, tweeting regularly, engaging with your social media following, and more. The goal here is to build loyal and dedicated followers who trust you as an authority in dental treatments. 

Organic social media also happens to be the digital iteration of the most effective form of marketing, i.e., word-of-mouth marketing. Your followers on social media are a lot more likely to trust you, and spread word about you, because it doesn't seek like you're trying to sell them. 

And, indeed, when you're engaging with social media, it's essential to use it for information sharing and entertainment. However, you must choose the correct social media platforms to attract the right patients.  

3. PPC Advertising
PPC, short for pay-per-click advertising, is a cost-efficient means of getting new patients. With pay-per-click advertising, you can be assured that you're paying for every click on your advertisement. 

Google Ads, for example, allows you to advertise your services on websites your potential patients visit. The advertisement can be in text, images, or videos, depending on the platform or video. Studies show that most users don't differentiate between organic results and PPC results, so you have a strong opportunity to meet your patients where they are. 

You must only pay every time an actual human clicks on your ad, so you're paying for actual results. Furthermore, while you pay for the clicks, the impressions (people just seeing your ad) are completely free. You can also pay as much or as little as you want, so it's entirely under your control. 

4. Email Marketing
Automated emails are the most effective means of getting new patients and ensuring your existing patients don't stray. People are far more likely to open and read their emails than random advertisements on websites. As such, if you receive your patient's email address and develop a strong email strategy, you can convert them into repeat customers. 

However, you must get their consent before sending them emails. A great way to receive their email address is to provide a free PDF on your website, downloadable once they enter their email address. Once they enter the email address, you can send the promised PDF and make them a part of your email network. 

However, you should avoid words like "save" or "free" in your email since they're often sent to spam folders.  

5. Video Marketing
Video marketing is certainly time-consuming, but it's one of the most effective ways to capture your potential patients' loyalty. Most patients use YouTube videos to gain information on various problems and procedures. As such, curating engaging videos and guides on your dental services for YouTube while keeping the content entertaining is a great way of gaining new patients.
Furthermore, as Dr. Helka has shown, maintaining a playlist of aftercare guidelines, procedure steps, etc., also saves considerable time that you would otherwise spend on patient education. It automates patient education while also asserting your authority in the market.