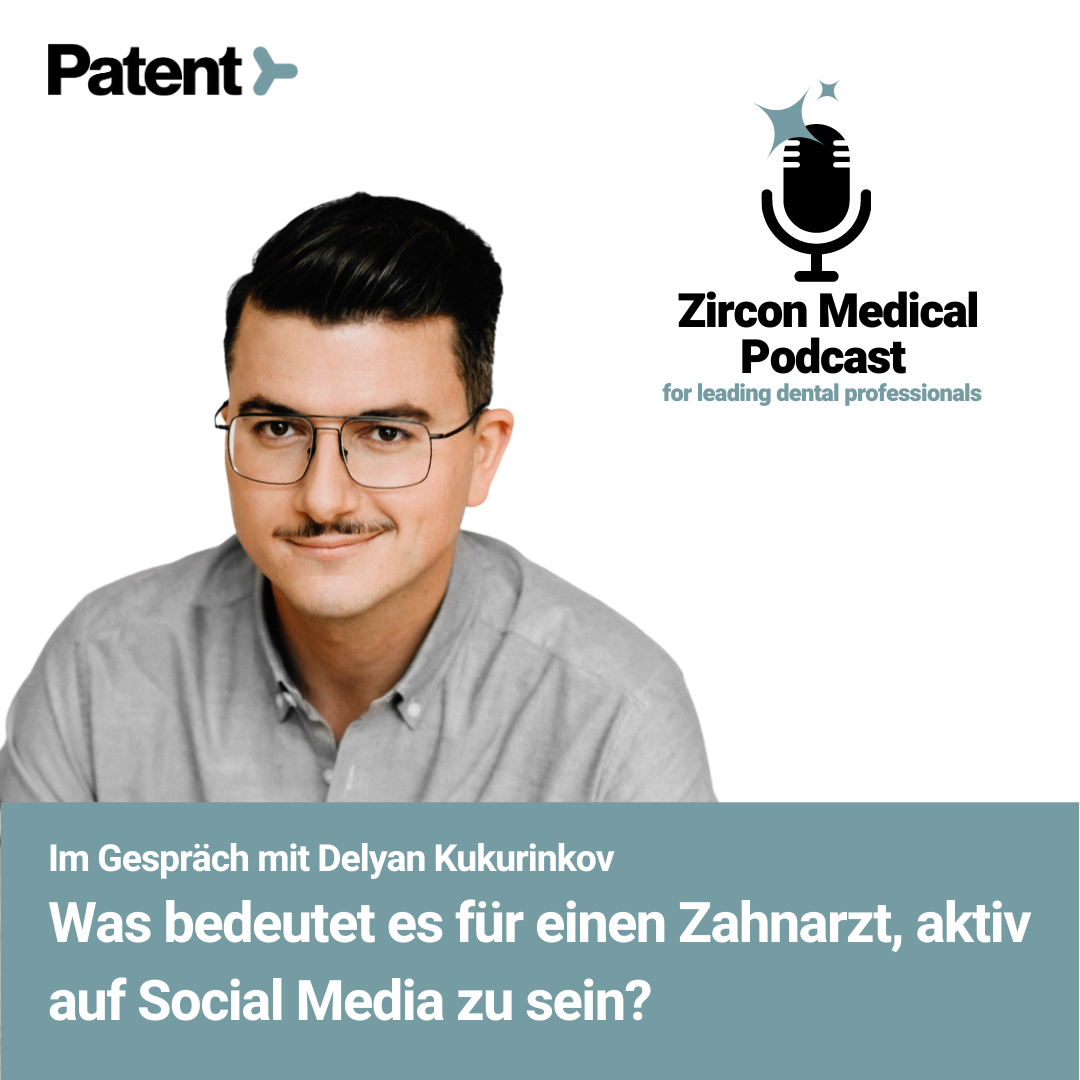 Mr. Kukurinkov modernized an old dental practice to pave the way for Das Zahnwerk.


Getting employees on board the social media transformation.


Changing dynamics with patients.


The content curating, planning, scheduling, and posting process.

Tips for dental practices that want to start their social media channels.

Dr. Delyan Kukurinkov

Owner of Dental Practice in Markt Berolzheim

Graduated from a dental university in Berlin in 2008.


Owner of a dental practice in Markt Berolzheim called Das Zahnwerk.


Location: Hafnersmarkt 7, Markt Berolzheim


Website: www.daszahnwerk.de


Instagram: @daszahnwerk


Phone: 09146-94000

Hafnersmarkt 7, 91801 Markt Berolzheim, Deutschland

In Conversation with Dr. Delyan Kukurinkovh

Dentists and other health professionals can no longer afford to ignore the value of social media when it comes to patient acquisition. The value of "word-of-mouth" marketing is rapidly ceding ground to social media marketing, which is now the driving force behind most industries. While dental practices can still use older marketing methods (or no marketing at all) for older patients, but younger patients are increasingly reliant on social media for their recommendations.

Delyan Kukurinkov, the owner of the Zahnwerk dental practice in Markt Berolzheim, is intimately aware of the power of social media marketing. He has successfully used social media to increase their acquisition of young patients by 400% in just a few years, and he continues exploring new social media landscapes to reach potential patients. Our team at Zircon Medical recently hosted Mr. Kukurinkov on our podcast series to discuss the importance of social media marketing for dental practices.
Introducing  Delyan Kukurinkov, the owner of a dental practice in Markt Berolzheim

Delyan Kukurinkov is the owner of a state-of-the-art dental practice called Das Zahnwerk in Markt Berolzheim. After graduating from dental school at the Charité, Berlin, in 2008, he worked at several dental practices in Berlin before taking over his own practice in Markt Berolzheim.

Mr. Kukurinkov says he had aspirations towards several professions as a child. One of his first interests was in pursuing oral and maxillofacial surgery shortly after he visited an oral surgeon for a toothache as a child. After watching a popular medical series called "Emergency Room," he eventually developed an interest in becoming an emergency doctor. He was also fascinated with computers and considered pursuing computer programming, which his dad expressly forbid because the field's future potential hadn't seemed secure at the time.   

Mr. Kukurinkov explored various interests throughout his childhood and adolescent years before eventually joining dental school upon his sister's recommendation. After visiting a dental clinic near his university, he gradually realized dentistry was his true calling. Even though he didn't pursue computer programming, he believes his initial interest followed him in dentistry. He stays abreast of the latest technological developments at the intersection of dentistry and computers, such as artificial intelligence, social media, and more. He describes the intersection of dentistry and technology as a "dreamlike" combination.
Mr. Kukurinkov modernized an old dental practice to pave the way for Das Zahnwerk

Although Mr. Kukurinkov took over a dental practice in 2016, he started working at the Markt Berolzheim dental practice in 2014. The dental practice was located in a small village with 1300 inhabitants and no other dentist for the next 10 kilometers. The dental practice originally didn't have a website or marketing strategy, relying solely on patients from surrounding villages who had been visiting the dental clinic for decades. Marketing hadn't seemed necessary to the previous owner of the dental practice.

When Mr. Kukurinkov took over the dental practice, he had several ideas. He didn't want to remain a village dentist but to expand and show that they could do everything that big-city dentists could do. He didn't change things much during the first few years for fear that patients might leave. Instead, he implemented gradual changes, starting with the development of a practice website with the essential information and details about the dentists, staff, infrastructure, and primary treatment areas.

Over time, Mr. Kukurinkov felt a need to build something he could call his own — his own brand. He happened upon a patient who specialized in marketing and recommended setting up a complete brand. His patient, Franzi, eventually handled the marketing for his website and brand. Mr. Kukurinkov even received a workbook wherein he was asked to enter his concerns, life goals, ideas, and a complete background to gauge his goals and needs. And with that, he embarked upon a mission to modernize the dental practice he'd taken over.

Getting employees on board the social media transformation

When asked about the struggles associated with getting employees on board the social media and marketing transformation, Mr. Kukurinkov used a helpful analogy. "I would describe it like a family having a child," he said. "But not everybody knew that they wanted to have this child, marketing and social media. I said I want to have this child, and the girls found out afterward how nice it is to have this baby."

Initially, Mr. Kukurinkov says that 95% of the website contained information about doctors and dentists. He describes it as a "standard website without much pretension." He wanted his patients to know their location, their areas of expertise, and that was enough. However, as they went deeper into the branding and marketing, he had to get his entire team involved, which was the challenging part. It was a process, but the staff was eventually won over.

To ensure complete participation, Mr. Kukurinkov involved key members of the staff at all stages of the decision-making process. They discussed ideas, suggestions, color schemes, clothing, and all other aspects of the website, logo, and more. And all of these marketing efforts were happening when COVID-19 was declared a pandemic and the first lockdown occurred in Germany. During that period, he focused more exclusively on branding and the website.

Eventually, Mr. Kukurinkov even rented an event hall with a massive screen to introduce the dental practice's new online presence. The hall was packed with 22 of his team and patients, and the website was presented on a big screen. He says the entire team was blown away by the website, and he has only received positive feedback. Once the staff was completely behind the transformation, he trained them over the next weeks and months.

Changing dynamics with patients

When asked about how patients took the new changes, Mr. Kukurinkov emphatically stated that it was completely positive. Everyone loved the new name, but they were especially wowed by the website and pictures. He believes a large part of that was because of their authenticity. He wanted to ensure that patients don't feel like they're going to get their wisdom teeth pulled but rather to relax and mingle with friendly people.

Mr. Kukurinkov said the extent to which his patients interacted with their social media presence varied significantly based on their age. Patients 60 years of age and older continued visiting the dental practice as they always did — most of them don't have any contact with their social media. Patients up to 60 noticed some changes and appreciated the new logo and clothes, but they continued using the dental practice as usual.

However, the biggest demographic change occurred with patients between 18 and 40. Mr. Kukurinkov says they received approximately 400% more patients in the 18 to 40 age group than the previous year. Whenever he receives a new patient, he colors them yellow in his diary. When he consulted his diary, he noticed all yellow all around, indicating a massive influx of new patients, most of them in the 18 to 40 age group.

The sequence in which new patients come to the practice also correlates to social media usage patterns. It starts with young adults, mostly new mothers with young children who learn about the dental practice through Instagram. The father usually follows behind the mother, which eventually paves the way for the father's work colleagues. In that sequence, social media marketing has opened up his dental practice to various new demographies.

The content curating, planning, scheduling, and posting process

Mr. Kukurinkov aimed to create more than just a cool Instagram account for his dental practice. He has created a communication channel between the practice and the patient, wherein the dental practice provides useful information for the patients. The usefulness of the post can be tracked in the form of likes, comments, views, saves, and other social media features to measure the interactions.

Mr. Kukurinkov is responsible for the basic ideation, design, and themes. He has already curated a six-month plan for when, where, and how certain themes will be tackled. And he has fixed partners, physiotherapists, freelancers, and other participants that provide pictures, write texts on pre-approved topics, seek information, and produce the designs based on Mr. Kukurinkov's plans. 

Mr. Kukurinkov has a practice manager who handles most of the management of the process mentioned above. She pre-sorts the content, bundles everything together, so the doctor can simply give his notes and approval. As such, Mr. Kukurinkov has a streamlined process wherein he plans everything, but it's then executed and compiled by various individuals with specific tasks. 

When asked about how much time he spent, Mr. Kukurinkov said it doesn't take much time anymore because he has streamlined the process. It takes a maximum of one to two hours a week, though some of the heavier blogs can take longer to plan and approve. He schedules meetings well in advance to plan the next couple of months and put everything into the pipeline.

Above all, Mr. Kukurinkov says he genuinely enjoys the process because it's a fun job. "You sit with young people who see the world the same way, are open to new things, and then the ideas come. It's not really hard work. It's just a cool, friendly conversation with like-minded people in that sense." 

Tips for dental practices that want to start their social media channels

Tip #1. Create a social media presence immediately
Mr. Kukurinkov is adamant that practices without existing social media presence should change that immediately. "I think the time is gone where people went somewhere by word of mouth," he says. "It's still a factor, of course, but it's not going to be the main factor for a long time. I think we are in this transitional phase where word of mouth is changing to social media propaganda."

Tip #2. Be authentic on Instagram and other social channels

Mr. Kukurinkov believes no manual for Instagram or video tutorials on YouTube can truly prepare you. Everyone must personalize their Instagram according to their unique practice identity. If the social media presence doesn't match the practice's actual identity, the patient may be disappointed with their experience. As such, he believes authenticity is one of the most important qualities of social media.

Tip #3. Delegate social media management to younger employees

Mr. Kukurinkov understands that one of the biggest hurdles people have when using social media is time. However, he believes there's an easy solution to that problem. You can delegate the social media management task to some of the younger employees who already have a strong social media presence. You can ask them to spend a few hours a week promoting the practice on social media, taking pictures, etc.

When asked about his goals for the future, Mr. Kukurinkov says he wants to focus on making a bigger name for his dental practice. He also wants to establish another building that corresponds to their modernized image. He wants to take their practice to the future of dentistry with digitized solutions. He also wants to build a bigger "fan base" over social media platforms and engage with patients.

You can find Mr. Kukurinkov at Das Zahnwerk in Markt Berolzheim, explore their website, or follow them on Instagram @daszahnwerk. You can also listen to him in our Zircon Medical podcast or continue reading for a detailed article on social media marketing for dentists.

Register for our free newsletter.
Never miss one of our weekly episodes with leading dental professionals.
Social Media Marketing for Dentists 

An independent article by the Zircon Medical Team

As Mr. Kukurinkov pointed out in his podcast, dentists have primarily relied on word-of-mouth marketing for their dental practices. However, the landscape is changing, and younger generations are increasingly reliant on social media platforms to learn about healthcare professionals, including dentists. Whether you have an active profile on Instagram, TikTok, Facebook, etc., or focus on blogging, video marketing, or podcasts, it's essential for dental practices to find the right social media marketing tools to connect with their patients.
The challenges that dentists face with social media marketing are different from the challenges faced by restaurants, clothing outlets, etc. Instead of convincing patients of the need for dentistry (since most people understand the basic necessity), dentists must remind them to schedule appointments, overcome their fear of dental treatments, and display why their dental practice is better equipped to handle their concerns than others. And the only way that dental practices can accomplish those goals is by building trust with their patients.

Social media is uniquely capable of building trust and a personal rapport with potential patients. It allows your dental practice to project your identity using videos, posts, reels, and other forms of content. You can also engage with your patients or provide useful information that brings them value. Furthermore, instead of drawing patients specifically looking for dental practices, you can also make your awareness felt in a landscape they're already using. This means social media marketing is a ripe tool for patient acquisition and retention. 
This article provides valuable tips on social media marketing for dentists and dental practices.

#1. Find the right social media platforms for your specific dental practice, identity, and audience

There are way too many social media platforms available, and it often feels like there's a new social media platform begging for attention. Rather than spreading yourself thin by focusing on all social media platforms, it's important to find the ideal platforms for your specific identity and audience. Some of the biggest platforms currently include Facebook, YouTube, Twitter, and Instagram, though TikTok is certainly on its way to topple all of them.

Facebook Capabilities

Share photographs of your team, office, and patients.


Share patient testimonials.

Develop a deeper relationship with existing patients.Link blogs, news articles, and other useful content.


Ask for input from potential patients.

Run Facebook ads to reach a broader market. 


Engage your patients in a Q&A session.

Develop a deeper relationship with existing patients.

Twitter Capabilities

Use branded hashtags to turn your dental practice into a brand.


Use hashtags to scope out the competition.

Reach your patients directly without needing to "friend" them.


Engage your patients in a Q&A session.

Live-tweet during procedures, conferences, etc.


Share content from patients. 

Share content from other industry experts.

Instagram Capabilities

Share high-quality photographs of your patients, success stories, team, and practice.


Provide visually appealing tips for patients.

Repost patients' pictures and posts.


Give potential patients a behind-the-scenes look at your dental practice.

Answer patients' questions in a live Q&A session.


Use branded hashtags to turn your dental practice into a brand. 
YouTube Capabilities

Provide in-depth office tours.


Demonstrate different procedures.

Interview patients and success stories.


Provide long-form dental tips.

Q&A sessions with the dental team and patients.

TikTok Capabilities

Use viral TikTok trends to provide valuable tips.


Establish a friendly and approachable identity.

Reach younger patients.


Provide quick office tours.
#2. Look for rising social media platforms to capture new patients early

There's always value in being one of the first adopters of any new piece of technology or social media platform, i.e., creating a strong base when the platform isn't over-saturated. It allows you to distinguish yourself in the platform before it's overcrowded, learn the ropes to navigate the algorithm with greater ease, and establish a clear fan base in the new platform. However, finding the right social media platform is challenging because the landscape is shaky.

When TikTok first came up, few people understood its true potential, and most dismissed it as a passing fad — one of the many social media platforms that come up and crash. However, TikTok has persisted due to its Gen-Z appeal and has even surpassed Instagram and most other platforms. Meanwhile, Periscope initially showed great promise because of its live broadcast features, but it failed to take off. Finding new social media platforms is valuable, but you might want to moderate the hours you spend chasing new trends. 
#3. Social media marketing must be a team effort with complete participation

Instead of posting content from a faceless profile, it's important to get your employees in front of the patients. Social media marketing is a trust-building tool, so it only works when your potential patients feel they know the people behind your brand. As such, it's important to encourage your entire dental team to participate, including your receptionist, dental hygienists, dental assistants, surgeons, and more. The content can also be shared on their personal social media platforms to further your clinic's reach. 

#4. Friendly, personable, and funny content always wins over clinical education

People use social media for entertainment and distraction. And if they're educated along the way, that's seen as a plus (rather than a necessity). It's important to remember that when using social media. Your posts, even the educational ones, should veer towards being friendly, personable, and funny. Explore the latest meme formats to communicate your tips. It helps patients overcome their fear of dental treatments and associate your practice with that change.

#5. Educate your patients with valuable and informational content

On the flip side to the previous point, joking around and producing memes without providing any real value can also be fatal. Most people share content they find useful, educational, or valuable — and social media sharing is one of the best ways to reach new patients. As such, you might want to consider releasing quick tips, instructional videos, and guides for patients, all while maintaining sufficient levity to keep them entertained. It's a tricky balance, but it's worth it.

#6. Talk to your patients and encourage them to interact with you

If there's one thing we know for sure about social media behavior, it's that people love offering opinions on everything. They just need a nudge in the right direction. Controversial posts tend to receive maximum engagement from social media users, but dental practices don't generally aim for controversy. Instead, you can engage your patients with questions, Q&A sessions, polls, and other interactive tools. These tools will make your patient stay connected with your dental practice, putting you at the forefront of their consciousness. 

#7. Use live video features to interact directly with patients and increase authenticity

Instagram Live and Facebook Live have immense potential for dentists and dental practices. It allows you to put yourself front and center, interacting directly with patients. Your patients can ask questions, and you can respond to them in real-time. You can also take this opportunity to give your patients a peek behind the curtains, showing them what happens during various treatments. Live video creates immense trust because there's no scope for video manipulation — unless you use a bunny filter or something. 

#8. Experiment and continue experimenting

There's no "one-size-fits-all" approach for social media success. You have to choose your content type, social media platforms, and tonality based on your targeted demography, geographic location, and practice identity. As such, the best tip is to experiment with different forms, media, and tools until you find something that clicks. And even then, remember that social media is a useful but fickle landscape, so you must continue experimenting and changing your approach.