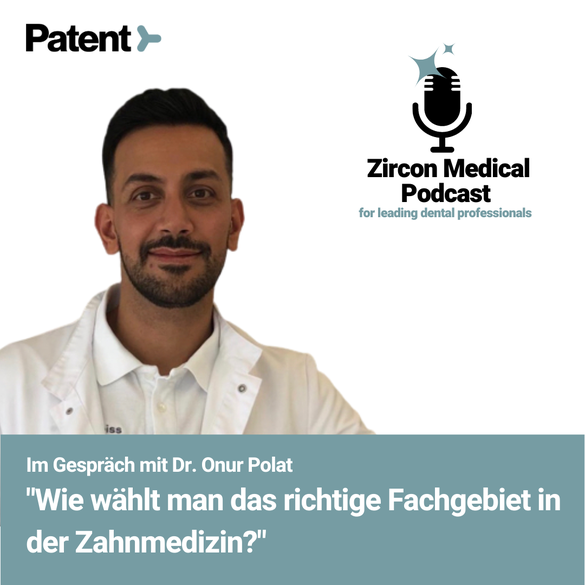 A personal story that shows that choosing a career is a continuous process.

How to gain experience in implantology in a early stage of the dental career.

How Dr. Polat found his way into dentistry and implantology.

A personal advise for younger dental professionals to gain experience before choosing a specialisation.
Dr. Onur Polat
Leading dentist at Edel + Weiss Zahnärzte in Zürich
He found his passion in dentistry by discovering the potential surgical challenges.

Specialized in Implantology and Prosthodontics

His greatest motivation about Implantology is that it improves the quality of life of his patients.

His goal for the next year is to focus more in scientific work, besides working in practice.
Klotenerstrasse 50 8303 Bassersdorf
In Conversation with Dr. Onur Polat
One of the most frustrating concerns most people have at the start of their careers is choosing the correct specialty. Even within a dental career, you have several options, such as general dentistry, endodontics, pediatric dentistry, periodontics, prosthodontics, orthodontics, etc. With such a diverse selection, finding the ideal path for yourself might be more than just a little daunting. Our team at Zircon Medical recently hosted Dr. Onur Polat on our podcast series to discuss how to know if you're in the right dental specialty, with a special focus on implantology.

Introducing Dr. Polat, the head dentist at Edel + Weiss Zahnärzte, Zurich

Dr. Onur Polat is currently the head dentist at Edel + Weiss Zahnärzte in Zurich, specializing in various aspects of dentistry, including implantology. In our latest episode of the Zircon Medical Podcast, Dr. Onur Polat sat down with Benjamin Lutje, our head of digital marketing, to discuss his stellar career, accomplishments, inner drive, and tips for new dentists on choosing the correct sub-specialty for training.

Dr. Polat has always had a strong inner-drive and motivation, ever since he was a little child, which, he believes, was always nurtured at home. Even though he was initially no more than a mediocre student, his inner-drive and motivation compelled him to push himself further. It wasn't until his clinical semester that he truly channeled that drive into studies that activated his interest and curiosity. He flourished in his education once he started asking, "how does that actually work?" and developed a genuine love for the various challenges put before him.

Dr. Polat is honest about not always wanting to be a dentist. After all, no 5-year-old child says their deepest desire is to be a dentist, especially since children are usually frightened of dentists. When Dr. Polat first entered dentistry, he intended to eventually segue to medicine during his studies. But as he engaged with dentistry, he realized the field was just as rife with complex surgical challenges and nuance as any other field of medicine. And that's when he decided he wanted to stay and excel at dentistry.

Dr. Polat's take on the rewards and challenges of implantology

Implantology is currently one of the most thriving fields of dentistry, advancing and developing at a rapid pace. Implantology has allowed dentists to solve problems that were unsolvable a few decades ago, such as permanent dentures on edentulous patients. Dr. Polat loves implantology because of its ability to dramatically improve a patient's quality of life; he especially loves it when his patients send him videos and letters expressing their happiness and gratitude for the implants. Dr. Polat told us about one patient who sent him a video of herself enjoying a steak for the first time in years — a luxury only made possible due to dental implants.

However, while implantology is certainly an attractive sub-specialty of dentistry, it also requires vast knowledge, skills, experience, and training. You have to dedicate years, not just weeks and months, to be able to solve implantology cases. The complexities involved in implantology are the primary reasons dentists often refer patients needing implants to other more experienced colleagues. Implantology is certainly a rewarding sub-specialty of dentistry, but it also requires you to give your everything — and that's why you must practice caution when stepping into implantology.

Tips for young dentists at the beginning of their medical journeys
Dr. Polat stresses the importance of patience for all young dentists eager to get involved with implantology. The following are some of his tips for young dentists at the beginning of their medical journeys:

Be patient and don't fixate on implantology too much immediately after your studies.


Be patient and don't fixate on implantology too much immediately after your studies.Work at dental practices and training centers in contact with universities. Combine your practical application and scientific knowledge to improve your understanding of dentistry.


Instead of focusing on implantology, get an overview of all sub-specialties. Maintain high case numbers and dedicate a lot of time to the profession.

If you know you want to go into implantology, choose a practice where implantology is performed at a high level to gain deeper insight into the processes.


Look over the shoulder of experienced colleagues and assist them. Dr. Polat says he's assisted numerous experienced dentists with implantology — it's a crucial step in the process, and you shouldn't let it wound your pride.

Start with smaller surgical procedures, such as osteotomies and the extraction of wisdom teeth, with the guidance of experienced dental surgeons.


Continue working with experienced colleagues to gather essential tips and tricks.

Once you've gained sufficient expertise, consider enrolling in further training, such as a master's degree.


Start with simple single dental implants, without additional bone augmentation or other complex procedures.

Start accepting more complex procedures gradually until you're a master of all aspects of implantology.

Dr. Polat believes patience is key for all young dentists, but especially those considering implantology. He recommends finding a good training center or dental practice to get started, learning from experienced colleagues, and taking it one step at a time. He also recommends networking with other colleagues in training sessions and classes. That's one of the best ways to exchange knowledge and improve your skills and expertise. You'll be on your way to a successful career in implantology or any other sub-specialty of dentistry if you're patient and follow these steps one-by-one.
You can find Dr. Polat at Edel + Weiss Zahnärzte, located at Bassersdorf, Zurich, about 10 minutes by car from the airport. Edel + Weiss Zahnärzte is a dental clinic with exceptionally trained experts in all sub-specialties of dentistry, including fillings, therapy, prosthetics, ceramics, crowns, orthodontics, pediatrics, etc. You can also listen to Dr. Polat in our Zircon Medical podcast (linked below) or continue reading for a detailed article on choosing the right medical specialty for yourself.

Register for our free newsletter.
Never miss one of our weekly episodes with leading dental professionals.
An independent article by the Zircon Medical Team

One of the most difficult decisions you make at the end of your studies is your dental specialty. Most dentists opt for general dentistry to handle overall oral health care needs instead of focusing on one or two specific areas. However, if you choose to continue your education, either directly or after some clinical experience, you have to choose a specialty or discipline that will satisfy you for the rest of your life.

In the previous section of this article, we conveyed Dr. Polat's keen observations and insights into the various stages of your implantology journey. He highlighted the need to start with a broad base, learn from experienced colleagues, and eventually opt for advanced training. In this section, we want to broaden the outlook to discuss the factors to consider when looking for the right medical or dental specialty.
Everyone has a different style of choosing a specialty. Some like to project themselves into hypothetical future scenarios to see which career fits their personality the best. Some like to think about practical matters, like overcrowding in a field, income potential, future viability, etc. Some prefer focusing on the intellectual content of a specialty, i.e., the types of challenges and complexities offered by the field.

Different individuals have different preferences, but most people should examine a few crucial factors to identify the ideal dental specialty.

Working for the public good and betterment.

All areas of dentistry are useful and improve the patient's quality of life, making them look or feel better. However, all dental specialties don't necessarily include a public service component. Individuals drawn to philanthropy and helping the public should consider dental public health as a viable specialty. A public health dentist prevents and controls dental diseases in large populations and communities through organized community efforts and policies. They study trends in groups and populations, develop public health policies, promote education, and help at-risk communities improve their overall oral health and quality of life.
Drawn to complex and intellectually-stimulating surgical challenges.

Oral and maxillofacial surgery is a suitable option for those drawn to complex surgical procedures. If you're drawn to complex procedures, such as placing dental implants, oral reconstruction after trauma, jaw realignment, etc., oral surgery is a suitable option. If so, you'll have to spend several years working at a hospital's surgical residency program, where you'll learn about general surgery, emergency surgery, and anesthesiology. You'll also be trained to administer all forms of anesthesia and sedation.

Dealing with children and younger patients.

Pediatric dentistry is an attractive sub-specialty for dentists who love dealing with children and have a special talent for communicating with them. You need a special kind of attitude and bedside manners to excel at pediatric dentistry and complete additional years of residency in pediatrics, but the rewards make the journey worthwhile. Pediatric dentists also need to learn about child psychology as a part of their residency training.
If you want to deal with children without narrowing your field too much, you can also consider orthodontics, a field that's immensely popular amongst younger patients. Most children start receiving dental treatments once their adult teeth start coming out, and orthodontics helps them maintain straight teeth. Specializing in orthodontics allows you to work with children while also keeping your options open for cosmetic dentistry on adults.

Love for the intellectual content and clinical cases.

When choosing a specialty, you must determine if you love the intellectual content and clinical cases within the field. As Dr. Polat mentioned in the podcast, he was a fairly average student, despite his inner-drive, until he came across a field of studies that got his interest. Only once he started asking, "how does that actually work?" did he excel at his education. Similarly, there's only so long you can get through studies that you're not inherently interested in.
If you're genuinely interested in your studies, you'll devour textbooks and journals, discuss the challenges of your field with colleagues, and turn your profession into your life's driving goal. If you're not interested in the field, you might treat it just like a 9-to-5 job and then put it out of your mind when you're done. To ensure that you love the intellectual content of a specific field, read existing literature on the field for a week or two. Determine if you're truly interested in the subject and are drawn to it repeatedly.

The amount of patient contact.

Medical and dental students often assume patient contact is an essential component of their field. But it really isn't. You don't have to love patient contact to specialize in dentistry. Sure, if you love patient contact, and not just in its glorified notions but in the more putrid forms, such as examining bodily fluids, dealing with infected wounds, etc., then you can opt for pediatrics, periodontics, oral surgery, etc.
However, you can also specialize in fields that don't involve any patient contact. Oral and maxillofacial pathology and radiology involve little to no contact with patients, but they're just as crucial as other aspects of dentistry. As such, you should determine whether you like dealing with patients, and to what extent, and choose a dental specialty accordingly.

Shadow other dental specialists and experienced colleagues.

As Dr. Polat mentioned in the podcast, one of the best ways to start your journey in implantology (and any other specialty) is to shadow other dental specialists and experienced colleagues. Work at a multi-specialty dental practice where you have the opportunity to observe and work at various treatment modalities. This will give you a first-hand experience with various dental specialties and help you further establish your preferences.
Besides working at dental practices, you can also try internships and externships in academic or hospital settings. The advantage of internships is that you'll experience the life of a residency program and improve your skills at various treatment modalities. Armed with years of experience in various specialties, you'll be able to make a firm and informed decision on your specialty.

Securing your financial future and income potential.

Most people consider their income potential and financial future when selecting dental specialties or any profession at all. However, the weight you place on this factor may differ from one individual to the next. For some, earning a high income might be the primary motivator, while others might place more value on other factors. Some even advise against choosing a specialty based on income potential. While income potential should certainly not be your primary or only motivator, it's impossible to ignore if you're saddled with student debt — as many, unfortunately, are.
The income potential for different specialties naturally varies for different individuals, regions, etc. However, broadly speaking, the specialties with the highest net incomes include oral and maxillofacial surgery, endodontists, orthodontists, and pediatric dentists. You should research the average salaries and income potential for various specialties of dentistry in your region, determine if you have the skills or personality suited for the task, gain some real-world experience at dental practices, and make an informed decision accordingly.

---