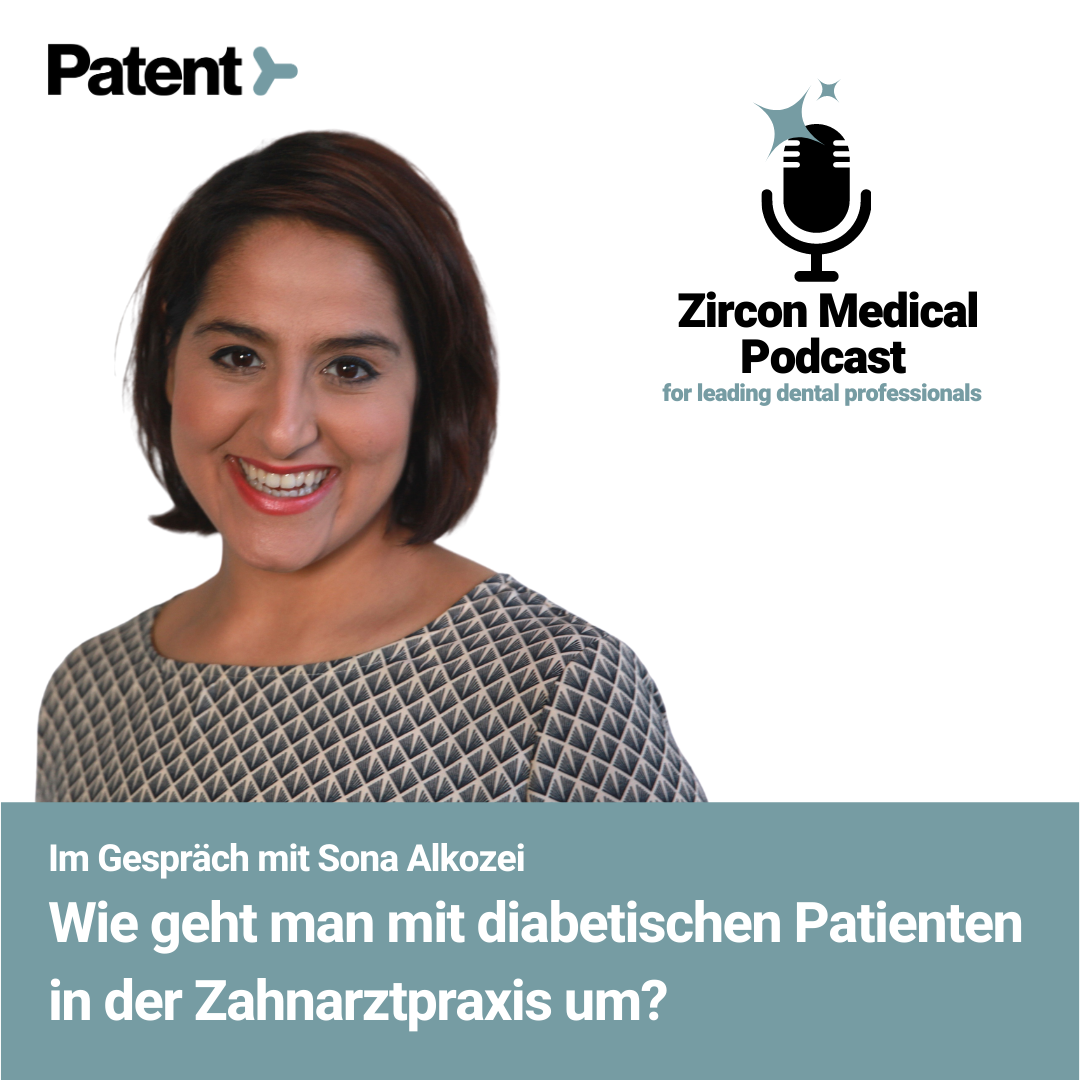 Introducing Ms. Sona Alkozei, practicing dental hygienist, international lecturer, and nutritionist.


A personal motivation to develop the diabetic consultation hour.


How diabetes consultations help the patients and the dental practices.


The primary roadblocks to integrating diabetic consultations in dental practices.

How you can integrate the diabetes consultation in your clinic.

Ms. Sona Alkozei

Dental Hygienist, International Coach, and Lecturer

 Practicing dental hygienist, international lecturer, practice coach, nutritionist, and author.

Website: http://sona-alkozei.de/


Email: info@sona-alkozei.de


 Social Media: https://www.instagram.com/sona.alkozei/


Phone: 01520/6260198

Am Bahnhof 1 27305 Bruchhausen Vilsen
In Conversation with Ms. Sona Alkozei
Currently, approximately 9.5 million people (15.3% of the adult population) live with diabetes in Germany. And diabetes and dental health are closely interlinked — diabetic patients are 11x more likely to suffer from periodontitis, and vice versa. However, despite these grim facts, most dental clinics are hesitant about integrating diabetes consultations into their practice. Ms. Sona Alkozei is a practicing dental hygienist and coach dedicated to helping dental clinics integrate diabetes consultations to provide holistic dental services. 
Our team at Zircon Medical recently hosted Ms. Sona Alkozei on our podcast series to discuss the link between diabetes and periodontitis and the importance of integrating diabetes consultations in dental clinics.

Introducing Ms. Sona Alkozei, practicing dental hygienist, international lecturer, and nutritionist

Ms. Sona Alkozei is a practicing dental hygienist, international lecturer, practice coach, state-certified nutritionist, and author. As the bevy of titles suggests, she carries numerous responsibilities, but her primary motivation is helping dental clinics integrate diabetic consultations in their practices.

Ms. Alkozei immigrated to Germany over 25 years ago and went straight to school in the third grade. At the time, she didn't have strong language skills and had trouble connecting with other children. However, as she struggled from one year to the next and improved her language skills, she started connecting more with her peers and friends. Due to her unique background as an immigrant, she understands the value of interpersonal communications better than most individuals. And that awareness has established her as an international lecturer and coach — she aims to pass her knowledge down to others and focus on mutual interpersonal growth.

She has been draw to the field of dentistry, specifically that of a dental assistant, since her very first trip to the dentist with her mother. She recalls marvelling at all the opportunities that being a dental hygienist provided. But, most importantly, she was encouraged by the idea of interpersonal communication with her patients. After all, it's the dental hygienists who hold their patients' hands and guide them through the procedures. Strong personal interactions have always been a key and integrated part of Ms. Alkozei's personality, and it connects her various endeavors as a dental hygienist, lecturer, and coach.

Ms. Alkozei's motivation for developing a diabetes consultation hour in her practice

As mentioned earlier, Ms. Alkozei's primary motivation is helping dental clinics integrate diabetic consultations in their practices. Approximately 15% of the German population suffers from diabetes, which, in turn, increases the risk of periodontitis by 11 times. The two diseases are intrinsically linked, impacting each other in an ever-increasing scale of escalations. That's reason enough to integrate diabetic consultations. However, Ms. Alkozei's drive to integrate diabetic consultations has come from a painful and personal understanding of its necessity. Beyond the numbers and statistics, she has a unique awareness of the human toll of diabetes and the lack of sufficient information.

Ms. Alkozei's mother was in her early 50s when she was diagnosed with type II diabetes. She notes that Persian cuisine is usually really sweet, hearty, and delicious, and, when coupled with the lack of exercise, it sets the perfect stage for diabetes. And that was the case with her mother. Within two weeks of the diagnosis, she was given insulin… without proper instructions. She didn't know how to handle the insulin or the correct dosage. As a result, she injected herself with insulin in the evening, went to bed, and didn't wake up the next morning.

Ms. Sona Alkozei now has a daughter whom she lovingly calls her little princess. "My little Lina," Ms. Alkozei says, "she will grow up without a grandma, because her grandma was not treated properly, because her grandma was not instructed properly." She places the blame squarely on the lack of sufficient instructions given to patients living with diabetes. This incident motivated her to ensure that diabetic patients are cared for in her practice. It's her life's primary drive to ensure that diabetics receive proper care, instructions, and treatments. "With every diabetes consultation integrated into the practice, I give back a little bit to my mom."

Following her mother's early and avoidable departure, Ms. Alkozei spent every minute of her spare time for the next five years as a silent intern with family doctors, internists, diabetologists, and nutritionists, learning all she could about diabetes. She was terrified by how quickly patients were prescribed medications without proper instructions or consultation. She also found that some family doctors brushed through the instructions perfunctorily without attempting to give their patients a complete picture. These findings were all the more startling because they aligned with her personal experience — her mother's tragic outcome wasn't an accident after all, but rather the result of a systemic problem.

In her experience, most patients don't even understand the basic facts of diabetes, such as the causes of diabetes, the symptoms, the underlying reasons, or what you should or shouldn't eat. Patients don't know what's in their breakfast sandwiches, soft drinks, or other dietary restrictions. Armed with her accumulative experience, she asked her boss to incorporate a targeted diabetes consultation in the practice — that was eight years ago. They started the diabetes consultation as a pilot project with some hesitation, unsure if it will find any interest. But, within a short period, the consultation hour had been a success — received well by patients and internists alike.

Propelled by its success, Ms. Alkozei started working to help other dental clinics integrate diabetes consultations.

Diabetes consultations help the patients AND the dental practice

Ms. Sona Alkozei certainly has noble motivations for the diabetes consultations. But she's not simply an idealist — she's also clear that integrating the consultation hour also helps the dental practice. It's a win-win situation all around. 

She believes the diabetic consultation belongs in all holistically-oriented practices. Diabetes and periodontitis influence each other, increasing each other's likelihood and risks. As such, ensuring pero-stability in the oral cavity can improve the long-term HbA1c value by 1.5% points. That's an immense improvement — patients have to generally go jogging for eight kilometers daily for three months to improve their blood glucose value to such an extent. Consequently, patients can get off their pills and insulin shots and reduce their diabetic symptoms, such as the constant thirst and the constant need to urinate in the middle of the night.

Implementing diabetic consultations also serves as a brilliant business proposition for the practice. The dental clinic becomes a referral practice for internists, family doctors, diabetologists, and diabetics looking for dentists specializing in diabetes consultations. Furthermore, patients under Germany's health insurance system are often reimbursed for their diabetes consultations, making it more accessible for large numbers of people, exposing the dental clinic to more patients. It's a win-win scenario wherein patients receive access to better care, are reimbursed for the consultation, and dental practices receive new opportunities.

The primary roadblocks to integrating diabetes consultations in dental practices

Ms. Sona Alkozei believes there are three primary roadblocks to the integration of diabetic consultations in dental practices: 

Dentists don't know how to proceed with the consultation. They don't know whom to contact, how to make themselves known to the relevant doctors, or any of the first steps.

Dental practices are often so busy with existing patients and appointments that they don't think about expanding into new directions.


Many dentists have trouble identifying with the issue — they see diabetic consultations as a separate issue meant for diabetologists.
However, all three challenges are easily conquered. Dentists must understand that the tooth isn't an isolated object but rather connected to the entire human body — your overall wellness impacts your dental health and vice versa. For those who don't know how to proceed, Ms. Alkozei has a streamlined plan to help practices through the journey.
Contact Ms. Alkozei to learn more about integrating the consultation hour into your dental clinic

If you'd like to integrate diabetic consultations in your dental practice but don't know how to proceed, you can contact Ms. Alkozei — she's highly accessible through her website, email, phone, or social media. She encourages all dentists to visit her social media accounts, where she's completely transparent about the consultation process. Ms. Alkozei will visit your dental practice and handle everything on-site — she helps with the practical implementation, treatment curation, charges, communication with the outside world, and positioning the dental clinic in relation to internists and general practitioners. She also provides in-house training to the staff.

You can contact Ms. Alkozei through her website, Instagram, or email. You can also listen to Ms. Alkozei in our Zircon Medical podcast or continue reading for a detailed article on the importance of diabetes consultations in dental clinics.
Register for our free newsletter.
Never miss one of our weekly episodes with leading dental professionals.
How to Care for Diabetic Patients?

An independent article by the Zircon Medical Team

Dental hygienists play an incredibly important role in providing oral health care to diabetic patients. As our conversation with Ms. Alkozei highlights, periodontitis is one of the most severe complications of diabetes. The relationship between the two diseases is bidirectional — patients with diabetes are more likely to experience periodontitis and vice versa. Since diabetic patients are at a higher risk of periodontitis, they need regular periodontal therapy and preventative dental care, ideally every three months. 
This article discusses how to care for patients with diabetes, including the information you need to obtain before dental care, tips for dental hygiene appointments, identifying and dealing with hypoglycemia, and recognizing the symptoms of undiagnosed diabetes.

List of information and details to obtain from diabetic patients prior to consultations

History of medication usage, including vitamins and supplements. 


The frequency and usage pattern of medications.

Food consumption habits and schedule.


History of glycemic management, hypoglycemia, and hyperglycemia.

A1C level, i.e., the patient's average blood glucose levels over the past 120 days.


Existing symptoms of diabetes.

Detailed medical history and changes.


History of alcohol and tobacco consumption.

Stress levels.


Results of other physical examinations.
Diabetic patients should always be asked about their blood glucose levels on the day of the appointment. The preprandial glucose levels should be between 70 mg/dl to 110 mg/dl, and the post-prandial glucose levels should be less than 180 mg/dl.
Dental professionals should record their patients' recent A1C levels to identify the level of glycated hemoglobin (HbA1c) in the blood. The tests should be conducted at least twice a year because each test measures the average blood glucose level for the past 120 days. The A1C should always be less than 7% — if higher, the patient's diabetic physician should be consulted.

If the patient can't provide the necessary information, they should first consult a diabetic physician before dental care.

Tips for scheduling dental appointments with diabetic patients

Diabetic patients must maintain strict schedules for their meals and medications. The dental appointment shouldn't interfere with the meal schedule. As such, the diabetic consultation should be scheduled soon after the patient's breakfast or lunch and medications. The dental professional should ask the patient when they ate last and about their recorded blood glucose levels.
Long and stressful dental treatments should ideally be split into shorter and more manageable appointments. This is essential because stress hormones are linked to a higher incidence of diabetic symptoms due to increased blood pressure and lower insulin production in the pancreas. As such, the dental professional must make every attempt to ensure the treatments are stress-free and relaxing.

Identifying the signs and symptoms of hypoglycemia
Hypoglycemia is a severe medical emergency associated with diabetic dental patients. Dental hygienists and professionals must recognize the signs and symptoms of hypoglycemia, so they can address the issue as soon as it manifests.
The following are the most common signs of hypoglycemia:

Confusion


Shakiness


Headaches


Heightened pulse rate

Dizziness


Hunger pangs

Irritability


Pale skin


General weakness


Anxiety

Trembling


Sweating

Patients exhibiting the signs of hypoglycemia should immediately be given 15 g of carbohydrates in the form of table sugar, glucose tablets, soft drinks, corn syrup, fruit juice, or milk. Dental professionals should also have a plan for treating patients displaying signs of hypoglycemia.

Identifying the symptoms of undiagnosed diabetes
Dental professionals and hygienists should also be trained to identify the oral symptoms of diabetes, even if the patient isn't yet diagnosed. The following are the most identifiable oral manifestations of diabetes:

Dry mouth


Periodontitis


Oral thrush or candidiasis


Burning sensations in the mouth
Poor wound healing


Oral infections


Fruity acetone breath (symptomatic of diabetic ketoacidosis)

Early diagnosis can dramatically reduce life-altering and life-threatening complications of diabetes, improving the patient's general quality of life. Dental professionals should also extend detailed education to diabetic patients, highlighting the oral and general health effects of diabetes, its causes, symptoms, and precautions.