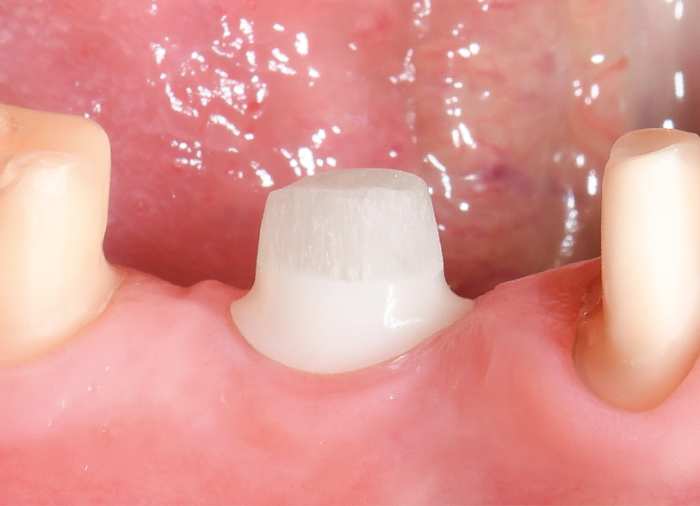 Since dental implants are located partly inside the patient's body and partly in their oral cavity, the peri-implant soft tissue around them with its marginal epithelium represents a decisive defense barrier against attacks by bacterial pathogens from the outside world.

Gesunde Weichgewebeverhältnisse um ein inseriertes Patent™ Implantat nach dreimonatiger Einheilzeit (© Sebastian Horvath).
The stronger the soft-tissue adaptation to dental implants, the harder it is for pathogenic bacteria in the oral cavity to bypass the barrier of the marginal epithelium and to penetrate past the implant into the deeper tissue, where such bacteria would promote periimplant inflammation and marginal bone loss, among others. Moreover, once pathogenic bacteria have entered the body, they can gain access to the bloodstream, spreading to other parts of the body and contributing to the development of chronic disease. Recently, the World Health Organization recognized this as well and identified the oral cavity as the starting point of up to 70% of all chronic diseases.

Against this background, it would be all the more important with a view to the long-term health of implant patients if the soft tissues would connect to their inserted implants as tightly as possible. In the past, however, no synthetically produced material used in dentistry was able to achieve this. A sobering realization that also translates to the world of dental implants: There might be implant materials that favor soft-tissue adaptation more than others (for instance, zirconia offers more favorable soft-tissue reaction than titanium as this material causes far less inflammation of periimplant tissue). However, dental implants developed until now were – depending on the material used, more or less successfully – only able to achieve some degree of soft-tissue attachment, but not to bond with it in a complete and sustainable way.

Zircon Medical Management, manufacturer of the Patent™ Dental Implant System, is leading the way: Thanks to unique design factors and a fundamental understanding of the specific material properties of zirconia, the Swiss innovation company has succeeded not only in maximizing the soft-tissue integration of the Patent™ Implant, but in creating a veritable Soft Tissue Seal around its neck, largely sealing off the inside of the body from hostile attacks from the outside world. The benefit of this achievement, which is unparalleled in the world of dental implantology, is obvious: If the attachment of the soft tissue to a dental implant is so strong that bacterial pathogens in the oral cavity cannot penetrate past the implant into the deeper tissue, the risk of restoration-related complications in the body is minimized in the long term.

Einzigartige Kombination aus Design und Material
The Patent™ Dental Implant System harnesses a unique combination of design and material. Firstly, the Patent™ Implant has a soft-tissue-level implant design. In clinical practice, this means that the implant is placed such that its crown margin is positioned at the level of the gingiva, preventing a bacteria-prone microgap at the subgingival level. Thanks to the soft-tissue-level implant design, cementation and preparation of the glass fiber post takes place at and above the gingival level, respectively, virtually eliminating the risk of tissue inflammation caused by subgingival cement. Secondly, in order to promote soft-tissue attachment during prosthetic restoration, the restorative procedure was designed in such a way that no insertion, replacement or removal of components is necessary. Thirdly, the Patent™ Implant features a 2.5 mm high collar that is machined and does not undergo any surface treatment after milling, in contrast to the highly rough portion that is placed in contact with the bone. The smoothness of the transgingival implant surface is a key prerequisite for the incredibly strong attachment of soft tissue in this area. Fourthly, the implant material plays a decisive role in the soft-tissue integration of the Patent™ Implant. Patent™ Implants are made of yttria-stabilized zirconia, a technologically advanced high-performance ceramic of the latest generation. Zirconia ceramic implants stimulate an comparatively low level of inflammation in the surrounding tissue,[1] as a result of which the peri-implant tissue begins to adhere to this material in a largely irritation-free way only a short time after the implant has been placed.

In histological analyses, Swiss researchers Dr. Roland Glauser and Dr. Peter Schüpbach observed that the soft-tissue seal around inserted Patent™ Implants remained constantly above gingival level after a healing period of four weeks and that this seal prevented the spread of bacterial biofilm toward the underlying bone. In contrast, the researchers observed a significant accumulation around the titanium control implants of bacterial biofilm, which spread downward toward the marginal epithelium, the point at which the body begins to react.

Histologische Untersuchung eines inserierten Patent™ Implantats zeigt den festen Soft Tissue Seal nach vier Wochen Einheilung (© Peter Schüpbach).
Furthermore, they found that the vertical histoarchitecture at the soft-tissue level around inserted Patent™ Implants—consisting of connective tissue, marginal epithelium and sulcular epithelium (biologic width)—has a highly favorable structure with a comparatively high proportion of connective tissue. These observations were made within the context of a preclinical animal model study investigating the bone healing of inserted Patent™ Implants.[2] However, the topic of soft-tissue integration was not part of the primary objective of said study.
Langzeiterfolg wissenschaftlich belegt 
Dass der einzigartige Soft Tissue Seal um inserierte Patent™ Implantate eine Reihe an klinischen Vorteilen mit sich bringt, ist heute durch wissenschaftliche Studien untermauert. So beobachteten Brüll et al. und Becker et al. in ihren klinischen 3- und 2-Jahresstudien, dass der Anteil an keratinisierter Gingiva um die untersuchten Patent™ Implantate mit der Zeit zunahm.[3, 4] Auch berichten die Autoren von deutlich geringeren Sondierungstiefen der Zahnfleischtaschen um die untersuchten Patent™ Implantate sowie davon, dass um die dokumentierten Patent™ Implantate weniger Blutung auf Sondierung auftrat als um die natürlichen Zähne derselben Patienten. Dass der starke Soft Tissue Seal des Patent™ Implantats das tieferliegende Gewebe auch langfristig vor dem Eindringen von pathogenen Bakterien schützt, konnte durch einmalige Langzeitstudien (in Publikation) belegt werden. Karapataki et al. beispielsweise beobachteten über 90 inserierte Patent™ Implantate über einen Funktionszeitraum von bis zu 12 Jahren und stellten fest, dass selbst nach dieser langen Tragezeit keines der Implantate Anzeichen einer Periimplantitis aufwies.[5] In der Langzeit-Folgeuntersuchung von Becker et al. berichteten die Autoren indes von stabilen Knochenniveaus um inserierte Patent™ Implantate nach einer Funktionsdauer von über 9 Jahren.[6] 
The primary objective of every implant dentist should be to support the long-term health of their implant patients. With this in mind, Patent™ Implants with their soft-tissue seal represent a significant expansion of the treatment offering. The strong soft-tissue seal, which is unique among all implant systems on the market, on the one hand maintains long-term healthy soft-tissue conditions and on the other hand protects the bone beneath – not only in the short term, during the healing phase of the implant, but also demonstrably over the long term. With this unparalleled seal, the risk of complications associated with dental implant restorations is not merely reduced. It goes far beyond that: The soft-tissue seal around Patent™ Implants prevents biological complications, such as peri-implantitis, peri-implant mucositis or marginal bone loss, from occurring in the first place. Based on the promising observations that were made within the context of the preclinical study on bone healing from Drs. Glauser and Schüpbach, further studies are currently underway specifically aimed at investigating the soft-tissue attachment around inserted Patent™ Implants.
References:
1.    Nothdurft, F. P., Fontana, D., Ruppenthal, S., May, A., Aktas, C., Mehraein, Y., Kaestner, L. (2015). Differential behavior of fibroblasts and epithelial cells on structured implant abutment materials: A comparison of materials and surface topographies. Clinical Implant Dentistry and Related Research, 17, 1237–1249.
2.    Glauser R, Schüpbach P. Early bone formation around immediately placed two-piece tissue-level zirconia implants with a modified surface: an experimental study in the miniature pig mandible. Poster presented at: Implant dentistry for all: honoring the past—treasuring the present—shaping the future. Academy of Osseointegration 2022 Annual Meeting; 2022 Feb 25; San Diego, CA.
3.    Brüll F, van Winkelhoff AJ, Cune MS. Zirconia dental implants: a clinical, radiographic, and microbiologic evaluation up to 3 years. Int J Oral Maxillofac Implants. 2014 Jul-Aug;29(4):914-20. doi: 10.11607/jomi.3293.
4.    Becker J, John G, Becker K, Mainusch S, Diedrichs G, Schwarz F. Clinical performance of two-piece zirconia implants in the posterior mandible and maxilla: a prospective cohort study over 2 years. Clin Oral Implants Res. 2017 Jan;28(1):29–35. doi: 10.1111/clr.12610.
5.    Karapataki S, Fahrenholtz H, et al. Peri-implantitis and zirconia implants: results after five and up to 12 years of function. In preparation.
6.    Becker J, et al. Clinical performance of two-piece zirconium implants in the posterior mandible and maxilla: a prospective cohort study over nine years. In preparation.