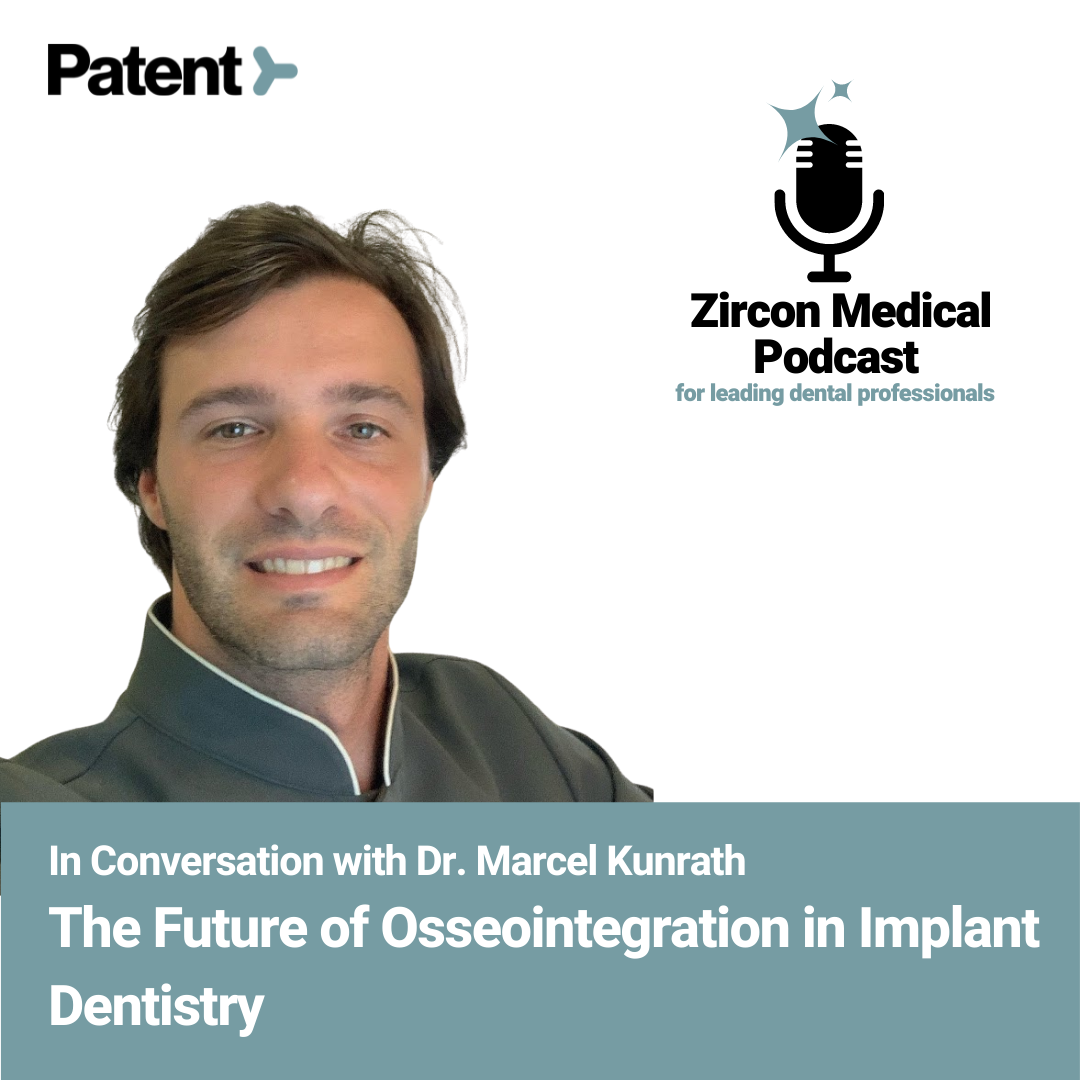 Introducing Dr. Marcel Kunrath, the specialist in implant dentistry at a private clinic in Brazil


Opportunities for the optimization of osseointegration in dental implants


Zirconia implants play a major role in changing possibilities with dental implants


Driving change — influencing dentists and clinics to implement the results of research
Dr. Marcel Kunrath
Clinical Researcher & Specialist in Implant Dentistry
Dental studies from the Pontifical Catholic University of Rio Grande do Sul, Brazil


Specialist in Implant Dentistry


Master's in Biomaterials Engineering


Ph.D. in Dental Sciences


Specializes in implantology and prosthodontics in a private clinic in Brazil


Selected for a grant from theOsteology Foundationfor his studies in Sweden


Researcher at the Department of Biomaterials at the University of Gothenburg


Instagram: https://www.instagram.com/marcelkunrath/

Gothenburg University 405 30 Gothenburg, Sweden
In Conversation with Dr. Marcel Kunrath
The field of dental implantology has been focused on optimal osseointegration for the past couple of decades. With an average success rate of 97%, the collective focus on osseointegration makes sense. But infections still occur, implants are still lost, and there's an increasing need to optimize the process further.
Dr. Marcel Kunrath, a clinical researcher and specialist in implant dentistry, has been conducting preclinical research on osseointegration for the Department of Biomaterials at the University of Gothenburg. We recently hosted him on the Zircon Medical Podcast to discuss the future of osseointegration in implant dentistry.
Introducing Dr. Marcel Kunrath, the specialist in implant dentistry at a private clinic in Brazil
Dr. Marcel Kunrath is a wunderkind in the field of dentistry — he graduated from the Pontifical Catholic University of Rio Grande do Sul and became a dentist at the young age of 22. After graduating,following which he specialized in implant dentistry, after that, he completed a master's in Biomaterials Engineering and PhD in Dentalsciences.  He is currently a general dentist, implantologist, and prosthodontist at a private clinic in Brazil.
Dr. Kunrath says he's particularly fond of preclinical research. He conducts research into dental implants and osseointegration at the Department of Biomaterials at the University of Gothenburg. In that capacity, he recently published a paper titled, "The Impact of Early Saliva Interaction on Dental Implants and Biomaterials for Oral Regeneration."
Opportunities for the optimization of osseointegration in dental implants
Dr. Kunrath is currently working in two centers — one in Brazil and the other in Sweden. In Brazil, he is looking into dental implant modifications to create a drug-delivery system to improve the osseointegration process. In Sweden, he is looking at the hydrophilicity of implants to improve the speed of osseointegration in clinical terms.
Dr. Kunrath clarifies that dental implants have an incredibly high 97% success with osseointegration. But he believes there are still opportunities for improvements. People still lose implants and suffer infections, and dental implants aren't ideal for patients with osteoporosis, diabetes, and those with limitations in the bone.
He believes the time is ripe for a new generation of implants that can improve the experience for patients with certain medical contraindications and limitations. That's why it's important to continue researching osseointegration to speed up the healing process, reducing it to less than one month, so dentists can place prosthetics over the implants faster.
Zirconia implants play a major role in changing possibilities with dental implants
When asked about zirconia implants, Dr. Kunrath said he hasn't had the opportunity to work with a large number of zirconia implants because of their limited availability in Brazil. However, he has conducted research on zirconia implants with some of the leading experts in the field, including Dr. Sammy Noumbissi and Dr. Saurabh Gupta, the president and education director of the International Academy of Ceramic Implantology (and former guests of our podcast).
Based on his research with Dr. Noumbissi and Dr. Gupta, Dr. Kunrath states that it's clear that zirconia implants have the same quality of osseointegration as titanium implants. Furthermore, the field of zirconia implants continues expanding, and they're also researching new surface treatments to improve outcomes. Zirconia implants also have one clear advantage over titanium implants — excellent biocompatibility with fibroblasts and epithelial cells in the transmucosal level.
Driving change — influencing dentists and clinics to implement the results of research
Dr. Kunrath says the most challenging aspect of conducting research is getting dentists and dental clinics to act upon the results of research. Once the research is published, dentists need to read the paper, understand its implications, and implement its findings in their daily practice. It's incredibly difficult to introduce new biomaterial in the market — if a new biomaterial is created, it will take at least 5 to 10 years to enter the market.
When developing new biomaterials, Dr. Kunrath says researchers need to think of practicing dentists. The biomaterial can only become widely accepted if all dentists can use it without difficulty. That's why the research must emphasize how the new biomaterial and technology are simple and can be implemented without inconvenience. However, it's also a dentist's responsibility to perform their own research, stay abreast of new developments, and keep an open mind.
When asked about his future goals, Dr. Kunrath said he wants to continue his research work in Sweden. He also wants to link his clinical work with his research and eventually take on a professorial role to advance education. You can find him online via Instagram or LinkedIn, or you can listen to him directly on our latest Zircon Medical Podcast.
Register for our free newsletter.
Never miss one of our weekly episodes with leading dental professionals.