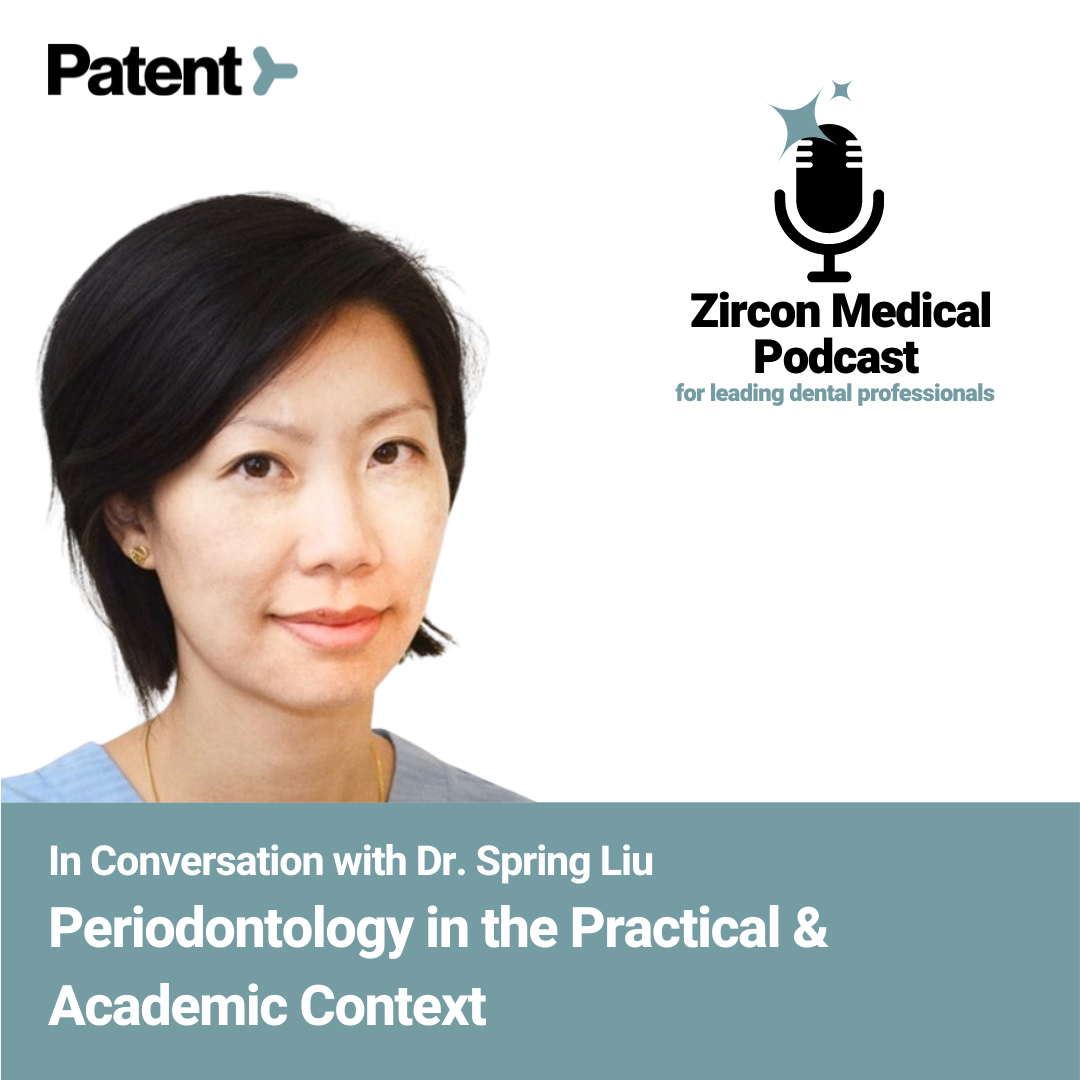 Introducing Dr. Spring Liu


The importance of the periodontology field


The connection between periodontal disease and peri-implant complications and systemic health


The student perspective of periodontology

The importance of early intervention


There is no gold-standard treatment for peri-implantitis (yet)


Education and awareness are essential

Dr. Spring Liu
Periodontology and Peri-Implant Disease Expert
Board-certified by the EFP (European Federation of Periodontology)


Received doctorate in January 2022


Senior physician in the periodontology and peri-implant diseases division at the University of Zurich, Switzerland


Studied and worked in Ireland, Australia, Italy, and Switzerland

Rämistrasse 71, 8006 Zürich, Switzerland
In Conversation with Dr. Spring Liu
Over the last couple of years, it has become increasingly clear that periodontal disease dramatically increases the risk of peri-implantitis, implant failures, and numerous overall health conditions. The mouth cannot be separated from the rest of the body — oral health impacts overall health. Despite that growing awareness, the prevalence of periodontal disease amongst the general populace doesn't seem to be shifting.
Dr. Spring Liu is the senior physician in the periodontology and peri-implant diseases division at the University of Zurich. We recently hosted Dr. Liu on our Zircon Medical Podcast to discuss periodontology in the practical and academic context.
Introducing Dr. Spring Liu, the senior physician in the periodontology and peri-implant diseases division at the University of Zurich
Dr. Spring Liu is a specialist in periodontology and peri-implant disease, currently the senior physician at the University of Zurich. She recently acquired her doctorate in January 2022, and she's board-certified by the European Federation of Periodontology. Dr. Liu also brings global awareness into her field, having studied and worked in Ireland, Australia, Italy, and Switzerland. She says she always wanted to get into medicine, but she specialized in dentistry because it's one of the few medical fields conducive to a healthy work-life balance.
The importance of the periodontology field
Dr. Spring Liu says she was drawn to periodontology because it makes an important difference in the patient's life. She called the periodontal disease a silent killer because most patients remain unaware of periodontal problems until the situation because extremely severe and drastic. Periodontal disease is a chronic condition, and it can often spread undetected in the background. According to a comprehensive report published by The Economist's intelligence unit, the effective prevention of gum disease can save billions in healthcare costs, leading to healthier lives.
Dr. Liu says the periodontal tissues around the teeth are the windows to overall health. She also likens periodontal disease to the foundation of a house. Without a strong and stable foundation, the house will likely crumble. She says clinicians must look at patients holistically — they must look at their overall health instead of just treating the disease. Her primary aim is to encourage clinicians to treat the complete patient rather than focusing entirely on the disease.
Dr. Liu also highlights that periodontal disease is extremely prevalent. It has a 40-50% global prevalence, making up about 3.5 billion people worldwide. The prevalence of periodontal disease over the past 25 years has remained mostly unchanged, despite numerous breakthroughs in research, treatment options, and education. Despite all of those advancements, the prevalence remains the same, which shows an even higher need to focus on periodontal disease and its impact on overall health.
The connection between periodontal disease and peri-implant complications and systemic health
Dr. Liu called the periodontal disease a multifactorial, immunological disease led by harmful micro-organisms, such as gram-negative anaerobic bacteria, i.e., the same bacteria that infiltrate and affect peri-implant health. The origins of periodontitis and peri-implantitis are the same — plaque bacteria. Periodontitis is the major problem, and it can significantly increase the risk of peri-implantitis and numerous other health conditions.
Peri-implantitis is a potential consequence of untreated periodontitis. If the patient has untreated periodontitis at the time of treatment, they have a significantly higher risk of peri-implant complications down the line. The risk factors of periodontitis, such as genetic predisposition, stress, lack of oral hygiene, diabetes, and more, are also risk factors for peri-implantitis.
Periodontitis and, in turn, peri-implantitis are also affected by the immune system, so it's affected by nutrition, stress, sleep, and ongoing medications. Patients with gum disease are 2-3x more likely to suffer from cardiovascular problems, diabetes, strokes, and other systemic problems. The link between periodontitis and diabetes is well-established, and it's also clear that periodontal conditions affect arthritis, osteoporosis, and other systemic conditions. Because of the link between periodontitis and systemic health, clinicians must focus on treating overall health. 
The student perspective of periodontology
Dr. Liu says her students love continuity in the field of periodontology. Students generally start treating actual patients in the clinic in the fourth year. They start with non-surgical therapies in the initial semesters, and they gradually proceed to more complex and invasive treatments. Students are generally encouraged by the fact that they see a difference being made in the patient's life. Furthermore, since periodontal therapy is an ongoing treatment, the students have some continuity because they see the same patients across multiple semesters.
The importance of early intervention
Dr. Liu says early therapy is an essential component of treating peri-implant and periodontal problems. The early phase of the disease, such as gingivitis or peri-implant mucositis, can be reversed by the patient. But as the infection reaches the bone level, further therapy is essential for treating periodontitis and peri-implantitis. Patients with a high risk of periodontal problems should visit the dentist once every 3 to 6 months for regular maintenance and the early identification of periodontal conditions.
There is no gold-standard treatment for peri-implantitis (yet) 
Dr. Liu says the periodontal disease is well-studied and understood, but peri-implantitis is a relatively new condition, and it hasn't been studied as much. She says there's a strong need for a gold-standard therapy for peri-implantitis, which doesn't currently exist. Currently, clinicians and patients must focus on preventing peri-implantitis. To prevent peri-implant problems, implants should only be placed after creating a healthy base for the implant, i.e., after ensuring the patient doesn't have any signs of periodontitis.
Education and awareness are essential
Dr. Liu says education is the key factor in avoiding periodontitis and peri-implantitis. The European Federation of Periodontology runs oral health months and programs in many countries, and various local periodontology societies, such as the Italian Society of Periodontology and Implantology, do the same. Over the past couple of years, periodontology societies and organizations have become increasingly sophisticated in spreading accurate information about periodontal disease via public shows, radio programs, and more.
Patients with a history of periodontal disease have a significantly higher risk of peri-implantitis and other health conditions. As such, everyone involved in the process — researchers, clinicians, and patients — must come together to spread awareness. Dr. Liu also emphasizes that the burden doesn't simply lie with dentists and dental professionals — it also lies with other healthcare professionals. General doctors should also refer patients with a high risk of periodontal problems to dentists for an evaluation. The only way to beat periodontitis is with collective efforts.
Dr. Liu says she aims to train the next generation of dentists to create a strong base for an understanding of the periodontal disease. She also wants to help society as a whole understand the importance of good gingival health and how it impacts overall health. Patients must be treated holistically instead of isolating and treating specific diseases. Dr. Liu also believes stress management should be integrated into treatment plans to improve patients' overall quality of life.
You can follow Dr. Spring Liu on LinkedIn or listen to her in our Zircon Medical Podcast.
Register for our free newsletter.
Never miss one of our weekly episodes with leading dental professionals.