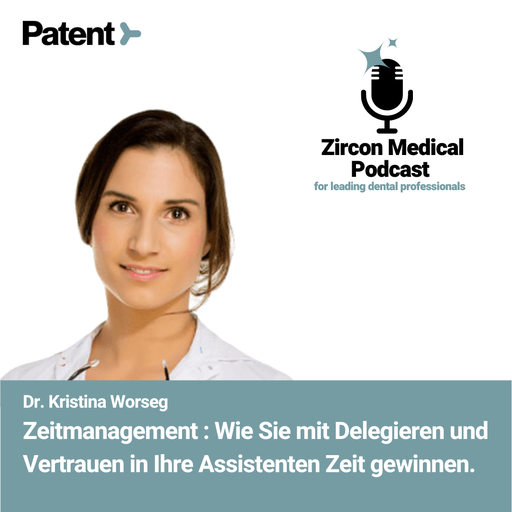 A personal story on how a love of handicrafts translated into her love of dentistry.

How she manages a dental practice, a product line, and YouTube channel while being a mother of three.

The advantages and challenges of running your own dental clinic and product line.

How to delegate tasks and build a trustworthy team.
Dr. Kristina Worseg
Founder of Ordination Dr. Kristina Worseg
 She's really tough in managing a lot at the same time, while keeping the smile on her face.

She delegates most of the dental clinic management tasks to her exceptional employees whom she trusts completely.

She's drawn to the freedom you get from owning your own dental clinic and product line.

 Her main goal for 2021 is increase even more spontaneity and calmness in her life.
In Conversation with Dr. Kristina Worseg
Doctors often wonder if it's worth setting up an independent practice, drawn to the prospects of greater pay and independence. While running your own practice certainly has its benefits, it also comes with a wide range of unexpected problems and complications, primary amongst them being management and leadership. 

Doctors who run their own practices often find their time split between their trade and management. But Dr. Kristina Worseg has made an art of delegation and management, allowing her to focus almost entirely on being a doctor while her trusted employees run the business with little to no oversight. Benjamin Lutje recently hosted Dr. Worseg on our Zircon Medical podcast series to discuss her dental practice, product line, and the art of management. Introducing Dr. Worseg, the founder of Ordination Dr. Kristina Worseg.

Introducing Dr. Worseg, the founder of Ordination Dr. Kristina Worseg.

Dr. Worseg wears many hats. She's an exceptionally talented dentist specializing in cosmetic dentistry, root canals, implantology, and other areas of dentistry, having completed her medical studies in Vienna in 2013. She set up her own dental practice called Ordination Dr. Kristina Worseg, followed by her own dental care product line called Dr. Worseg Top Smile. She also runs a YouTube channel where she answers frequently asked questions about dental care tips, implant cost, etc. And, if that weren't all, she's a loving mother of two. Any one of those roles would keep most people occupied full-time. Yet Dr. Worseg somehow manages to successfully handle all those responsibilities — and that's primarily because she has mastered the art of delegation, management, and employee building.

Dr. Worseg always knew she wanted to work with her hands. As a child, she was drawn to handicrafts, making small jars, boxes, and other items. She followed her love for handicrafts into her medical school in Vienna, where she enrolled in general medicine and eventually specialized in dentistry. Even though handicrafts and dentistry may seem like polar opposites to some people, Dr. Worseg sees a natural through-line from her love of making small jars and boxes to her current love of crafting and inserting composites and then seeing the joy in her patients' eyes as they're reintroduced to their smiles. To her, it's a particular kind of joy to see patients laughing again, without anxiety or concerns, and say that they've overcome their fears of dental procedures.

The advantages and challenges of running your own practice.

Dr. Worseg says she's always been a freedom-loving person, drawn to an independent life wherein she doesn't have to answer to anyone but herself. She built her dental practice from scratch soon after her medical school and training, taking an active role in the business aspect of her practice and management. She loves running her own dental practice because she can take a vacation whenever she wants, doesn't have to ask for permission when she wants to leave early or work until midnight and can juggle her work and parental responsibilities without having to explain herself to others. She can also make bold decisions, like not providing amalgams at her dental practice, a progressive move that made her an outlier by Austrian standards.

According to Dr. Worseg, her biggest challenge while setting up her dental practice was the legal requirements. She didn't take over an existing practice but rather set it up from the ground up. Her second biggest challenge was bookkeeping, which she still admits she doesn't understand. However, the most crucial aspect of her business has been creating a team of employees who independently handle all administrative tasks, freeing her to focus on her primary task as a dentist and doctor. Dr. Worseg believes she owes much of her freedom to her employees, who benefit from a compassionate, trusting, and flexible working environment that nourishes their inherent skills and talents. But building such a dedicated team involves mutual trust.

Delegating tasks and building a team of trustworthy employees.

Most dentists running their own dental practice need to dedicate at least half their time to management and administrative work. However, Dr. Worseg only has to handle 20% of the administrative work, trusting her employees to handle most official and business-related tasks. She maintains a relaxed leadership style, trusting her employees to think creatively and take ownership of the practice. Not only does she trust them with her business, but she also sends them on monthly training classes, workshops, and programs, to imbue them with greater management skills. As a result, her business essentially runs automatically, with little to no input from her personally. 

Dr. Worseg believes delegation and trust aren't just important in your professional life but also in your personal life. When she was setting up her dental practice, she credits her mother with having handled the bookkeeping, an aspect of her business, she still finds confounding. Even now, Dr. Worseg often relies on her mother to look after her children or pick them up from kindergarten for lunch when she's needed at work. Similarly, Dr. Worseg credits her exceptional assistant Sabine with handling all her business-related tasks. Sabine has been with Dr. Worseg since she opened her practice — she lovingly calls her practice "our baby" to further demonstrate the delicate and loving camaraderie necessary to start and run your own practice.

Dr. Worseg's story highlights that you often find companions and employees in the most unlikely places. She met Sabine, for instance, in the changing room of a Viennese clothing store. Dr. Worseg had just finished university when she was standing in queue for the changing room in the clothing store. There were several ladies standing behind her, including Sabine. The changing room was big enough for everyone, so she invited them to change together and struck up a conversation with Sabine, who turned out to be a dental assistant. At the time, Sabine was working at a dental practice looking for a replacement dentist. Dr. Worseg joined the dental practice as a substitute and soon started her own practice with Sabine.

When asked about a recipe for success in building such a strong support network, Dr. Worseg seems skeptical. If there was a recipe, and she'd found it, she'd now be a millionaire, as would most people. It's just something you have to learn and experiment with on your own terms.

Advice to younger dentists seeking greater independence. 
Dr. Worseg is a huge proponent of following your desires, starting your own thing, and gaining independence. However, she also cautions that you need to have realistic expectations and intentions. If you want to start your own dental practice or product line for greater independence, self-realization, and satisfaction, it's definitely a good idea. 

However, she cautions that it won't necessarily make you a millionaire or make all your financial concerns go away. To use her analogy, having your own product line won't necessarily get the water tap running or the euros tumbling out. However, Dr. Worseg reserves the right to change her opinion if she grows older and discovers that having your own product line is a financially lucrative option.

You can find Dr. Worseg in Vienna, Am Graben 28, Stiege 2 / Tür 10, 1010 Wien. You can also listen to Dr. Worseg in our Zircon Medical podcast or continue reading for a detailed article on tackling leadership issues and the art of delegation. 
Register for our free newsletter.
Never miss one of our weekly episodes with leading dental professionals.
Time management: How to save time with delegation and trust in your assistants

An independent article by the Zircon Medical Team

As Dr. Worseg's situation shows, there's nothing quite as important as building a trustworthy team with reliable personal assistants when running a dental practice, or indeed any business at all. Effective task delegation is the best means of scaling your business, expanding your team while still leaving enough time for other endeavors and your personal life. Personal assistants, when chosen and trained appropriately, can essentially automate your workflow, letting you focus on your primary trade — dentistry. But wrongful delegation can also sow discord and harm your efforts. 
Not all of us are lucky enough to have a Sabine, i.e., a personal assistant who handles most business and operational tasks, so you don't have to worry about anything. When we fail to find such employees, we usually blame the lack of a sufficient talent pool. But, more often than not, the fault lies with us for failing to effectively utilize skills and talent. Choosing personal assistants is as delicate a task, complete with as many hierarchies as your entire pool of employees. 

Finding the right personal assistant for the correct set of tasks can multiply your workflow capacities, helping you become a better leader and manager. To receive those benefits, you need to choose the right personal assistants, delegate the right kind of tasks to them, and groom them to handle your management-related tasks so that you can focus on being a dentist and tend to your patients. Below, we share tips on finding the ideal personal assistants, maximizing their potential, and other tips on workflow automation.

The best office managers and assistants aren't found — they're built.

People often assume they can simply find an assistant who can relieve all their management burdens. Sure, some people are lucky enough to stumble into the perfect managers who take over all management responsibilities and display immense loyalty from the start. But, more often than not, you find employees who have to slowly learn the ropes of your business. Instead of trying to find the best office manager, it's worth learning to groom them into the perfect manager. After all, loyalty isn't bought — it's won.
One of the best ways to groom your potential office managers is through a hierarchy of tasks. Create a mental map of task-based hierarchies, with each level corresponding to more creativity, more automation, more skills, and more trust. If you have several employees or assistants in your dental clinic, you can create a mental tab on their progress. Lead them in the right direction and see how much initiative they show. As your employees show more initiative, make them climb higher with more responsibilities until you've found one employee to manage your business. 

The following is a brief overview of the various levels and hierarchies your assistants need to climb
Level 1: Assistants

Dental assistants play many roles in assisting the primary dentist, such as taking x-rays, patient care, managing appointments, etc. Most dentists look for dental assistants who are technically skilled at their various roles and have a sufficiently friendly personality. When you first start working with your dental assistant, give them extremely detailed information on scheduling appointments, record keeping, taking notes, etc. Based on how they handle the tasks and their level of creative input, you can decide if you want to escalate their responsibilities.

Level 2: Executives
 If your dental assistant displays sufficient skills and initiative with management, you can increase their tasks and autonomy. Administrative executives can manage your appointments, patients, records, contacts, vendors, and other business processes with limited supervision. They might still need to assist you during cleanings and in other similar tasks, but you can start moving them more towards business-related tasks. Executive-level employees should be perfectly familiar with the ins-and-outs of your business, capable of handling most day-to-day activities, though you shouldn't give them sensitive and confidential details (yet). 

Level 3: Manager
Once you trust your executive-level employees completely, and they display autonomy, you can shift them to the management side of your dental clinic entirely. Your office managers can handle your entire business at this stage — they manage your staff, run all business processes, deal with patients and vendors, etc., with little to no input. They know you and your business inside and out, take complete ownership of its success, and handle all your business needs before you can even anticipate them.
You need someone who has worked with you for several years and someone incredibly trustworthy to take this position because it involves high confidentiality and trust. But once you successfully groom the ideal dental assistant to take that position, you can rest assured that you can finally start focusing full-time on being a dentist. If you follow this hierarchy of tasks, you'll soon have an office manager who handles over 80% of your management processes, so the dental clinic essentially runs independently.

Hold regular meetings with your assistants and managers.

Just because you have an office manager whom you trust implicitly doesn't mean you can completely let go of the reigns. You must still stay on top of all your business tasks and keep yourself informed. Holding regular one-on-one meetings with your manager keeps them accountable and answerable while ensuring you know exactly what's happening with your dental clinic. During the meeting, they can inform you about all the accomplished tasks or the progress of the ongoing tasks, so you know which tasks are officially closed. You can also give your assistant their next set of tasks for the coming weeks or months. Ideally, your office manager should be empowered to focus on business growth while you focus on dentistry and your patients' well-being.
Provide resources and training to help them grow.

Just as Dr. Worseg provides monthly training and workshops to her team, it's essential to give your assistants and team members the resources and training they need to grow. You can either handle the training yourself or send your assistants for management workshops and courses. Investing in your assistant's growth is going to increase their loyalty to your business, cultivate their skills, and help you eventually gain a dental clinic manager that handles all business-related tasks with no oversight. 
Encourage greater ownership of the work and business. 

Once your assistant climbs up the rungs to become your administrative executive or manager, they must treat your dental clinic like their own. They should have complete ownership over the business. But that sense of ownership comes with an inherent feeling; it's not something you can ask them to do. Through encouragement, personal interactions, training courses, greater responsibility, your assistants will eventually see your business as their own, seeing its success as their own. Likewise, it's your responsibility to entrust them with confidential details and the respect they need to manage your employees. 
Once you have an assistant familiar with every aspect of your business and whom you trust implicitly, you can let loose and focus on the tasks you're interested in more than anything else — dentistry and exceptional patient experience.